Andy Murray looks in great shape for Wimbledon, says Barry Cowan
Andy Murray's Queen's win was ideal preparation ahead of Wimbledon, says Barry Cowan.
Last Updated: 18/06/13 10:04am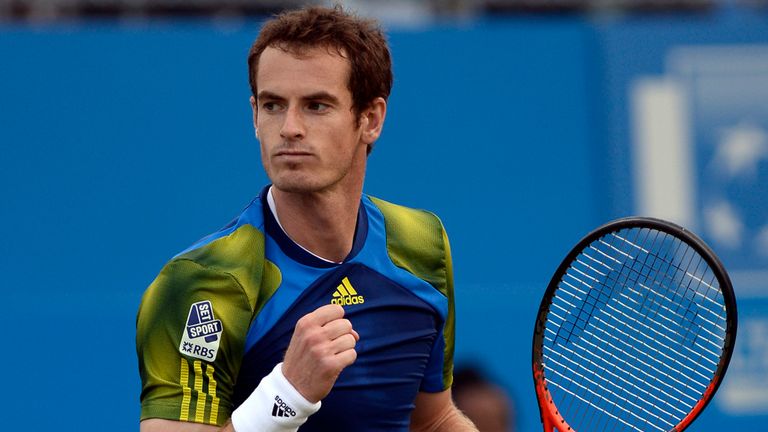 He had plenty of matches by winning at Queen's Club and the way he won the semi-final and final by coming back from a set down will harden him up. Sometimes you want to be pushed with your back to the wall because he will be in trouble at some stage during Wimbledon.
Look at the way his game has developed since he started at Queen's eight years ago. He was obviously someone who had a good understanding of the game but perhaps not in the shape he needed to be at the top.
That's changed. He's now an incredible athlete and has worked so hard physically and to come through a tough week and for his body to be in fine fettle will give him a lot of confidence.
He was on and off the court a few times because of the rain and that can affect the body in terms of stiffness but came through unscathed and demonstrated his great grass court game.
One of the reasons he hired Ivan Lendl to coach him last year was to be aggressive at crucial stages in a game and to be proactive in matches - and he did that on Saturday and Sunday.
His game is really taking shape, now. His second serve is getting better, his forehand has improved and he volleys well, but I still think he can improve. At 26 that's got to be a huge encouragement. He's not the finished article and he can still be a better tennis player.
Even when he's a set down I always think he'll win; his fight and desire is one of his biggest assets.
However, the real test is to come at Wimbledon; if he is a set down against Novak Djokovic, Roger Federer or Rafa Nadal it will come down to more than being able to be tough. Your game comes under scrutiny and, hand on heart, I just don't know what will happen with the top four.
This has to be the most open men's Wimbledon I can remember for a long time. I have Nadal at No 1, then Murray, Djokovic and Federer. The bookies have Novak at No 1 but it will be down to who plays the best tennis over three matches and who takes their chances.
Preparation
If Murray had made the French Open semi-finals then he wouldn't be doing anything physical this week. I imagine he'll have two days off, rest his body and then have two days of hard physical training and also working on his tennis.
If you haven't done the ground work it's too late now. It will be all about fine-tuning and making sure he gets the business side out of the way as quickly as he can like the media work and sponsorship.
Once he gets that out of the way then there's only one thing he can focus on. Distractions are tiring over two weeks and that's something Federer and Nadal have mastered. Murray is still learning this but he's learning fast.
Pressure
We all have opinions and thoughts on how Wimbledon will pan out and importantly Andy needs to have people he listens to in his corner like his coach, physio and trainer. Anybody else is irrelevant.
If they are there they will distract you and that will tire you out because two weeks is a long time if you are distracted by other factors. Murray does read newspapers and listens to what people say. Pete Sampras never read anything at Wimbledon until the Monday when he was getting a flight back home. You have to detach yourself.
Rivals
Murray is my second favourite but Nadal has changed the equation with what he's done this year. It's been an amazing year and an incredible clay court season.
He's done the hard thing by defending his French Open and beating Djokovic. Wimbledon for the Spaniard is still very important but it won't involve the same stresses and strains of Roland Garros. Whatever he achieves now will only benefit his ranking and mentally he's got ahead of Murray. He's beaten him in the big matches.
Nadal has got the edge but strangely he is the most vulnerable player in the first week. He could come up against Ernests Gulbis or Marcos Baghdatis and he'll have more chances of losing.
We know what Djokovic is capable of. Winning in Halle at the weekend will be crucial for Federer because he won't have to fend off the questions about his 10-month title drought and not winning since Cincinnati in August.
Top Brits
Elena Baltacha said she was thinking of quitting tennis after the Olympics last year and, after all her injuries, winning the Aegon Nottingham Challenge title this weekend was a great achievement.
It was the same with Rafa. When you're out injured it's a pretty lonely place and you just can't do what you always have done. But you can use it as a positive, as Murray touched on with the French Open.
Missing that made him realise how much he loved it, so to get back playing was a positive for Baltacha and winning is great. Going to Eastbourne and Wimbledon is just excitement for her with no pressure. She can just go out there and play and whatever she achieves is an extra bonus.
I must also mention the achievements of Dan Evans. The 23-year-old from Birmingham and Britain's No 5 made the third round at Queen's after beating Argentina's Guido Pella and Finland's Jarkko Nieminen.
He came unstuck against Juan Martin del Potro but it was a good effort and he goes into the Wimbledon qualifiers looking to move on and back up what he achieved last week.
Barry Cowan will be providing a daily column on the Sky Sports website during Wimbledon.