Barry Cowan hails Rafa Nadal after more French Open glory
An eighth French Open title confirms Rafa Nadal as the greatest clay-court player ever, says Barry Cowan.
Last Updated: 11/06/13 11:55am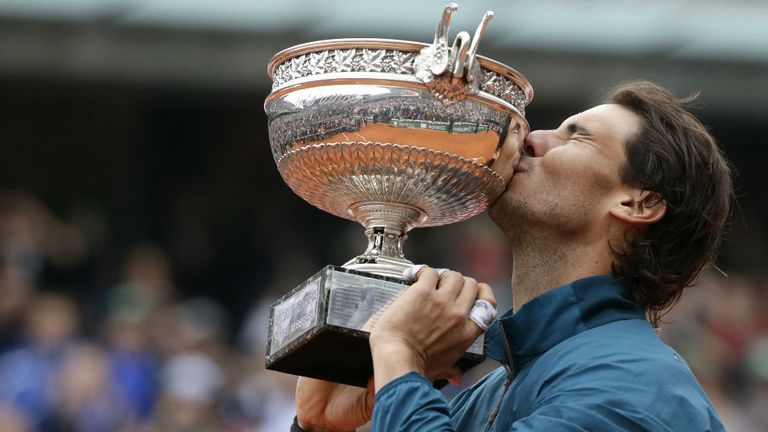 What he's achieved over a sustained period is astonishing and to have won at the weekend will hopefully put to bed any doubts for those who have tried to lay a claim for Bjorn Borg being the best ever on the red dirt.
Nadal keeps improving year after year and eight French Opens makes him the person with the most titles at a single major but it was more the manner of the victory on Sunday that impressed me. I thought David Ferrer played well but never had a shot because of how great Rafa was.
Rafa's sluggish start was due to nerves - I was actually surprised how nervous Rafa was - but Ferrer was nervous too, which was understandable because it was his first Grand Slam final and he was up against Rafa.
Once Rafa got that first set, though, the second set was just incredible with the way he was hitting both forehands and backhands down the line. When he's riding high with confidence nobody can live with him. The hard work for Rafa was winning that incredible match against Novak Djokovic on Friday.
There is a real possibility he could go into double figures of French Open titles, but whether he can continue this extraordinary run at Roland Garros next year and beyond is all about him staying fit.
He doesn't want to talk about his knee but if you look at the way he has moved since his comeback, nobody would have thought he's had too much of a problem so I think we have to take that on face value.
As long as the hunger and desire are still there - and they showed no sign of waning at this year's tournament - then there's no reason why he can't win 10 or 11.
There's always a chance that next year someone could emerge out of the blue but ahead of this clay-court season I thought there was only one guy who could beat him and that was Djokovic. That proved true enough because the Serb beat Nadal in Monte Carlo and gave him one hell of a fright on Friday.
Ranking
There is a hint of irony about Rafa falling to a ranking of fifth in the world in the wake of this achievement but personally I have no issue with it.
If Andy Murray had played Rafa would have been seeded five but what you have to take into account is the fact he hadn't played for six months. If you rip up the rankings and go on what you think a player should be ranked for all the different Grand Slams then I think it dilutes the point of actually trying to get a ranking in the first place.
It's unfortunate that Nadal could be drawn in a quarter-final with Roger Federer, Murray or Djokovic at Wimbledon but I think you just have to accept it.
Turning to turf
With regards to Queen's, the difficulty for Andy Murray is that he normally starts slowly and that may be compounded by the fact he'll be coming back from an injury. He needs games under his belt.
If he wins the event, obviously it will be a huge high but if he goes out early then it will have no impact on his chances at Wimbledon, in my opinion. He's shown before that even if he loses early in an event leading up to a Slam that he can still perform.
There are several other players to look out for ahead of the Queen's Club tournament. The likes of Jo-Wilfried Tsonga and Tomas Berdych you'd expect to have a great season and then of course you've got someone like Juan Martin del Potro, who didn't play at the French. So Queen's is tough.
I expect it to be a tougher final than last year, when Marian Cilic was gifted the win by David Nalbandian's infamous default. I expect it to be a very competitive final this year between two of the four that I've mentioned.
For Murray, I think missing the French was a good decision. If he'd watched the Djokovic-Nadal semi-final, I think he would have thought 'I've got to get myself 100% right for Wimbledon.' The last thing he would have wanted was to be at Wimbledon having made the quarter-finals of the French and be 50% fit.
Hopefully there's a good chance that he's going to be firing on all cylinders after having had that break. Playing on the grass is easier on his back and hip than playing on clay, so this week I just see positives and every match he wins will bring Murray more confidence. I don't see any negatives.
As it stands now, I would put Rafa top of the pile ahead of Wimbledon, with Murray my second favourite and Djokovic and Federer third and fourth respectively.