Andy Murray ready for Monte Carlo challenge, says Barry Cowan
Barry Cowan says Andy Murray can look forward to a great claycourt season - starting in Monte Carlo.
Last Updated: 12/04/13 6:06pm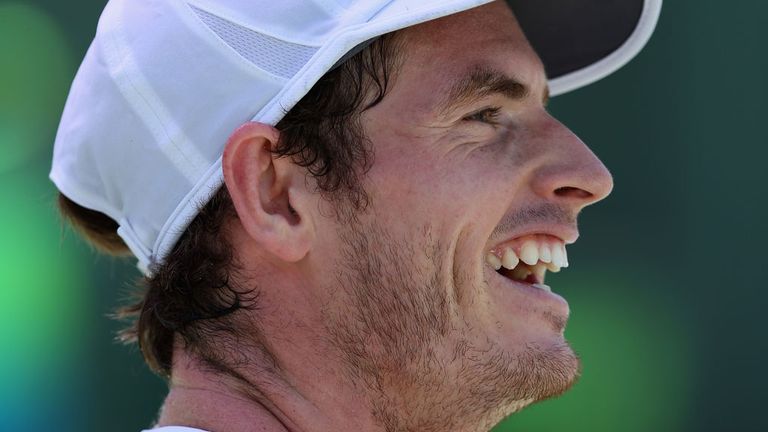 The switch to clay promises a more exciting brand of tennis than we've seen at times during the hardcourt season, where some of the tennis has become a little 'samey'.
I've got my fingers crossed that Novak Djokovic isn't troubled too much by the injury he picked up in Serbia's Davis Cup victory over the United States.
The World No 1 went over on his ankle early on in his match against Sam Querry but heroically battled on to win and was understandably emotional afterwards.
Djokovic didn't win a claycourt title last season, which was in stark contrast to what happened in 2011 when he carried his momentum through from winning in Miami and Indian Wells to beat Rafael Nadal in the Madrid and Rome Masters after missing Monte Carlo.
Last year Djokovic made the final in what was a difficult week for him after he learned his grandfather had died and I'm sure losing to Nadal on that occasion was not the be all and end all.
Tone
Conversely, I'm sure Nadal will take great encouragement from his performance last year as he goes in search of a ninth Monte Carlo Masters title, not least because it broke his seven-match run of final defeats to the Serb.
That victory really set the tone for Nadal's claycourt season - a season in which Andy Murray reached the last eight in Monte Carlo, Barcelona and the French Open.
Andy has been training on clay in Miami ahead of this tournament and, just as in the last few years, he hasn't left a stone unturned in his preparation as he continues his quest to become World No 1.
The French Open is clearly the most important event for him in the next couple of months but he also needs to take the next step and win a Masters event on the clay.
I don't believe that Andy can win at Roland Garros if he hasn't won a claycourt event leading up to it, particularly given the era we're in now. If Andy can win in Monte Carlo, Rome or Madrid then he can realistically stake a claim to win the French.
I happen to think Murray will have a great claycourt season because he's in a better place all round. Last year he really struggled in Indian Wells and Miami but that victory in Florida should ensure that he hits the ground running, even on what is his least favourite surface.
These days he looks much more comfortable on clay and he has become more adept at picking the right shot at the right time. Guys are going to have to play exceptionally well to beat him.
Brilliant
Croatia's top players might do well to remember that after they were drawn to face Great Britain in September's World Group play-off.
With the exception of Switzerland and Spain, I would fancy Great Britain to have a decent chance of beating any of the teams in the draw with Murray back on board.
You'd always back Murray to win his two singles and 'Murray plus one' would always be in with a shout of winning the doubles too unless they came up against an established pairing like the Bryans.
It will be fascinating to see what surface Croatia choose to stage the tie on. Personally, I think they'd be mad to play on anything but clay.
Given that the tie will take place four days after the US Open final, which Murray could be in, anything else would seem illogical but they've shown an overwhelming preference to play indoors in recent years so we'll just have to see.
The manner of Great Britain's victory over Russia was nothing short of brilliant and all credit to the team for coming back when they seemed down and out.
Bad
Yet I must admit that I wasn't comfortable with Dan Evans being on the team. His comments after his singles defeat to Dmitry Tursunov made my point for me.
"I don't train hard enough and don't work hard enough day in and day out," he said. "I'm obviously pretty bad at my job. It's up to me, it's not up to anyone else."
I couldn't have put it any better.
For too long now Great Britain has been guilty of looking short-term rather than setting up the right culture and choosing the right people to help the younger players so that they know what is expected of them as they come through.
We always fall into the trap of saying 'that's all we've got, so that's who we will pick'.
Evans is a talented player but I feel he is wasting his talent and that makes me fear for the next crop of juniors who are struggling to make the next half-step up.
The exception is Kyle Edmund, who is very switched on. Everything I hear about him is very positive. I think he is one of those guys who will fulfil his potential.
No-one ever knows exactly how far they can go - any coach who tells you otherwise is just guessing.
All that is required of any player is to put in an honest day's work and I believe Evans hasn't done that enough, which is why his ranking has gone backwards.
Hopefully the penny will drop after the events of the last week and he will capitalise on what was a fine effort in the singles.