Rafael Nadal's victory in Indian Wells shows he's improved, says Barry Cowan
Rafael Nadal was full of fight in Indian Wells, says Barry Cowan, and has taken his game up a notch.
Last Updated: 18/03/13 3:14pm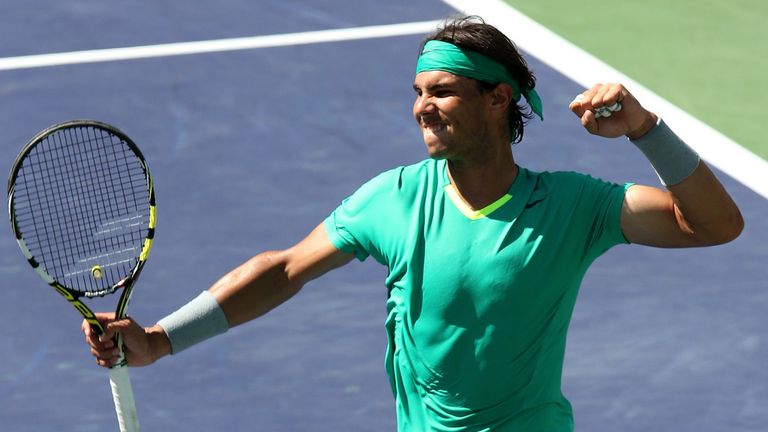 Rafa has always been intelligent and it is now abundantly clear that he's thought very carefully about his game during his seven months out injured and worked hard on certain areas to ensure that he keeps pace with the best in the world.
His victory over Juan Martin del Potro in Sunday's final - his 17th win in 18 matches since returning from injury - not only takes Nadal back up to fourth in the world but also serves notice to Novak Djokovic, Andy Murray and Roger Federer that the fight remains.
Disadvantage
Such was the seriousness of Nadal's knee injury that the toughest part of his comeback was getting back onto court; once the Spaniard was competing everything else was a bonus, so in a sense there was less pressure on him in Indian Wells than there might have been.
He seems to be hitting his backhand a little harder this year and the way that he moved around the court was incredible given what he's gone through. Nadal appears to have lost weight, too, and he could well be more flexible as a result which in turn will give players more power.
Although Del Potro's wrist injury didn't hinder him in his victories over Murray and Djokovic, it made his life incredibly difficult against Nadal; being unable to hit his double-handed backhand 100 per cent into Nadal's forehand was a distinct disadvantage.
Nadal raced into a 3-0 lead but then he tightened up and didn't take his chances; he allowed Del Potro to get on the front foot and start wailing with his forehand, and suffered the consequences.
Although Del Potro's forehand is not the most elegant of shots, watching him crunch the ball back time and time again is certainly very watchable.
The Argentinean won nine out of 11 games but could not maintain his momentum in a match that ebbed and flowed and Nadal hit back to win five in a row. Once Nadal had the lead in the third, there was no way that he was going to let go.
Encouraging
At this point we shouldn't forget that although Del Potro won the 2009 US Open, he has never actually won a Masters title and perhaps that was in the back of his mind.
That big title has eluded him since he made his comeback closing out the match on a hardcourt against someone of Nadal's quality proved too difficult a task for him.
Despite that, Del Potro impressed me. He's always been close to making the next step up but he can be reluctant to change the pace up and the majority of times he is reluctant to come forward.
His wrist injury actually forced him to embrace those two areas of his game, so in a way some good came out of his injury in the sense that he serve-volleyed a couple of times against Rafa and he hit an amazing half-volley not to mention a couple of good volleys, which I think is a really encouraging sign going forward.
If he can convince himself of the benefits of coming forward a little more, I think he'll become a better player. Del Potro has got a big-time personality - the top guys know that - and it can only be a matter of time before he wins that first Masters title.
Common sense
Nadal has rightly withdrawn from the Sony Open in Miami in order to rest up and strengthen his leg in the build-up to the French Open.
It has to be the right decision for his long-term future.
Nadal has played more tennis since his return than I'm sure even he expected and this strikes me as a particularly good time to have a break before the clay season.
Common sense has prevailed because the last thing he wants is to have more trouble with his knee and that might well have materialised had he played back-to-back Masters on hard and then go straight onto clay.
Improved
Despite going out in the quarters, I think Andy Murray can look back on Indian Wells as a good week.
Although he didn't play anywhere near to his best, there were clear signs in the quarter-finals that he was bringing things that he'd worked on in practice into a match situation.
He looked to come forward more frequently and, while he's a little rusty in his finishing shots, his net play has definitely improved.
Even if he had played a tournament before Indian Wells, there's no guarantee that he would have won that quarter-final.
Murray wanted to do something different this year going into Indian Wells and I think that the fact that extra time he's had to work on his fitness will stand him in good stead for the next three months. I fully expect him to play really well in Miami.
In contrast, Roger Federer has had three disappointing tournaments since the Australian Open.
Although he hinted that he might change his schedule and opt in to Monte Carlo, I think he should stick with 'Plan A' because he looks a little jaded - physically and mentally.
He was excellent last year but he just doesn't look the same player right now. Like Nadal, I want to see Federer on court in two or three years' time so it's important they both manage their schedules carefully.
I think a break will do both players good.
Get Barry's view on the news that Roger Draper will step down as chief executive of The LTA in September.