Time to look again at ATP Tour structure, says Barry Cowan
Barry Cowan blogs on the vagaries of the ATP Tour schedule and the battle for the Dubai 500 title.
Last Updated: 22/02/13 8:55pm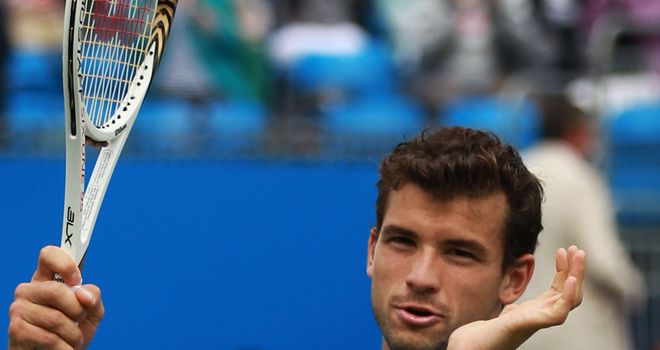 While five of the top 10 players in the world are competing at a 250 event in Marseille, the top seed at the Memphis 500 is Marin Cilic - the current World No 12.
It can't be right that an event which pays less prize money but more in guarantees than another attracts a greater number of top players.
To me that's evidence that the calendar is flawed, as well as proof of how the sport is suffering from a shortage of top American players.
Problem
The ATP is going through an extremely hard time right now so this isn't the ideal time to embark on major restructuring, but that is what's needed.
It's not yet clear who will pick up the baton from ATP executive chairman and president Brad Drewett as he continues to battle illness so don't expect any swift decisions.
But it will clearly be no easy task to get each and every tournament onside, as typified by the recent row about prize money levels at Indian Wells, which is owned by Larry Ellison.
As one of the wealthiest men in the world, Ellison wanted to increase the prize money for the tournament only for it to be stopped by the ATP board because of interests elsewhere and the pressure it could put on other tournaments to follow suit.
The two parties have reached a compromise for the 2013 season, with the total Indian Wells prize pot up a reported $860k on last year, but it is only a one-off solution to the lingering problem facing the Tour: namely, that some tournaments want to grow, but others don't.
I've no doubt that the organisers of the upcoming World Tour 500 event in Dubai - not to mention the Doha 250 and Abu Dhabi (if they could have a Tour event) - would like to offer a lot more prize money.
But effectively they are capped because of the way the Tour is structured with the distinction made between Masters 1000, 500 and 250 events.
Dubai will welcome Roger Federer and Novak Djokovic once again this year, but if it was able to offer more money we might be looking forward to seeing the top four in action.
I'm not saying it's time to start afresh because events like Monte Carlo - which is not a mandatory event but is still a Masters 1000 - have earned their place in history and don't deserve to be downgraded.
But perhaps it is time for the board to assess whether each of our current Masters 1000 tournaments merit that status. There are plenty of tournaments out there which aspire to knock Miami off its perch as the 'fifth grand slam'.
Peaking
Federer returns to Dubai as defending champion after just about the worst set-and-a-half of tennis I've seen him play, in defeat to Julien Benneteau at the World Indoor Tournament in Rotterdam.
He played so poorly that you can't read anything into it. He looked off the pace and was struggling for timing. It made me wonder just how much work he has put in on the court since Australia.
He's tweaked his schedule this year, presumably with the aim of peaking at the season's third and fourth Grand Slams.
But if Dubai plays similarly to last year, when the pace of the court was very quick and played into Federer's hands, then he should return strongly.
Novak Djokovic will want to prise back the title he won three times in a row from 2009 and it's so important that he, as world's No 1, has that hunger because it can't all be about the Grand Slams. The only way he is going to stay at No 1 is to do well in the 500s and the 1000s.
He and Federer will have to watch out for Juan Martin del Potro, who played really well last week - I was really impressed with the way he overcame Grigor Dimitrov in the semi-final and then Benneteau in the final.
He'll not only want to continue his fine run but I'm sure he'll be desperate for a crack at Djokovic or Federer.
Like Del Potro, Tomas Berdych is another knocking on the door and conditions in Dubai should suit him. On any given day he is a challenge for Djokovic and Federer, whom he beat at last year's US Open, but I'm starting to wonder if he will ever beat the top four consistently.
As great as the top four guys are (and I include Rafa Nadal in that), it would be fantastic to see some of the other players break through.
That was what was so refreshing about Dimitrov's run of wins in Rotterdam. There's no doubt that he's getting closer; he's really starting to knock on the door and he's only going to rise higher in the rankings this year. A place in the top 20 is definitely within his grasp at some stage in 2013.
The top guys have been around for so long that they are going to be selective with their schedule, so tennis needs other players to stand up and be counted - someone who can carry the sport for five or 10 years after each of the current top four decide to call it a day.
As of yet no-one has been able to break through and it's up to the next generation of stars to learn how to handle the expectation from the tennis world and go out and fulfil their full potential.