Novak Djokovic truly belongs among the all-time tennis elite after winning in Australia, says Barry Cowan
Novak Djokovic belongs among the all-time tennis elite after winning in Australia, says Barry Cowan.
By Barry Cowan
Last Updated: 27/01/13 2:58pm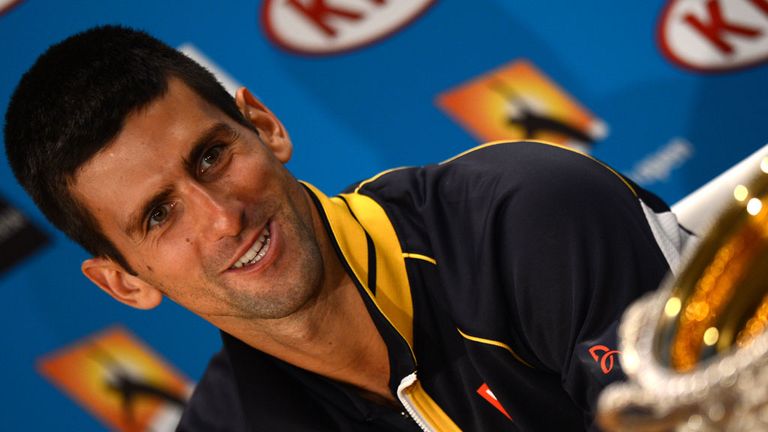 A couple of years ago when he began to add to his first Grand Slam title, won in Melbourne in 2008, the Serbian felt that he wasn't getting the respect he deserved and it became clear that the best way to convince people that he should be seen in the same light as the likes of Pete Sampras or Roger Federer was to win numerous titles.
Now he has six Grand Slams to his name, four in Australia, plus victories in the US and at Wimbledon and the most recent - his 6-7, 7-6, 6-3, 6-2 final victory over Andy Murray in Melbourne - proves why he's such an immense player.
Change
Make no mistake. This wasn't a match that Murray lost; it was one that Djokovic won.
He was edgy in the first set, struggling with his movement and slipping and sliding all over the place, making numerous unforced errors. The momentum was quite clearly with Murray and, unsurprisingly, Djokovic was getting very frustrated and looking regularly towards his box for some inspiration.
But the match really changed at the beginning of the second when Murray was 0-40 up on Djokovic's serve; he wasn't able to take those chances and from that point Djokovic simply got better and better. He worked things out and gradually put himself in a winning position.
There was another big shift in the third set at 4-3 to Djokovic. The first point of that eighth game was a 36-shot rally, which went the way of the defending champion.
In the first set Djokovic had been losing those rallies but suddenly he had the bit between his teeth - and once great champions get in the lead they don't let go.
He began to play with a lot of freedom, showing the full array of shots that he has at his disposal and hitting some unbelievable winners in the fourth. He went from strength to strength and earned his reward. What a great start to the year it is for him.
Pressure
I know fans of Murray - who didn't break Djokovic at all in the match - will be disappointed that he didn't go on and win the title after taking the first set, but nevertheless I feel that he's had a fantastic tournament, the highlight of which was beating Federer in the way he did.
As I said in my last column, I don't believe Murray would have won that match a year ago; Federer took the fourth and had the momentum but Murray had a bit more there mentally at the beginning of the fifth.
Of course Murray will be disappointed that he wasn't able to add to his US Open title and win today, but when great players contest big matches it can all boil down to a couple of points here and there.
I'm sure he'll sit down with Ivan Lendl and talk about areas in which he needed to do a little bit better and will work even harder on his game.
Murray's first serve did drop a little bit as the match wore on and that allowed Djokovic to put more pressure on his second serve; Djokovic has such a great return that Murray was forced further and further back behind the baseline, and when you've been on court for three hours, that takes its toll physically.
But I've no doubt that Murray will be there or thereabouts this year - he and Djokovic will battle it out in many finals this season - because you can't doubt his fighting spirit.
Achievement
In the past Djokovic has spoken about how difficult it is to win a major when you are defending champion and seeded one and that was exactly the position Victoria Azarenka found herself in on Saturday in the women's singles final against Li Na.
Both women were a little edgy but Li deservedly took the first set. Unfortunately for her, she went over on her ankle and needed a medical timeout and then went over on her ankle again at the beginning of the third and banged her head, and required another timeout.
In the end I think that those couple of falls did affect Li, which was a real shame.
After failing to serve out in the US Open against Serena Williams and seeing how unconvincing she was in the semi-finals against Sloane Stephens, I wanted to see Azarenka serve it out in Australia.
But she got the break and didn't have to. None of that should detract from Azarenka's achievement, though. She put in a great effort and this win should give her a lot of confidence for the future.