Andy Murray ready to vie for World No 1 spot after beating Roger Federer, says Barry Cowan
Andy Murray's win over Roger Federer proves he is ready to vie for the World No 1 spot, says Barry Cowan.
Last Updated: 30/01/13 4:54pm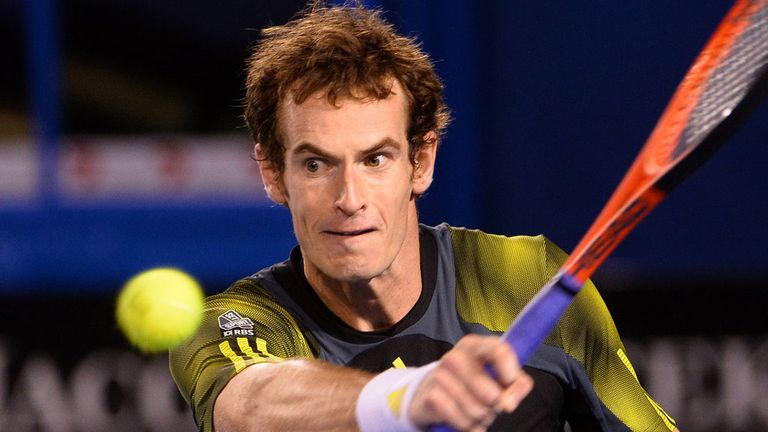 Murray produced a phenomenal performance to beat the 17-time major champion 6-4, 6-7, 6-3, 6-7, 6-2 in the semi-finals of the Australian Open and book a place in his third straight Grand Slam final.
There he'll meet Novak Djokovic in a match of huge magnitude in this year's key story - the battle for the World No 1 spot.
In that respect Murray's muted celebration after beating Federer was telling. He knows the job isn't done - not by a distance.
Courage
It's a measure of how far Murray has come that I honestly believe that he would not have won this semi-final a year ago.
Not only did he cope well with the difficult moments, but he came back and attacked Federer - demonstrating both a real improvement in his game and his mentality.
Last year's Olympic and US Open victories have clearly given his confidence that extra edge but it's more than that; he's worked so hard on his fitness and stamina, that he now knows he can play for five, six or even seven hours against the best and more than hold his own.
I felt that Murray could easily have won each of the first four sets and the final stats showed that there was a massive gulf in terms of total points won, reading 177-151 in Murray's favour overall.
Federer, normally so assertive early on, was surprisingly reserved in the opening set and Murray was happy to make most of the running.
Murray should have won the second, too, but made a poor start to the tie-break, making several errors, before missing a smash to give Federer the chance to serve for the set, which he duly took.
That seemed to really galvanise Federer, who played terrific tennis at the beginning of the third only for Murray to re-gather and take the game back to his opponent - as he did in the fifth set after Federer had levelled the match at 2-2.
Any player is bound to suffer dips along the way in a five-set match - you have to have the courage to recognise that and take the chance when it is offered to you.
There's no point in dwelling on the past and Murray didn't and the result was plain to see; Federer seemed a little shell-shocked in the fifth. He'd put so much into the fourth set that the fifth was gone before he knew it.
This defeat won't change Federer's psyche - he knows life is much tougher for him in Australia where it plays much slower at night - but Murray now knows he can beat Federer in a Grand Slam. That's where the difference lies.
I expect Djokovic was only too pleased to see the match go to a fifth set but although it was a long contest, lasting four hours, it wasn't a hugely physical match so I've no doubt that Murray will recover in time for Sunday's final.
As Murray said in his on-court interview, it's going to be a long, painful match - but he's ready for it.
Rights
Before then, world No 1 Victoria Azarenka will play my pre-tournament favourite, Li Na, in the women's singles final with each player aiming to win her second Grand Slam title.
Azarenka has come in for a fair bit of undeserved flak for taking a medical timeout at a key stage in her semi-final victory over American Sloane Stephens.
But I honestly feel that those criticising her would be better served directing their anger at the game's governing body because, under the rules, Azarenka was well within her rights.
As I've said repeatedly on commentary, I don't believe that players should be allowed to take injury timeouts because in a sport that is very physical, it's unfair to interrupt the match in such a manner.
It may sound harsh but if you are suffering physically in a tough match then you should get penalised, whether you lose the match or a certain number of points or games. You can't just halt play for 10 minutes while you recover because it's not fair on your opponent or the crowd.
Going into the final, I expect Azarenka to feel the pressure more.
In recent years, we've seen time and time again that players - aside from Serena Williams - cannot cope with being World No 1 and I think that could weigh heavily on her.
Whereas Azarenka is defending champion and will start as the favourite in people's minds, Li has come under the radar. There weren't many people who thought that she would beat Maria Sharapova and get to the final.
But in Carlos Rodriguez, Li has a very experienced coach who will prepare her properly and give her a clear game-plan.
If Azarenka was tight serving out the match in her semi-final against Stephens, what's she going to be like in the final?
Personally, I don't think the fact that Li has lost her last four matches to Azarenka really matters now because I don't think the Belarusian is as confident a player as she was 12 months ago.