Stanislas Wawrinka must build on Australian Open classic with Novak Djokovic, says Barry Cowan
A fit and fully focussed Stanislas Wawrinka can gatecrash the world's top 10, says Barry Cowan.
Last Updated: 22/01/13 9:25am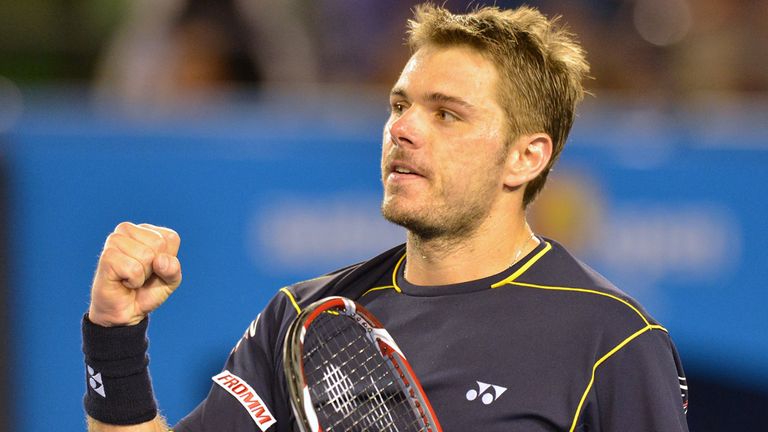 We also saw an epic clash between Andy Roddick and Younes El Aynaoui in Melbourne in 2003, which the American won, late into the night, after taking the fifth set 21-19.
But Sunday's fourth-round meeting between Djokovic and Stanislas Wawrinka was outstanding and the best first-week match of a Grand Slam that I can remember.
The level both men maintained throughout the contest was incredible; Wawrinka threw everything he had at Novak, but the world number one proved what an amazing competitor he is by eventually coming out on top in a five-hour, five-set cracker.
It didn't surprise me that the Swiss went toe-to-toe with Djokovic as he has produced performances against the best players before; he beat Murray at the 2010 US Open and looked unstoppable for two sets against Roger Federer at the Shanghai Masters in October, before wilting in the third.
Wawrinka has always had the game and shot-making ability to test the top guys, but perhaps hasn't always been able to cope with the ups and downs of a five-set match as well as his talents should have allowed him to.
Stanislas didn't wither against Novak, though, and on another day he could quite easily have won that match and be looking at a third Grand Slam quarter-final appearance, following last-eight berths at the Australian Open in 2011 and in New York three years ago.
If the 27-year-old can make the fitness and focus he showed in Melbourne a permanent part of his game, he will definitely establish himself in the top 10 in the rankings.
But what he needs to do now is win smaller events and not put in a lame performance in the first or second round, get knocked out and think: 'Oh well, it just didn't quite happen for me', as these tournaments are where you build your momentum.
If Wawrinka had a couple more titles under his belt - he currently has three, the most recent of which came in Chennai, India in 2011 - he may have been able to defeat Djokovic - who will battle Tomas Berdych next - when he took the initiative in the fifth set.
Favourite
Murray, meanwhile, has eased into the quarter-finals, as I suspected he would before the tournament began, after conquering Gilles Simon in straight sets on Monday.
Andy will be the overwhelming favourite to beat Jeremy Chardy, who pulled off a shock by beating Juan Martin del Potro in round three before ousting Andreas Seppi in the last 16, but he must not underestimate the Frenchman.
Chardy has the firepower to challenge - and beat - Murray, though I don't think he yet has the mental capacity or the movement to do it over a long period of time, while the shots that have won him points so far in Australia will come straight back at him.
With it being his first Grand Slam quarter, I find it hard to envisage another shock, but it is great for the game to see the 25-year-old, who has a massive serve and a great forehand, in the latter stages of the event.
A lot of guys play the same way these days, but Chardy is a shot-maker and a little bit different and, therefore, asks alternative questions of Djokovic, Murray et al, who often get used to one mode of attack.
Minds
Federer, whose strength and fitness I praised in a column last week, will tackle Jo-Wilfried Tsonga in the quarters after despatching Milos Raonic, and is now my favourite to take the title; the courts are speeding up and that plays right into his hands.
Tsonga has beaten Federer at Wimbledon but the Swiss has improved his attacking skills in the last few years in order to stay at the apex of the game, while his opponent is struggling to beat top 10 players at the moment - a fact that will be in both players' minds.
Plus, Tsonga's backhand is average and if you are coming up against an in-form Federer every part of your game has to be top notch; Jo-Wilfried ticks a lots of boxes but I don't think he has enough to topple the 17-time Grand Slam champion at this point.
The final last-eight clash will be an all-Spanish affair with David Ferrer meeting Nicolas Almagro and you have to make the former favourite as he has won each of his 12 clashes with his opponent - 10 on clay and two on hard courts.
Almagro has gotten better and seems to relish being amongst the world's top 10 - something you cannot say about all players, notably Wawrinka circa 2008.
He is a great striker of the ball, too, but he doesn't have THE great shot, one that can really rock Ferrer, so he will have to hit seven or eight very good forehands or backhands in a row to win a point - and keep on doing that for four hours.
It may happen but I just don't see it.