Laura Robson and Heather Watson showed courage in abundance to reach Australian Open third round, says Barry Cowan
Laura Robson and Heather Watson showed plenty of courage to reach the third round, says Barry Cowan.
Last Updated: 17/01/13 4:12pm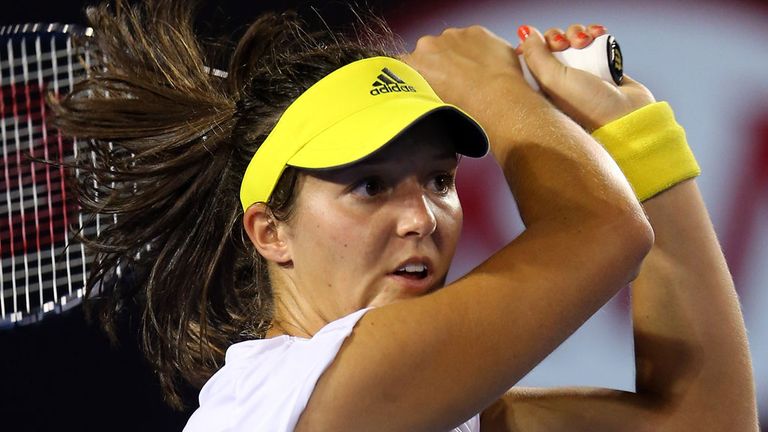 Both Brits bravely fought back from the brink of defeat to progress past the second round, Heather staving off three match points to beat Ksenia Pervak and Laura coming through a gruelling three-hour epic to see off the eighth seed Petra Kvitova.
The victories proved that each player is on the right track and that they have the happy knack of pushing each other to greater success.
Hopefully on the back of these and future successes, younger players in our sport will look at Heather and Laura and think 'if they can do it, so can I'.
Impressed
In some ways, today's success may prove more beneficial to Laura than her victories over Kim Clijsters and Li Na at last year's US Open.
Against the Belgian, Laura closed her eyes, swung hard and the ball went in. But today she had to overcome a lot of hurdles, not least her serve which failed her at the start of the match. After losing the first set 6-2, she dug deep and fronted up to the challenge in front of her. I'm sure that experience will help her further down the line.
Laura didn't play anywhere near her best tennis and it's fair to say she wasn't up the Kvitova of a couple of years ago, the Czech contributing 18 double faults to Laura's cause.
But she didn't get down on herself when she served for the match in the third and got broken; that impressed me and shows she's now approaching her matches with greater maturity.
Even before she won Junior Wimbledon, it was clear that Laura is an incredible ball-striker but there are so many other factors that have to come into play if you are going to make an impression on the big time. Happily, she is taking those points on board and prospering as a result.
Predicament
Heather doesn't have the same ball-striking ability as Laura but is a great athlete and an incredible fighter; she has worked really hard on her game after coming in under the radar in the last year or two of juniors.
Her reward for beating Pervak is a match against World No 4 Agnieszka Radwanska, who won 6-0, 6-2 when the two met in the third round of Wimbledon last year.
Heather was totally outclassed that day and this will be a really good test to see if she has improved areas of her game because everything points towards another comfortable win for Radwanska, who is in great form and has won back-to-back titles, in Auckland and Sydney.
The match-up of styles will certainly help Radwanska but all Heather can do is give her very best.
Her predicament is not dissimilar to the one faced by Caroline Wozniacki in that she needs to play more aggressively but not at the expense of her real assets and strengths.
Heather is not all of a sudden going to start hitting the ball like Serena Williams so there's no point trying to play like that if you end up making one unforced error every two points.
Sharper
In the men's draw, I've been impressed with Roger Federer's form and in my mind he is very much a title contender because the courts are playing quicker than expected.
Before the tournament I felt that Andy Murray or Novak Djokovic would get the better of him because I presumed that the surface would be the same speed as in previous years, but that's not the case and Roger looks sharp physically. I think he's done a lot of work in the off-season.
Roger comes out at the beginning of an event and tries to play the same way as he would do in a semi-final - he puts his foot on the accelerator right from the word go.
He made a few unforced errors early on against Nikolay Davydenko but if he plays in that manner for a further three or four matches and gets through to the last four, he's going to be even sharper. It's a lesson that a lot of the other men in the field are adopting, but particularly Andy Murray and Novak Djokovic, who was awesome against Ryan Harrison in round two.
I really like where Andy is at, at the moment; he looks on the ball 100 per cent, both physically and mentally, and he hasn't taken anyone for granted even though he is now a Grand Slam champion.
I still feel that his first test in this tournament will come against Juan Martin del Potro so his priority up to that point has to be to get the job done as quickly and efficiently as possible, because you want to be as ready as you can be for when that five-hour epic hits you.