Roger Federer has the toughest Australian Open draw, says Barry Cowan
Barry Cowan says that of the top seeds, Roger Federer has the toughest Australian Open draw.
Last Updated: 15/01/13 2:55pm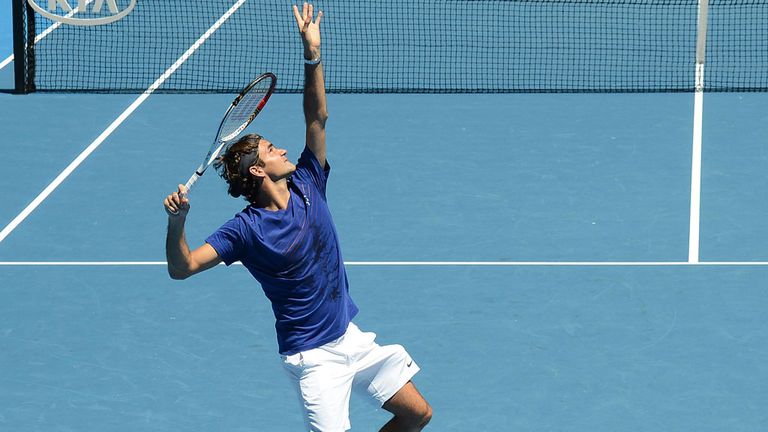 The Swiss could potentially face Russian Nikolay Davydenko in the second round and, as I said in my last column, the Russian looked very impressive in reaching last week's Doha semi-final.
Given that Federer hasn't played any competitive tennis since the ATP World Tour Finals at the O2 in December, he could find it a tough match; match-play wise you'd expect Federer to be undercooked although being the great champion he is, there's every chance he may well come out all guns blazing.
He will have to be on his game, though, because Bernard Tomic potentially lies in wait early on, while Philipp Kohlschreiber and the dangerous Milos Raonic are also lurking in his quarter.
In contrast, I feel Andy Murray has been dealt a pretty good draw up until the quarters where he could run into the powerful Juan Martin del Potro - my favourite for the title outside of the top three.
I don't believe his first round opponent, Dutchman Robin Haase, nor any of the players he may subsequently face are capable of beating Murray if he plays at seven out of 10.
Yes, he could have a stinker - that happens sometimes - but if Murray approaches his matches in the right way then he should secure a place in the last eight relatively easily.
Murray did have to come back from two sets down to beat Haase in the 2011 US Open, but he's come a long way since then while Haase has gone backwards.
The big talking point before the draw was what half Murray would end up in and I think he'll be marginally happier knowing that Federer awaits in the semi-finals than Novak Djokovic.
Appetising
Given how dominant Serena Williams has been in the last six or seven months, it's hard to imagine that anyone will be able to topple her in Melbourne.
After winning 52 of her last 54 matches, I doubt she's too bothered about what part of the draw she's in - but the same won't apply to her rivals.
I'm sure defending champion Victoria Azarenka will be disappointed to be drawn in the same half as the Wimbledon, US Open and Olympic champion but like the rest of the field she'll have to quickly come up with a plan to defeat Serena, which is easier said than done!
Britain's Laura Robson has got a really appetising draw. I honestly feel that she should beat American Melanie Oudin and, if she does, then either Francesca Schiavone or Petra Kvitova await in the second round.
Kvitova's game has been all over the place in recent months but if she does beat the Italian, I reckon Robson will be quite pleased because she's more than able to match Kvitova for power; it's the more athletic players that she struggles against.
I also feel that Heather Watson could make it through to the third round but then she may have to play Agnieszka Radwanksa, who roughed her up 6-0, 6-2 at Wimbledon.
Find out who Barry is backing in his Sky Bet charity bets here.