Andy Murray's fight, Grigor Dimitrov's future and Nikolay Davydenko's form are all encouraging, says Barry Cowan
Barry Cowan blogs on Nikolay Davydenko's form, Grigor Dimitrov's future and Andy Murray's fight.
Last Updated: 07/01/13 4:42pm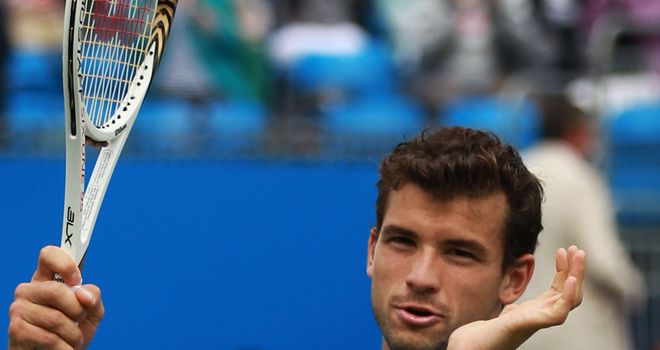 After looking shattered at the World Tour Finals in December, Janko Tipsarevic appeared refreshed and ready to go again as he overcame Spaniard Roberto Bautista-Agut to win the Chennai Open.
Over in Doha, Nikolay Davydenko was nearly back to near his best as he pushed a steely Roger Gasquet hard for the title before losing 3-6 7-6 (7-4) 6-3.
Meanwhile in Brisbane, Andy Murray continued to warm up well for the Australian Open with victory over the blossoming Bulgarian, Grigor Dimitrov.
Goal
I was out in Doha where it was great to see Davydenko back on form and playing almost as well as he did when he beat Roger Federer and Rafael Nadal to win the title three years ago.
At a set and a break up, plus two break points to the good, this was a final he really should have won but the closer he got the tighter he became; he hasn't won a title for 18 months and that seemed to affect his game and he began to struggle physically at the beginning of the third.
But I've no doubt that on this evidence he'll fulfill his goal of returning to the top 20 and I think that if he stays injury free that he'll climb higher in the rankings than that.
Gasquet proved just too hard a nut to crack this time and his coach Riccardo Piatti, who in the past has worked with Novak Djokovic and Ivan Ljubicic, has to take a lot of credit for that.
However, the Frenchman must address his inability to start matches aggressively because ultimately that will count against him in big matches.
You simply can't afford to be down a set against the very best; Djokovic lost one match last year when his opponent was up a set and that was a freak result, when Sam Querry won the first set to love in the second round of the Paris Masters.
Talent
No-one could doubt Dimitrov's intent as he seized a 4-1 lead in the opening set against Murray in Brisbane but Murray hates to lose and once again showed what an incredible competitor he is as he came back to win the final in straight sets.
There's no doubt that Dimitrov has talent - as anyone who saw his incredible 'behind-the-back' shot against Viktor Troicki last year will testify - yet although we've been talking about him for a number of years now, it's taken him longer than expected to contest for titles.
Many youngsters - particularly those who possess as much potential as he does - almost expect victories to come but the top of the men's game is so tough that you can't afford not to work hard. You have to compete in every single match to get your breaks but I don't think he's done that up until now; he simply hasn't shown enough mental resilience.
I hope his run in Brisbane is proof that the penny has dropped; if Dimitrov goes deep in Sydney this week, then there's a good chance it has.
Shift
Tennis has become so physical a sport that it's not surprising that at the age of 21, Dimitrov is the youngest player in the top 50 of the rankings.
Most 18 or 19 year olds aren't in the same shape as a player who is 25 and working hard on their physique for six or seven years.
Juniors tend to spend more time working on their game whereas someone like David Ferrer will spend more time training than he does playing tennis - a distinct shift from the early stages of his career.
Murray pushes himself as hard as anyone and I wasn't surprised to see him come back and win the title; he was pretty choked up after the match when he dedicated his victory to his good mate Ross Hutchins, who is suffering from Hodgkin's Lymphoma, and understandably so because Ross is a really good guy.
He's also a very positive person and I wish Ross all the best; I sincerely hope that he makes a full and speedy recovery and gets back on a tennis court as quickly as possible. News like that puts everything in perspective.
Seedings
Although Murray struggled early on in Brisbane and didn't produce his best tennis, it was a confidence-building win that will serve him well for the Australian Open. His level will only get better and I believe he will be 100 per cent ready for that tournament.
I've heard several people say that Rafael Nadal's injury-enforced absence in Melbourne is a big plus for Murray and while it's true that there is one less elite player between him and the title, the fact that Murray is now seeded third in the tournament is a big disadvantage.
Providing the top seeds Novak Djokovic and Roger Federer get through, one of them will play either David Ferrer or another player lower down in the rankings in the semi-finals; either Djokovic or Federer will then have a huge advantage over the other, who in all likelihood will end up facing Murray.
In contrast, you'd think that if Murray was ranked No 2 he'd have a 50 per cent chance of earning a favourable semi-final draw such is the difference in quality between Ferrer and the top three in the standings.
But that's the way things have panned out this year and I'm sure Murray will take it all in his stride.
Pressure
Before Christmas I was shared some of my thoughts on how best to develop grassroots tennis on Sky Sports News, including my thoughts on the women's game which remains of a poor standard in Britain.
I say that even though Britain now has two women in the top 50 of the rankings for the first time in the shape of Laura Robson and Heather Watson - two very good players who will carry women's tennis in this country for the next five or six years.
They have a great rivalry and will push each other on the court; yes, they are friends, but they also want to be better than each other and I'm sure they'll both be in the top 50 for many years to come. We've lacked that type of competition for too long.
It's obviously disappointing that Heather has had to pull out of the Hobart International this week - let's hope that she makes a full recovery in time for Australia - while Laura hasn't had the start to the year that she would have wanted, but then there is so much pressure on her.
After her run in the US Open people were saying 'here's a future World No 1 and a Grand Slam champion'.
She had a couple of great wins but, taking nothing away from Laura's achievement, Li Na was well below her best while Kim Clijsters is not the player she was.
Laura might ultimately become a Grand Slam champion but at the moment she is off that pace; I sincerely hope that she can develop at her own rate.
It might take six months, it might take six years, but the last thing she needs is a lot of external pressure on her because I don't think she's coped particularly well with it in the years since she won Junior Wimbledon.