Barry Cowan hails Juan Martin del Potro's back-to-back wins and Novak Djokovic's second year as No 1.
Barry Cowan hails Juan Martin del Potro's wins and Novak Djokovic's second year as No 1.
Last Updated: 31/10/12 11:35am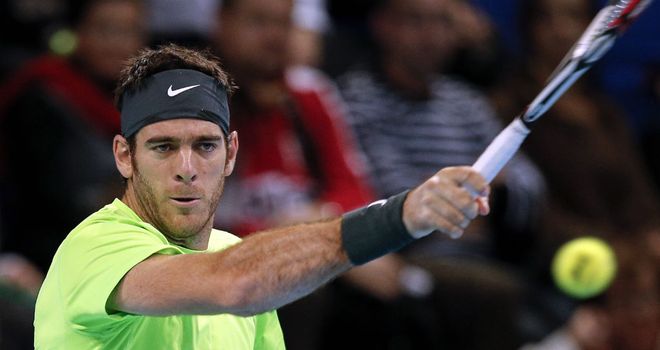 Prior to Sunday's final, he'd lost six times in a row to Roger Federer this year alone, including a spirit-crushing defeat in the Olympic semi-finals and another in the French after he had been two sets to love up.
The Argentine was pegged back again at the weekend, losing the second set tie-break after winning the first set 6-4, but this time he dug in to earn his fourth title of the year.
More significantly, he's now won two tournaments in a row, backing up his win at the Erste Bank Open with victory in Basel, and that's a crucial step forward as he attempts to build up his confidence ahead of next year.
I've never doubted that he, if anyone, is the player who could potentially take over from one of the top four but as things stand his game is still a level below the best of the world. But the signs are encouraging for the future.
Del Potro's victory was all the more heartening given that it looked as though his back was really hurting him in his quarter-final match against South African Kevin Anderson.
It took great effort to come through that one, but once he had he went on to play some great tennis against Richard Gasquet and stay strong to despatch Federer, who said (in defeat) that he was 'not 100 per cent' fit.
I don't think Federer was at his best in either Shanghai or Basel.
Although he made the final last week, he seems half-a-step slow right now which in some ways is perhaps unsurprising given he's had such a tough 12 months.
Federer's had to play more than he'd ideally like to climb back up the rankings and that appears to have taken its toll, both mentally and physically.
By withdrawing from the Paris Masters, he's taken the chance to get himself right again for London which is a sensible move.
He will have to work hard in the off-season, though, because as Andy Murray showed against him in Shanghai - and as Novak Djokovic has illustrated across the season - the bar keeps rising.
In all honesty, the way Federer played the decisive tie-break against Del Potro was poor.
Self-belief
When you are not 100 per cent fit, or rather not in peak fitness, you can lose that inner self-belief that is so crucial. In the past when Federer has been under pressure he's come through time and time again with flying colours, but this time he didn't.
I'm sure he won't dwell on that too much but equally he'll recognise that the danger signs are there.
Federer's decision not to play Paris just goes to show how ridiculous the current schedule is. London is more important than Paris, so it was inevitable that if he picked up a niggle, he'd pull out.
The rigours of the tour won't do Del Potro any favours, or David Ferrer either. The Spaniard doesn't cut corners but after winning in Valencia, even he must be looking at his schedule with some trepidation.
It's such a shame that one of the biggest Indoor tournament that we've had over the last 25-30 years is being so adversely affected because they've squeezed the schedule.
Realistically, the guys who are going to be in great shape this week are Murray and Djokovic because they are already rested up.
If you compare Djokovic's demeanour now to how he was this time last year, he appears a lot fresher.
Sometimes players can suffer from the 'second year syndrome' after finishing the year at the top of the rankings but Djokovic - who will overtake Federer as World No 1after Paris - has simply kicked on.
Finishing top of the rankings in 2012 is a better achievement than claiming the World No 1 spot last year because you can look at 2011 as a one-off.
Last season he was pulling matches from nowhere, which built his self-belief up to incredible levels.
This season I think he's developed into a better player without being as tight in the big matches and yet he's still World No 1. That's the case even though Murray has got better and Federer enjoyed a fantastic first half to the season.
Being World No 1 does still count for something in the men's game and Djokovic is comfortable with that, as Federer has been in previous years, and I think Murray will be ready to take that mantle too and all of the extra pressures that come with it.