Heather in full bloom
Barry Cowan on Heather Watson's landmark win and another fine duel between Murray and Djokovic.
Last Updated: 17/10/12 12:33pm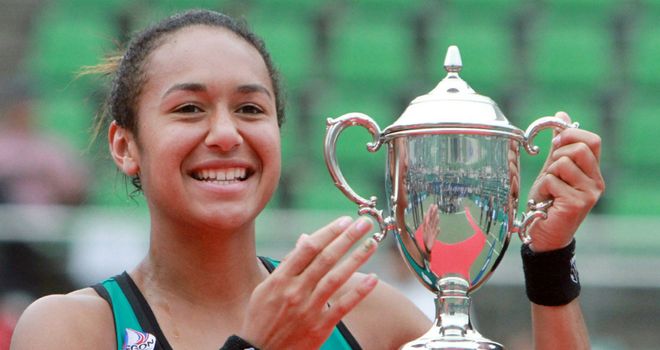 What a week that was for British tennis!
Heather Watson became the first British woman to win a WTA singles event since Sara Gomer's victory in California in 1988 and Andy Murray almost made it a double in his epic Shanghai Masters Final with Novak Djokovic.
I don't think we've ever gone into a Sunday with the potential of two British winners in the same day but we were just one point away from achieving that, only for Djokovic to save five championship points against Murray.
But Watson wasn't to be denied. Playing in her first WTA singles final at the Japan Open she seized her opportunity. I don't think anyone's ever doubted she's a tremendous athlete and competitor but this win confirms her continued improvement, moves her to 50 in the world and shows she is knocking on the door now, ready to step up.
British tennis has struggled for many years - not just in the women's game, but in the men's, too - and those struggles continue, but in Watson and Laura Robson, who is up to a career best 52 in the world, we now have two very talented players of similar ages who are pushing each other to new heights.
It's a similar situation to when Tim Henman and Greg Rusedski were playing; they got the best out of each other in the same way Heather and Laura can now.
Initially it was Heather who made the move this year, reaching the third round at Wimbledon before Laura won an Olympic medal, reached the fourth round at the US Open and made the final in China a few weeks ago. Now Heather's gone one better and, although they get on, Laura will be saying 'if she can do it, I want to do it, too'.
There's a healthy rivalry there and hopefully they can continue to drive each other up the rankings next year.
It's very difficult to say how far Heather can go in the game and I wouldn't like to put a label on it, but I am convinced she will achieve her potential, whatever that may be. And that's because of her attitude.
She is short on power and that could stop her from getting inside the top 20, but what she lacks in power she makes up for in athleticism and determination. Sara Errani, who made the final of the French Open, showed you don't have to be able to hit the ball hard to mix with the best.
The next goal for her is to try and halve her world ranking over the next 12 months. She should be looking to establish herself as a regular at the third round stage of Grand Slams, get to the last 16 of WTA tournaments and, as and when a draw may open up, be ready to take her chance, as she did last weekend.
Best ever?
He may not have won but I was also very impressed with the performance of Murray in Shanghai. His final with Djokovic was one of the best Masters finals I've ever seen. The tennis was astonishing and I thought it had absolutely everything.
Yes, Murray had five match points in the second set to win the title, but he didn't lose it, Djokovic won it. The Serbian - who seems likely to finish the year as world number one - rolled the dice, got lucky with a through-the-legs shot which would have given Murray three match points and played some superb tennis.
Andy has shown after his US Open win that he is mentally ready to move onwards and upwards and this is another stepping stone to great things for him.
I was so, so impressed with the way he played, not just in the final but also in the way he hit Roger Federer off the court in the semi-final. I've never seen anybody demolish Federer's serve the way Murray did.
However, it wasn't pleasant to see both Murray and Djokovic demolish their rackets at various stages during the tournament.
I don't want to condone what they both did because it doesn't send out a great example to kids who were watching; you don't want them to feel that's acceptable - although I can also totally understand why they were doing it.
Emotion
It's an emotional sport and you'd much rather get that anger and frustration out straight away than let it affect you for the next half hour.
People may wonder why, after both players have enjoyed fantastic seasons, they're still so passionate and desperate to win deep into October. Well, the four big guns - Djokovic, Murray, Federer and Rafa Nadal - are driving each other to exceptional levels week-in, week-out and none of them want another one to get an upper hand on them.
Djokovic wanted revenge after losing to Murray in the US Open Final and Murray wanted to add to that Flushing Meadows win over his rival. And don't forget, these two could be meeting at an Australian Open final in just over three months' time and that last meeting can count for so much.
If Federer meets Murray in the Australian Open semi-final he certainly won't be feeling good about facing him after losing in Shanghai and at the Olympics. That's why these head-to-heads, even so late in the season, are so important.