Earn your stripes
Barry Cowan urges John Isner to stand up and be counted at the US Open for the sake of American tennis.
Last Updated: 28/08/12 9:29am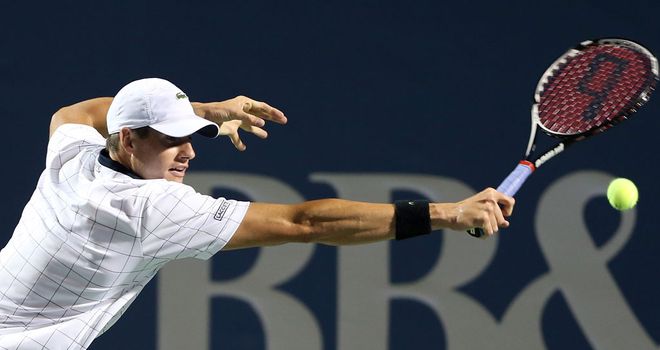 Gone are the days when America dominated men's tennis.
I doubt we'll ever see another era where the US held centre stage with the likes of John McEnroe and Jimmy Connors, or Andre Agassi and Pete Sampras, to the fore simply because the landscape has changed so much.
These days there are far more countries on the tennis scene and even the 'smaller' ones - such as Finland (Jarkko Nieminen) and Cyprus (Marcos Baghdatis) - have at least one player capable of challenging.
Trapped
Right now there are nine Americans in the top 100 of the ATP rankings, one of whom - John Isner - holds a place in the top 20 and some countries, including Great Britain, would love to be in that position!
But the biggest worry I have about American tennis is that they are producing players who largely all play the same way and who all have holes in their game and it makes you wonder where their future lies in terms of their DNA.
With the exception of Mardy Fish, they all tend to play 10 feet behind the baseline. It's as if the USTA's development policy has become trapped between a rock and a hard place - or rather a clay-court focus and a hard court focus - in terms of game style.
It's not easy to create Grand Slam tennis players but to my mind America has gone away from what they were great at.
It's all the more worrying when you look at the next generation. Donald Young has just had a horror year, while Ryan Harrison - who I had really high hopes for - has had a really disappointing American summer.
In American tennis it's 'first or nothing' and to some extent Andy Roddick has fallen flat in the States because he's won one Grand Slam to Roger Federer's 17.
Fish became American No 1 without hitting the radar - he's still got to get endorsements - while Isner is not going to hit the radar because as yet he's not in the running to win a Grand Slam.
That has to be a big concern for the future of the sport in America. Tennis needs great American players to be winning Grand Slams and at the moment there are no signs that it is going to change as Europeans continue to dominate the sport.
Difficult
I want to see Isner really step up and be counted in the coming weeks. The world No 10 has got so much more in him as a tennis player.
He has a mammoth serve and technically he is good from the back but when you are 6ft 10in, why would you want to play 10 feet behind the baseline?
His returns stats are poor to say the least - out of 66 players he's 66th! So although he's had a career-high year, you look at that area of his game and wonder what he could achieve if he changed the way he plays.
I still believe that Roddick has got a run in him in a Slam but not one that takes him very deep - that has long gone. These days he is not capable of beating the very best.
As he proved last year, he can beat the likes of David Ferrer in that 'second tier' of players even though his body is battered. But playing the best of five sets every other day is proving more and more difficult for him.
This time around he's got a fairly good draw and I can see him making the last-16 but in my mind he's got about a 20 per cent chance of beating Juan Martin del Potro. That's where he is now.
Dangerous
I reckon Querry could make the quarter-finals and Fish is potentially a very dangerous player because of the way he plays - he's got a big serve, accurate from the back, he can volley.
However he's likely to face Federer in the last 16 and over five sets there's only one winner for me because Roger is in tremendous form - he's bounced back from the disappointment of missing out on Olympic gold.
One of Federer's biggest assets over the years has been his ability to put knockbacks behind him quickly and move on.
Personally, I thought it was a mistake for Harrison to play in London 2012 - I felt he should have stayed in America and taken the opportunity to get on a roll, build momentum and hit the ground running when all of the guys were coming back to the Tour.
He's stuck in that difficult position where his game might be improving but he's not winning and whenever that happens, you lack the confidence you need to move up a level.
I've still got high hopes for him but his position is no different from any other young guy on the Tour. With every month that goes by it becomes that much harder to break through to the top 10.
There are very few guys who end up being in the top four or five who break through at the age of 23 - most of them break through at least a couple of years earlier, which makes you wonder where the next American Grand Slam champion is coming from.