Brit rewards
Barry Cowan blogs on Andy Murray's Olympic glory and why Novak Djokovic MUST win the Toronto Masters.
Last Updated: 07/08/12 10:04am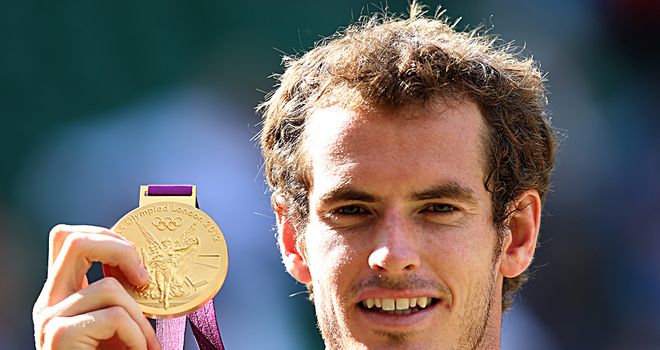 Andy Murray was incredibly relaxed at the Olympics and relished representing Team GB.
That was evident by the manner of his victory over Roger Federer in the men's singles final, just 28 days after he was beaten by the Swiss in the Wimbledon showpiece.
Andy took inspiration from the exploits of Mo Farah inside the athletics stadium on Saturday night, but what really won him the match against Federer was his handling of the situation; he coped better with the pressure than a man with 17 Grand Slams.
Murray said before the clash that he looked upon Federer as his equal in this contest as both men had yet to win Olympic gold and those words, even if it was kidology, helped him.
But I also think being a member of the British squad, soaking up the atmosphere and teaming with Laura Robson in the mixed doubles played a part.
He had to play a dominant role in his tandem with Robson and did that with maturity, both in his tennis and with the way he influenced Laura and helped her play her best.
Exceptional
If Andy can harness the good points from his Olympic experience and add them to the positive things he has been doing this year, he can continue to flourish.
He was indifferent at the French Open but since then he has been brilliant; he did not panic after he went out early at Queen's, he did everything right at Wimbledon and he has now done everything right at the Olympics.
Novak Djokovic went on his exceptional run after winning the Davis Cup for Serbia in 2010, could Andy Murray do the same after striking gold for his nation at London 2012?
There are always people asking whether tennis belongs in the Olympics and more questions were raised when there were a few empty seats at the start of the tournament.
I don't think we can read too much into that, though. Tennis is not like a lot of other events and to expect people to be in their seats for eight hours is unrealistic, plus, the fans were often moving between courts to see other action.
And if you want a snapshot of what the Olympics means to these players, just look at how Juan Martin Del Potro reacted to winning the bronze medal; he shed tears of joy and was as elated as when he won the US Open in 2009.
All the top guys, bar the injured Rafael Nadal, played at the Games and all of them were desperate to win the competition. It had the air of a fifth Grand Slam about it.
Dig in
Tennis now leaves London and heads to North America for back-to-back Masters series in Toronto and Cincinnati - and I have no idea what to expect from the two events.
It is a very quick turnaround from the Olympics and while players will want some matches under their belt, they won't want to overplay and dig into their energy reserves too much ahead of the US Open at the end of the month, which will be hot, humid and taxing both mentally and physically.
There will be no Federer or Nadal in Toronto but Murray will be in action later in the week, having been given a first-round bye.
I don't think he has to win the title and the most important thing for him is to show fight and keep applying himself match in, match out like he has been doing.
It's not a must for him to collect more victories and I reckon an early defeat with the right attitude would be more beneficial than making the final with the wrong attitude.
Novak Djokovic, though, HAS to win this week. He is not at the same level mentally as he was a few months ago and is starting to doubt himself on big points, whereas before he was coming up with shots in impossible situations.
In his last couple of matches at the Olympics, against Murray and Del Potro, Djokovic lost close sets, sets that he was winning a year or six months ago. The guy is a great champion and I think this blip will be temporary but he needs to re-establish himself.
Intensified
Tomas Berdych, meanwhile, needs to win a match, having lost in the first round at Wimbledon and at the Olympics, while John Isner also has to make an impact.
There is always a lot of pressure on Isner at this time of the year as we lead up to the US Open and now he is American number one that has intensified, but he doesn't seem to have looked comfortable since he has assumed that mantle.
Canadian Milos Raonic, too, will be looking to produce in his homeland and it is about time he made the quarters or semis of a Masters event, but I will be hoping for another strong performance from Tommy Haas.
The veteran German has had a remarkable run; he got to the final in Washington on Sunday, which followed on from his victory at Halle in June and his runner-up spot in Hamburg earlier this month.
Haas is now up to 25 in the world, which is a wonderful achievement considering his age and the injuries he has had; it is one of the stories of the year.
The 34-year-old was as high as number two in the world, albeit 10 years ago, and you can't get that high through luck, you get there because you are class. He is without doubt one of the best players in the last decade or so not to win a Grand Slam.
Haas has probably mellowed in the twilight of his career and enters every tournament thinking it could be his last, as you would imagine he is just one injury away from perhaps calling it quits.
He is under no pressure and that makes him a real danger.