Turf war
Andy Murray CAN break his Grand Slam duck if he plays a blistering brand of tennis, says Barry Cowan.
Last Updated: 10/07/12 11:03am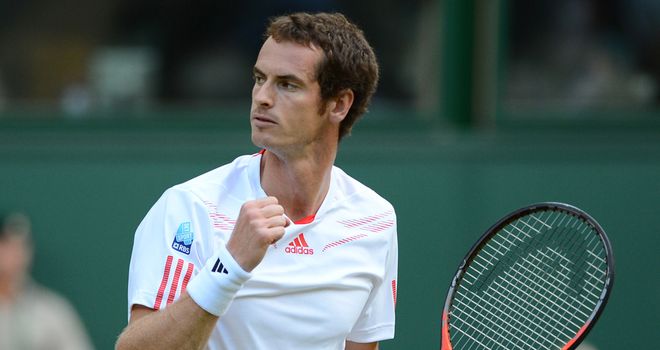 Andy Murray will be aiming to end Britain's 76-year wait for both a Wimbledon and Grand Slam champion on Sunday when he faces six-time SW19 king Roger Federer in the All England Club showpiece.
The Scot has tasted defeat in his three Major finals to date; the 25-year-old lost to Federer at the 2008 US Open and at the Australian Open in 2010, while he was also beaten by Novak Djokovic in Melbourne in 2011.
So can the Scot, who defeated Jo-Wilfried Tsonga in Friday's semi-final, finally get his name on the Grand Slam roll of honour by conquering a man with 16 Major crowns and the tag as one of the greatest players to ever pick up a racket?
Barry Cowan has been blogging for skysports.com throughout the Wimbledon fortnight and on the eve of the men's final, he answers the key questions, including whether Murray will be raising the SW19 trophy above his head come Sunday evening...
skysports.com: Andy Murray has lost two of his three Grand Slam finals to Roger Federer. Will that have any bearing on Sunday's match?
BARRY: What is more relevant is that he has lost three Grand Slam finals. Going into Sunday's showpiece would have been difficult for Andy whether he was playing Federer, Novak Djokovic, Rafael Nadal, Tsonga or Tomas Berdych, as there still would have been question marks over his ability to win when it really matters. However, the fact it's Federer, who was won at SW19 six times, will make it even tougher for Andy to prevail.
skysports.com: Murray has a positive head-to head record against Federer overall, winning eight times to the Swiss' seven. Will he be able to glean confidence from that?
BARRY: I don't think he can read too much into that because, to be brutally honest, in some of their matches it hasn't been the biggest match that Federer has played. Grand Slam finals have a different air; Federer has had six matches, built momentum and is peaking for this moment. When they are playing in Shanghai or Toronto, meanwhile, Roger obviously wants to win but he hasn't been gearing up his year for that one match. He has for this.
skysports.com: Federer beat reigning Wimbledon champion and world number one Djokovic in the semi-finals. Is there a danger he may struggle to back that up?
BARRY: That is a really good question because we see it happen in sport a lot where people can't follow up scintillating performances with another one. Roger would have looked at the draw after Nadal lost and thought: 'Who can stop me if I play my best tennis? Probably only Djokovic.' He could, therefore, have a downer on Sunday, but I don't see it like that because Roger has looked so focussed for a good few months now and I expect him to play very well, especially if it is under the roof because he is a great indoor player. Federer has had an almost perfect Wimbledon; he had his scares - two sets to love down against Julien Benneteau, the injury fear against Xavier Malisse - while he also has had his comfortable matches against Mikhail Youzhny, Fabio Fognini and Albert Ramos. Now he has recorded a great win over Djokovic - and when he plays so well in a semi he usually plays even better in the final and wins the event.
skysports.com: How will the crowd react on Centre Court when the hometown hero plays such a well-loved tennis icon?
BARRY: It will be interesting to see what the crowd split is as I hope it's massively in Murray's favour, but I remember them playing at the 02 Arena a couple of years ago and it was 50/50. I think it's really important for Murray that he feels the crowd are behind him, especially if the going gets tough as it will at some stage in a best-of-five-set match. That will be when he needs wholehearted support and hopefully the fans can spur him on to become Wimbledon champion as what a boost that would give British tennis.
skysports.com: How can Murray negate Federer's big weapons throughout the match?
BARRY: If Roger serves like he did against Djokovic, break point opportunities will be few and far between. So it will be imperative for Andy to hold on to his service games and wait for the one service game where Federer misses a couple of first serves so he can get involved in a couple of baseline rallies. The reason Roger has been so good on the grass is because once he gets on the front foot he makes it so difficult for you. On this surface, if he hits a big serve and forehand he wins the point, on a slower court if he hits a big serve and forehand it comes back. I'm anticipating an old-fashioned grass-court match; there won't be serve and volley but I would imagine service breaks will be at a minimum. If Andy serves likes he did in the fourth set against Tsonga he doesn't win, if he serves like he did in the fourth set against David Ferrer he has a real chance.
skysports.com: Will playing aggressive tennis be the key for Murray?
BARRY: Absolutely. He needs to be aggressive period, whether that's body language, first serve, second serve, or returns. Everything he hits has to be positive because that's how Federer will play. The Swiss won't want to engage in 13-14 shot rallies as that is not what has won him 16 Grand Slams. He won't back off and if he misses a few balls he will keep going for them. Andy has to do the same and mustn't allow Federer to dictate him. The fact he has lost three big finals means he might start nervously but he cannot get intimidated.
skysports.com: Has Andy been too passive in previous Grand Slam finals then?
BARRY: Yes. He has tried to play carefully early on and against the greats, in big finals, you can't do that. The first set is so important; if you get in front you feel so much better and your opponent starts to chase. Murray needs to come out of the starting blocks like he means business and give Roger something to think about. Roger will expect Andy to work his way into the match rather than come out all guns blazing, so an attacking approach may make Federer recalibrate his plans and when the Swiss is forced to think he can come unstuck. Nadal makes him think and that's why he often loses to the Spaniard.
skysports.com: Federer has not won a Grand Slam since the Australian Open in 2010 and Murray has yet to lift a Major at all. Who is under the most pressure?
BARRY: It's difficult to say. Andy is now in his mid-twenties, has lost in his three Grand Slam finals and not claimed a set. We are desperate for him to end the 76-year wait for a men's singles champion at Wimbledon but we are wondering whether he can make that next step mentally. There are also question marks over whether Federer can still a string a Grand Slam-winning performance together. He will put tremendous pressure on himself to win another major and, of course, he has the added incentive of returning to world number one and overtaking Pete Sampras' length of time at the top of the rankings.
skysports.com: What will Andy's coach, Ivan Lendl, be saying to his man in the lead up to the final?
BARRY: It's not how much he says but what he says. He needs to tell Andy something that is concise and easy to digest. That might be two minutes on the practice court on Saturday or sometime on Sunday morning and I suspect it will be something along the lines of: 'Remember what a great tennis player you are. Keep your head up, keep your body language strong and the first time you have half a chance go for it'. That chance might be the third point of the match, at 0-30 on Federer's serve, or 5-5 in the first-set tiebreak and hopefully Lendl's words can help Murray take it.
skysports.com: So, who will win the Wimbledon title and why?
BARRY: I think Federer will win as he has such excellent weapons, especially on a grass court. He has one of the best serves in the game, one of the best forehands in the game, moves great and, as we saw against Djokovic, his backhand if pretty awesome, too; he has great variation. In a crisis, Federer has so many go-to shots, as well as the experience of winning 16 Grand Slams - but if Andy is aggressive, and plays like he did in the final two sets against Ferrer in the quarter-finals, he has a chance. Let's hope he can do it.