It's Serena's arena
Serena Williams should poleaxe Agnieszka Radwanska in the SW19 final, says Barry Cowan.
Last Updated: 06/07/12 12:02pm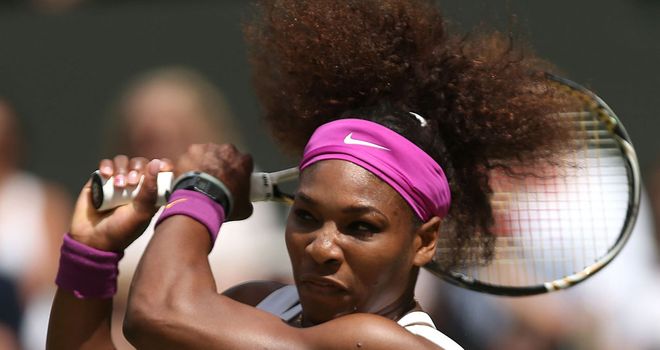 Agnieszka Radwanska is nothing if not a competitor.
The 23-year-old played with fight and flair to eclipse Angelique Kerber in straight sets and reach her first Grand Slam final, showing no ill effects from the cold she's been carrying.
But she'll need every ounce of her nous and counter-punching ability if she is to prevent a headstrong Serena Williams from claiming her fifth Wimbledon title on Saturday.
The American slammed down a tournament-record 24 aces in her straight-sets semi-final victory over Victoria Azarenka to take her overall tally this summer at SW19 to 85.
There isn't anyone in the world who can match Serena's serve on a grass court and everything points towards a very comfortable Williams win.
Admittedly, that's what I thought before last year's US Open final, when Serena looked odds-on to beat Sam Stosur only to slump to a 6-2 6-3 defeat. She bottled it that day and got tight when the pressure was really on. The swagger vanished, the aura evaporated.
Radwanska can also take heart from Serena's shock first round exit in this year's French Open, when she went down in three to Virginie Razzano.
But regardless of those results Serena remains the star of the women's game. She played well on clay this year and has steadily built momentum through this tournament.
She's such a better grass-court player than Radwanska that if she doesn't win on Saturday I honestly doubt whether she'll ever win another Grand Slam. This final is that big for her.
Losing two Grand Slam finals in less than a year on her favourite surfaces could be a blow that even Serena struggles to recover from.
Emphatically
She has already shown remarkable resilience to get to this point.
A little over 12 months ago it was unclear whether we'd ever see her reach this level again after injury complications kept her out of action for the best part of a year.
Yet she has emphatically put that part of her career behind her.
Her ascent back to the top of the women's game bears testament to her desire to get back out onto the court as well as her love of winning.
Serena was well short of her best as she saw off Barbora Záhlavová-Strýcová and Melinda Czink in the opening rounds and she relied even more heavily on her serve in the third to end Zheng Jie's determined challenge.
But the more her confidence has grown, the better she has moved and the more dangerous she has become from the back of the court.
Inevitably, though, it all comes back to that smooth, controlled serve.
Serena has such great feel when she's serving that she always seems to know the optimum time and way to strike the ball; that gives her a range of options whereas many other players are more reliant on flat or slice serves.
The same service motion enables here to generate incredible accuracy and power, too - an awesome combination.
Radwanska will have to be mentally tough to survive the expected onslaught and if I was coaching her my advice would be 'be tough, try and hang with Serena and try to get under her skin'.
When you play someone who is serving as well as Serena is, you've got to make sure you take care of your own serve. You have to be tight on your service games.
If Radwanska can get to 4-4 then Serena might have a couple of bad points on her serve and then an opportunity will beckon.
But if the Pole loses her serve once, she will probably lose the set. If she loses her serve twice she definitely will.
This is the first time that Radwanska has been anywhere near a Grand Slam final even though she is No 3 in the world.
Radwanska will always compete because she is good in all departments but unlike Serena she doesn't have a world-class shot.
Now it's up to her to prove she can rise to the occasion.