Final four beckons
Of the SW19 favourites, Andy Murray faces the toughest quarter-final test today, says Barry Cowan.
Last Updated: 04/07/12 11:00am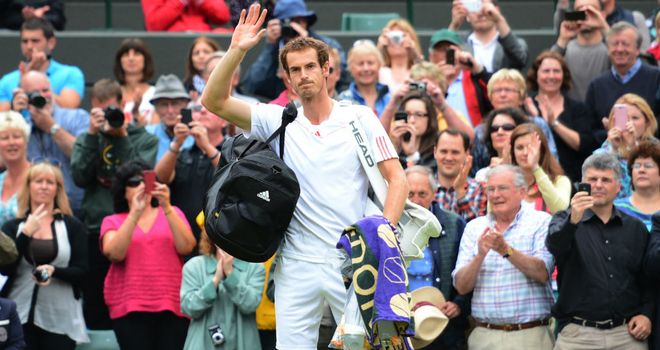 Despite the last two days of rain and cold weather in south west London, we're on track at Wimbledon and have a mouth-watering day of men's quarter-final action to look forward to.
Andy Murray will take on David Ferrer - the man who beat him at the French Open - while six-time Wimbledon champion Roger Federer faces Mikhail Youzhny.
Meanwhile, top seed and reigning SW19 titlist Novak Djokovic will battle German 31st seed Florian Mayer and Jo-Wilfried Tsonga will lock horns with Philipp Kohlschreiber.
Here are my thoughts on the contests...
David Ferrer v Andy Murray
Andy has got the toughest quarter-final of all the favourites left in the draw - and he'll need to be at his best to get past the powerful Spaniard, David Ferrer. When I saw that Ferrer had beaten Juan Martin del Potro I was surprised but watching the match back last night I wondered why I ever thought Ferrer would lose. Ferrer has been showing that type of tennis for ages, he beat del Potro in the Davis Cup last year and the Argentine is still reluctant to come to the net, and against Ferrer you've got to do that.
You can't expect to beat Ferrer from the back of the court because he's relentless, he's like a brick wall, he never seems to miss and he runs down everything. He's a very aggressive player as well, so when he dictates play he can make life very difficult for his opponent. Murray had first-hand experience of that when he lost to Ferrer in four at the French Open this year.
Of course, playing on grass is different to clay. At Wimbledon it will be easier for Murray to change the pattern of play during a rally - but Ferrer's power is something the Brit will have to be wary of. However, Murray needs to be aggressive, too. If he plays like he did in the opening set against Marin Cilic I don't think he'll win.
He needs to play like he did at the end of that match yesterday - but he needs to play like that from the start. He has to serve well - which he has been doing - and he needs to be aggressive with his return. And, as I said, he needs to come forward and mix it up. If he has the conviction to do that then I can see him booking his semi-final spot.
Roger Federer v Mikhail Youzhny
Federer is the overwhelming favourite to win this tie when you consider their head-to-head record. He has played Youzhny 13 times and won 13 times. When you look at the styles of each player, you have to say Youzhny won't be able to step the former world number one. But Federer has a back problem and I'll be interested to see how he starts this match.
Is the problem something curable during the event or something Roger has to cope with for the rest of the tournament? If it is something he's unable to shake off then his chances of beating Novak Djokovic in the semi-finals are slim. You have to be nearly 100 per cent fit to beat Djokovic. However, even a 75% fit Federer will be too much for Youzhny, I suspect. When you have a 13-0 record over someone it's very hard for your opponent to mentally believe they can win.
Youzhny is a great player and a talented shot maker - he's been in the semi-finals of the US Open a couple of times. However, to beat Federer you need to have a big serve and be able to stay with him physically and mentally, and that's where Youzhny comes up a little short. Mentally, you feel there's always a bad game there for Youzhny and you can't afford to do that against Federer. Youzhny and his coach have hopefully looked at Federer's performance on Monday and discussed that the Swiss is not at his best.
Things might change during the match but going into it Youzhny has a chance, if Federer plays like he did on Monday. But he has to believe. None of us can second guess what his thought pattern is going into this match but he can't play Federer thinking Federer is peaking towards the end of the tournament, becausethat's not the case.
Novak Djokovic v Florian Mayer
Mayer is a funky player. He has an awkward and unusual style - you certainly wouldn't teach it! He'd be a coach's nightmare. But the way he plays makes life difficult for his opponent. I'm not surprised he beat Richard Gasquet in the last round in these conditions. However, that type of style might unsettle Gasquet but it won't unsettle Novak Djokovic. Mayer is going to have to produce one of the biggest shocks I've ever seen at Wimbledon - and I don't say that lightly, having seen Lukas Rosol beat Rafa Nadal.
Looking at their styles of play it's hard to see how Mayer is going to win points over a sustained period against the world number one. He doesn't really have the power to hit through Djokovic's serve and, to be honest, I don't see anything but a three-set win for the reigning champion. Djokovic is really flying now and someone like Mayer isn't going to worry him at this stage of the tournament.
Jo-Wilfried Tsonga v Philipp Kohlschreiber
Tsonga was my pick at the beginning of tournament from the bottom half. I thought Tsonga would beat Rafa anyway, with the way he plays. He's brimming with confidence and I had a hunch that his performance at the French Open, when he played so well against Djokovic in the quarter-finals, on Tsonga's least favourite surface, would give him a boost going into Wimbledon.
I know he didn't have the preparation he wanted at Queen's but we've seen with Murray that doesn't really matter. He's going from strength to strength now and played well against Mardy Fish. He's got a big game - a big serve, big ground shots, a big presence and the ability to come forward and volley. In many ways he's as complete a grass-court player as there is in the men's game at the moment.
I suspect he'll have too much about him for the talented Kohlschreiber. The German is a good shot maker and I've felt for a while he should be ranked higher than he is. He won at Halle last year and is a good grass court player. Now he's finally got through to the last eight at Wimbledon. But looking at the two players which one believes he can go further?
Tsonga certainly does. Does Kohlschreiber? I'm not so sure. He's prone to get down on himself if things don't go well and when he feels the full force of Tsonga today we'll see if he is up for the challenge. It might go to four sets but I don't see Tsonga losing.