Delays dismay
The rain's a pain for Murray fans but there's a mouth-watering tie on Centre Court today, says Barry.
Last Updated: 03/07/12 12:58pm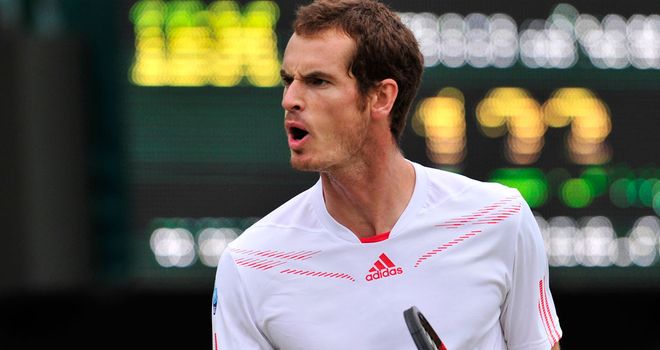 Yesterday the rain left Andy Murray and his supporters frustrated - but Marin Cilic must have been delighted to see the covers being pulled across Number One Court.
Cilic was involved in an epic battle with Sam Querrey on Saturday. Murray may have struggled to dispatch Marcos Baghdatis in four sets but it took Croat Cilic over five and a half hours to finally see off his American opponent in the second longest match in Wimbledon history.
Understandably Cilic wasn't at his best yesterday and the extra 24 hours or so respite may just help his cause. However, even if he does come back refreshed, he's a set and a break down to Murray, who was certainly not at his best.
Murray would have preferred for this match not to drag into Tuesday but that's the way it is. You have to cope with all types of players and all types of conditions to win grand slams. If you only had to face the same conditions every day against the same type of opponent the grand slams wouldn't be as interesting or as special.
Two players who weren't affected by the weather were Novak Djokovic and Roger Federer, who were playing their fourth round matches on Centre Court.
Before the tournament these were two of the three favourites for the title and, with Nadal out of the picture, the men most people are tipping for victory.
However, this is the stage of the tournament when you start looking at how people are playing to gauge their form and chances, and I have to say they're on different levels to each other at the moment.
Djokovic was immense in his match against Victor Troicki. He was brilliant. It was never going to be a match I expected him to struggle with but, even so, he has a certain aura and demeanour at the moment which exudes confidence.
Federer, meanwhile, looks to have some concerns. I picked Federer out at the beginning of the tournament as a potential winner but now I'm not so sure.
He's not right physically at the moment. He never calls a trainer onto the court, so for him to ask for a physio you know there's something wrong. He was very lacklustre against Xavier Malisse and couldn't get his feet moving. He was struggling to move out to his forehand and his serve was 20mph slower than normal.
He got through with his experience, quality and perhaps with a little help from Malisse's lack of belief and that might also apply to his next opponent, Mikhail Youzhny, who he has played - and beaten - 13 times.
I just wonder if Federer can get through Wednesday the adrenalin might kick in before his likely semi-final with Djokovic on Friday. But looking at them yesterday, Djokovic is way ahead of Federer in most areas.
So long Sharapova
There was a surprise in the women's draw yesterday when Maria Sharapova was dumped out by Sabine Lisicki. German Lisicki was fantastic - and I suggested she may have a chance, after reaching the semi-finals last year - but Maria never seemed to get going. It's confusing really: normally great champions start slowly in an event and get better and better but Sharapova's form has been in reverse; she started all guns blazing in her first round match, winning the first five games, but has slowly tailed off.
The top half is wide open now and whoever can hold their nerve in that section of the draw could do great things.
Unfortunately Kim Clijsters couldn't take advantage of the top half casualties, losing her final match at Wimbledon 6-1, 6-1. The Belgian ace is retiring after the US Open and I'm sure there will be some regrets she couldn't have sneaked into the semi-finals here for a third time, especially when she saw Sharapova was out.
Clijsters was unfortunate to run into an inspired Angelique Kerber, who has improved out of sight in the last 12 months. Her transformation has been astonishing - this time last year she lost to Laura Robson in the first round. Hopefully Clijsters - who has had a difficult year with injury - can be more competitive at the Olympics and in her last event, the US Open.
Match of the tournament?
Down in the bottom half of the draw we can look forward to what should be one of the matches of the tournament on Centre Court today.
Serena Williams takes on defending champion Petra Kvitova in a match that sees my two picks in the women's draw go head-to-head.
Serena came through a tough match with Yaroslava Shvedova - who will always be remembered for her golden set against Sara Errani - in a closely fought battle yesterday. Serena isn't playing her best tennis at the moment but she is serving well and is far and away the best server in the women's game. On grass that's a huge advantage and she's getting plenty of free points. There is something ominous about Serena's run at this tournament this year - but Kvitova will be a real test.
Kvitova was tested for the first time at this tournament by Italian Francesca Schiavone, who became the first player to take a set off her at Wimbledon this year. But Kvitova prevailed and this quarter final will be great match-up.
Everyone else in the draw will be delighted one of the heavyweights will be sent packing. It will be great for the fans too: logic suggests these two will serve up a humdinger with plenty of aggressive tennis and good serving. I'm certainly looking forward to it.