Time for top gear
Barry Cowan reflects on week one of Wimbledon and says Murray now needs to step up his game.
Last Updated: 02/07/12 10:03am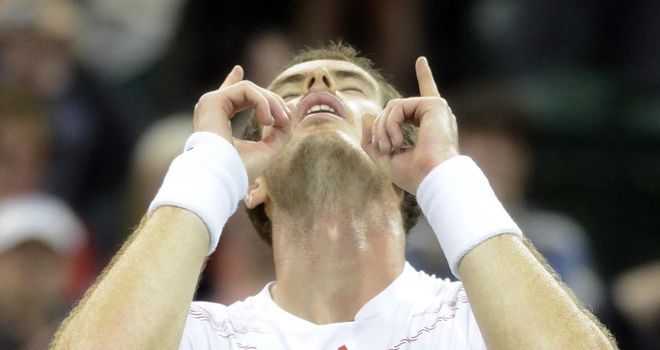 The first week of Wimbledon 2012 was one to remember - it had everything!
As well as plenty of great tennis there were also shocks in the men's and women's draws - not least Lukas Rosol's stunning win over Rafa Nadal; we had three consecutive days when matches went long under the roof, which really added something special; and the remarkable feat of Yaroslava Shvedova's golden set against Sara Errani.
In my book Shvedova's achievement of winning every single point in the opening set of her match against the French Open finalist is one of the biggest accomplishments in sport in the last 25 years. It's the first time it's happened at the highest level and I imagine it will be some time before we see it happen again, especially against someone of Errani's quality.
It was a good week, too, for Andy Murray. He's avoided the traps and pitfalls of the first six days and got through safely to the second week. However, he will need to step up his level now, because he is not currently playing well enough to win another four matches. Grand Slam champions are the ones who improve during the tournament and build momentum and he'll need to do that, starting today against Marin Cilic.
Murray's had a very tough draw at this tournament. When Nadal lost people said 'Murray's going to make the final easily', but I couldn't disagree with that more. Andy's been dealt one of the toughest draws you can have at a Grand Slam: Ivo Karlovic in the second round, Marcos Baghdatis in the third, a fourth round match against Cilic today, and then potentially Juan Martin del Potro in the quarters and Jo-Wilfried Tsonga in the semis. That's a very, very difficult draw.
Cilic won Queens this year and is showing signs he is returning to the form he had a couple of years ago when he beat Murray in the US Open. Murray had a very tough match against him in the Australian Open a couple of years ago, as well, and is no doubt in store for a hard match again today. But Murray shouldn't worry himself too much about his opponent. He needs to worry about his own game. Andy is a better player than Cilic, he's achieved a lot more in Grand Slams and has what it takes to beat the Croatian.
Cilic, when he gets into a rhythm, is very consistent from the back of the court and, if he does get into his rhythm, Murray may need to change it up a bit, come forward or use his slice. But to start with, I'm sure his coach Ivan Lendl will be saying to him 'do what you do well and focus on your own strengths'.
Easy for favourites
That match is on Court One, while Centre Court will see Roger Federer and Novak Djokovic in action. Unlike Murray they will not be affected by the rain which is scheduled to fall today, with the roof ready to be rolled across when necessary. Also unlike Murray, these two have great draws today. Djokovic faces Victor Troicki and he's got a 11-1 record over his fellow Serb and has won the last 11 of those meetings. A couple of those match-ups have been tight - Troicki was 2-1 and a break up in the US Open a couple of years ago - but recently Djokovic has dominated his compatriot and I expect he'll get a comfortable straight sets win.
Federer should win in three, too. He faces Xavier Malisse, following his Friday night scare against Julien Benneteau. The Frenchman played terrifically well but Federer pulled through and now faces Malisse, who he has a very favourable record against. Federer has won their last nine matches and, not only does he have too much skill for Malisse, but also I don't feel Malisse has the mental strength to play at a high level for long periods. I expect today to be plain sailing for Federer.
Sharapova needs to show
Meanwhile, in the women's draw, Maria Sharapova, who had a mixed first week, takes on Sabine Lisicki, who reached the semi-finals at Wimbledon last year. Sharapova started off well in the first round, no doubt on a roll from her French Open victory, but she certainly didn't produce her best tennis against Tsvetana Pironkova. But there's a reason why she's number one in the world: she's one of the gutsiest players in the women's game and a real competitor and has fought her way into the second week.
However, if she wants to win back-to-back Grand Slams she needs to play better. Lisicki will be a test and with the potential of Kim Clijsters in the last eight, she can't afford to be below par. I don't expect Maria to lose today, but you never know, especially considering the problems which continue to surround her second serve.
Each day during the Wimbledon fortnight, Barry will be serving up his views. Check out his latest blog entry every morning on skysports.com