More on Murray
Barry Cowan says there is even more pressure on Andy Murray now that Rafael Nadal is out of Wimbledon.
Last Updated: 29/06/12 9:59am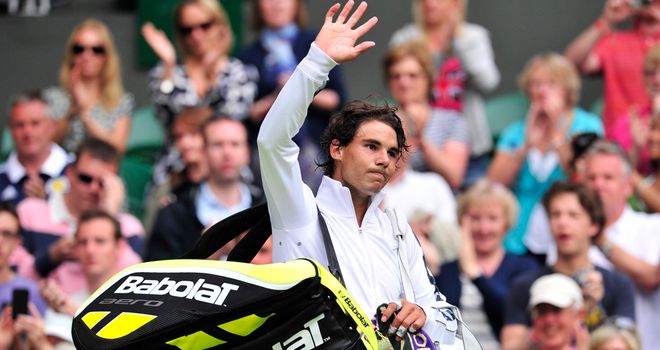 There is only one place to start and that is with Rafael Nadal's amazing exit.
Actually I should say Lukas Rosol's amazing victory because it was one of the most spectacular performances I have seen for many a year.
I thought Nadal was very average for the first three sets and Rosol sensed that and just grew and grew in confidence. The delay after the fourth set did not do Nadal any favours either - he had played a really good fourth set but when they came back out Rosol knew that in effect it was just one set and the physical side had kind of gone out of it.
Once Rosol had got the break in the fifth he just went for it. I think he said to himself: "If I am not going to win this match it is because I am going to be too flamboyant and not because of being tentative." And Rosol was just awesome.
Overall I was happy with Andy Murray's win over Ivo Karlovic and I think it will hold him in good stead for the rest of the tournament. I think he came out and looked really sharp.
I know he lost the first game but he got the break back and looked really focussed. In the second set I think he lost half a yard from the first and when you play against a player like Ivo Karlovic with such a big serve it is those half-chances that count.
He got a little anxious in the fourth set as I think he was desperate to close it off in four sets but he came through it well. This win will help him as he came through a match that had no rhythm and he had to come up with some winning shots at the right time. His returns and passing was very good.
I think that Nadal's loss has heaped even more pressure on Murray as a lot of people are saying that he is in now in the final.
You have to realise he has an incredibly tough draw. He faces Marcos Baghdatis and then potentially Milos Raonic if he comes through his match against Sam Querrey, and then potentially he will face Juan Martín del Potro, so it is not easy.
Murray still has a lot of tennis to play. He just needs to focus on what he needs to do and ignore everything else.
Watson in with a chance
Apart from Murray, Thursday was not a great day for the Brits and let's hope today is a better one.
Heather Watson takes on Agnieszka Radwanska on centre court and I really think she has a shot. If she can lift herself and get really competitive then she can make life difficult for Radwanska.
There is a lot of pressure on the number three seed as she has never made a Grand Slam final and really wants to do well. Watson will have the crowd behind her and I would not be surprised if there is one close set - and if that happens then who knows?
Novak Djokovic will get the centre court crowd warmed up for Heather when he takes on Radak Stepanek. This will be a tricky match for Djokovic as Stepanek is an interesting character and he won't be afraid to wind the number one seed up.
Conditions were very fast yesterday but I don't think they will be as fast today and I think that will help Djokovic. It should be a really interesting match.
Roger Federer is also in action on centre court when he takes on Julien Benneteau. I remember seeing Benneteau beat Federer indoors in Paris a few years ago. It was not dissimilar as to how Rosol played yesterday against Nadal.
There is the potential for a difficult match for Federer but I think he has been class all tournament. He may drop a set but I think he is going to have too much quality for Benneteau.
Each day during the Wimbledon fortnight, Barry will be serving up his views. Check out his latest blog entry every morning on skysports.com