Serb and jolly
Barry Cowan will pay close attention to Novak Djokovic and Janko Tipsarevic on day one at SW19.
Last Updated: 25/06/12 10:29am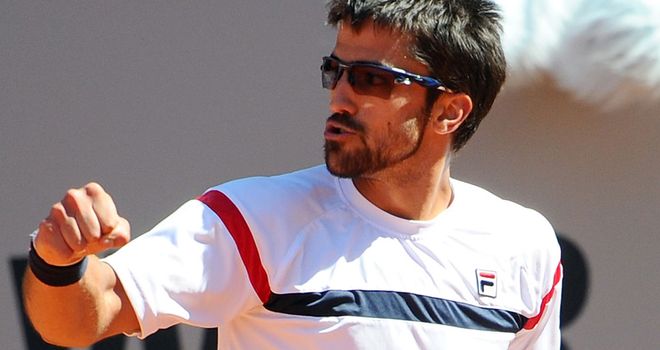 David Nalbandian versus Janko Tipsarevic could be one of the ties of the first round - and the walk out to court could be as dramatic as the match!
It will be interesting to see what kind of reaction Nalbandian receives from the crowd following on from his hoarding-kicking incident at Queen's last week.
Nalbandian obviously has pedigree at SW19, having got to the final 10 years ago, while Tipsarevic is starting to show just what he is capable of.
The Serb performed well at the O2 Arena during the Tour Finals last year when he came in is a reserve for Andy Murray and is evolving all the time as a player. He has consolidated himself in the top 10, but what will lift him into the next tier is performing at the Grand Slams as to date he has only reached one quarter-final.
Defending champion, Novak Djokovic will get things underway at SW19 when he takes on former French Open titlist Juan Carlos Ferrero.
The Spaniard has traditionally not played his best tennis on grass - though he did make a run to the quarter-finals in 2009 - and injuries means he has not had the tennis he would want of late.
While on paper you would say that as a former world number one and a Grand Slam champion Ferrero could cause Djokovic problems, I don't really see that materialising. Djokovic is in no danger of losing this match, though it is conceivable he could drop a set.
The pressure will be on Novak but he will not freeze; he has won so many big matches and defeated too many wonderful players for that to happen. It will take a great performance to beat him during these two weeks and there are very few people that can do it.
Twilight
Onto the women's matches and the game of the day is undoubtedly Kim Clijsters v Jelena Jankovic.
Clijsters has had so little tennis recently and pulled out of the Unicef Open in Holland last week as a precaution because of a stomach muscle strain.
The Belgian is in the twilight of her career and will retire after the US Open, so I would love to see her have a run. It is something that the women's draw needs; such a nice person and such a great player stamping her authority on the grass.
The match is in Clijsters' hands as she is the better player and if she can play anywhere near her maximum then I would expect her to come through against a player whose career seems to be on the slide.
Angelique Kerber and Venus Williams are also in action on day one - two players who some pundits think will fare well.
Kerber's story is a remarkable one. She lost to Laura Robson in Wimbledon last year and nothing suggested to me then that she was going to have the last 12 months that she has had, which has included a semi-final appearance at the US Open and a last-eight spot in this season's French.
The German is a solid player but when it comes down to the nuts and bolts of an event you have to have a little bit more. That is something that Venus has and if she can get that winning feeling back she will be a big threat.
Maria Sharapova, meanwhile, begins her assault on the title against Anastasia Rodionova. I listed Sharapova as one of my tips to win the women's crown in my preview column but I am still not convinced about her second serve; she always has a few double faults in her.
However, the way she came out all guns blazing from the word go at the French was excellent. She blitzed everyone there and will be extremely confident and I think it is only when the level of opponent improves that she will be fully examined.
For me, the first three or four days of Wimbledon is all about what happens on the outside courts; matches that no-one is really taking about end up being pearlers.
The contest doesn't necessarily have to be drawn-out, 20-18 in the fifth set - or 70-68 in the case of John Isner v Nicolas Mahut from 2010. It can be someone 5-0 up in the final set at six o'clock in the evening who ends up getting cramp and losing the match.
Wimbledon is here and the sun is shining. Let battle commence...
Each day during the Wimbledon fortnight, Barry will be serving up his views. Check out his latest blog entry every morning on skysports.com