Power surge
Barry Cowan assesses the female contenders at SW19 and tips three big hitters to make their mark.
Last Updated: 24/06/12 9:08am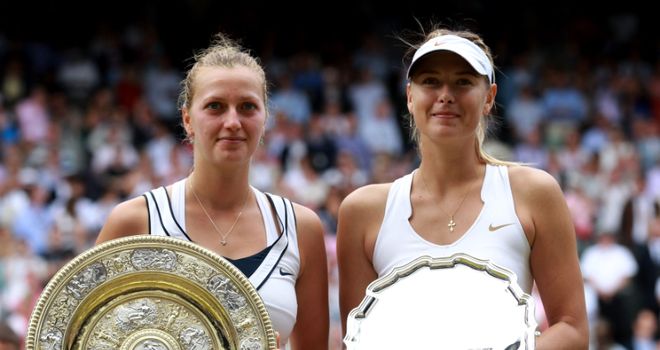 What men's tennis has the women's doesn't, and what the women's has the men's doesn't.
What I mean by that is the men's game has become a bit predictable in the first week of Grand Slams, but you then get great tennis at the end with how good the top four - and top eight for that matter - are.
The women, on the other hand, do not have the great players at the top of the game and coming into Wimbledon you can make a case for 20-odd players, so it becomes fascinating viewing in the first week.
But, because the women's game has become so power-oriented, my picks to win at SW19 would be Serena Williams, Petra Kvitova and Maria Sharapova, in that order.
It is always tough to defend your Wimbledon title, especially if it is your first Grand Slam, and that is something that Kvitova will have to face.
But she is a great grass-court player; she is a tricky left-hander, serves well when she is confident and hits the ball like a ton.
Kvitova can be like a juggernaut when she is at her pomp but, at the same time, she is very unpredictable, as she proved in the semis at the French when she lost to Sharapova.
Pressure
You have to have Sharapova in your reckoning purely because she is the world number one.
I think her chances of winning at SW19 are better than they were at the French Open - which she has just won. She is better on grass than she is on clay, and is able to handle the pressure a lot better than some of the other women.
Number two seed, Victoria Azarenka, seemed to go from strength to strength after winning the Australian Open, but over the last couple of months she has really dipped and performed poorly at the French. Plus, I don't see world number three, Agnieszka Radwañska, winning the tournament.
There is a danger she could be the new Caroline Wozniacki: get to the latter stages of big events but not win them. If Serena plays her best tennis she will win, if Radwanska is at her peak she probably won't and would still need other players to have an off day.
Meanwhile, Marion Bartoli, the Wimbledon finalist from 2007, is unique; her assets certainly do not include her movement but they do include her hand-eye co-ordination and how early she plays the ball.
Logic would say she has no shot of winning Wimbledon, but it also said that Francesca Schiavone had no shot of winning the French Open a few years back.
No-one has mentioned Kim Clijsters - who plays Jelena Jankovic in the first round - and rightly so; she has barely swung a racket in anger, but she knows how to win a Grand Slam and if she gets a couple of matches under her belt you never know what momentum she could generate.
We don't have the strong personalities that the women's game had 15-20 years ago - the likes of Steffi Graf, Monica Seles, Martina Navratilova, Chris Evert - but we have a host of players who can beat each other. I think we are going to have a lot of surprises.
Potential
Britain's Laura Robson has a tough opening-round match with Schiavone but I've always said that it wouldn't surprise me if Laura had an amazing run at Wimbledon.
On the flip side, she has had a lot of chances to really knock the door down and has just come up a little bit short. Is this going to happen regularly in her career, or is she just taking baby steps?
She has got the talent and has grown a lot in the last couple of years, which might give her the strength to fulfil her potential. Laura needs that one big win and if she gets it, she could go on and win two, three, if not four rounds.
Against Sharapova last year she had chances but just seemed to lack something in the end. I'm hoping that 12 months on, and the fact she is on the verge of breaking into the world's top 100, that she grabs her opportunity.
Every day during the Wimbledon fortnight, Barry will be serving up his views. Check out his latest blog entry every morning on skysports.com