The king of clay
Barry Cowan says it's tough to comprehend the scale of Rafael Nadal's feats at Roland Garros.
Last Updated: 19/06/12 4:14pm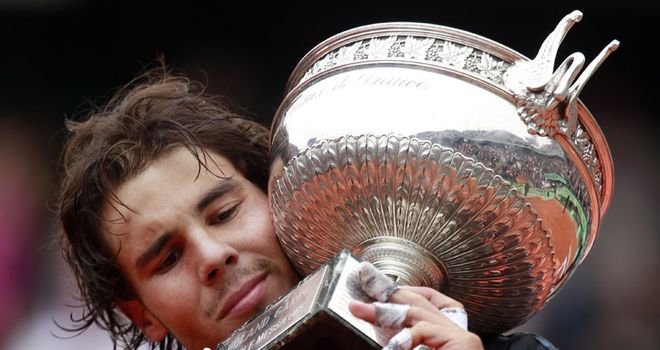 It's hard to get your head around the scale of Rafael Nadal's achievement in winning a seventh French Open.
He's astounded everyone with his levels of performance from the start of the clay-court season and that shone through at Roland Garros.
I truly believe that he is now playing his best ever tennis on clay. His numbers back that up in terms of how comfortably he won his matches against real quality.
The weight of expectation seemed to hang a lot more heavily on Djokovic, which was a little surprising because ahead of the final I felt it was a bigger match for Nadal.
The Spaniard had lost three Grand Slam finals in a row and had he lost another - particularly after beating Djokovic twice in the build-up to France - it would have inflicted a huge mental blow.
Instead, his victory shows just how great he is as a person; when you've lost six finals in a row to the same guy and are clearly psyched out, it's a tough road back.
Yet he said he found positives after losing the final in Australia and it wasn't a bluff; he's slowly built up a fresh momentum since the start of the clay which has climaxed in him winning his 11th Slam.
Attitude
If Nadal is incredible at one thing, it is building up momentum. He doesn't have his best day every day, but he's always looking for tomorrow and with it's that attitude which makes him so tough to beat.
He won't feel fatigued going forward because these last two weeks have been relatively comfortable for him.
Nadal very clearly wanted to come off before play was abandoned due to rain on Sunday and why wouldn't you? No-one who was in the same situation would have wanted to stay on.
He lost eight games in a row before winning the last of the day and the momentum had totally swung in Djokovic's favour.
It was a complete transformation from how the World No 1 began the final; he played with fear initially but once the chips were down the shackles came off. He realised he had nothing to lose and went for it, almost compelling the match back in his favour.
For all that I still believe Nadal would have won the match even if Djokovic had won the fourth set.
Courage
In the end it was Nadal's quality, which shone through in abundance, which won him the men's title; the women's went to Maria Sharapova, for her courage and bravery.
I didn't think there was any way that Sharapova would win it, I thought her second serve would really find her out, but she was the one who held her nerve and was left standing at the end. The four players I felt would beat her in a big match - Serena Williams, Victoria Azarenka, Sam Stosur, Petra Kvitova - all fell by the wayside.
So the women's draw continues to throw up surprises and it's not far-fetched to say that at present there are as many as 15 players who feel in with a shout at the start of a Slam.
Who, for example, would have thought that Sara Errani would have made it to the final?
On reflection, it's a great result for women's tennis as a whole because I honestly feel that it needs someone with a very high profile at the top to give it a bit more profile.
Come what may, Sharapova has always had that champion's mentality - right from the moment that she won her first Slam at Wimbledon at the age of 17 - and to her credit it still burns strongly.