Momentum matters
Barry Cowan says that Andy Murray still has to learn how to conserve his emotional energy at Majors.
Last Updated: 07/06/12 3:49pm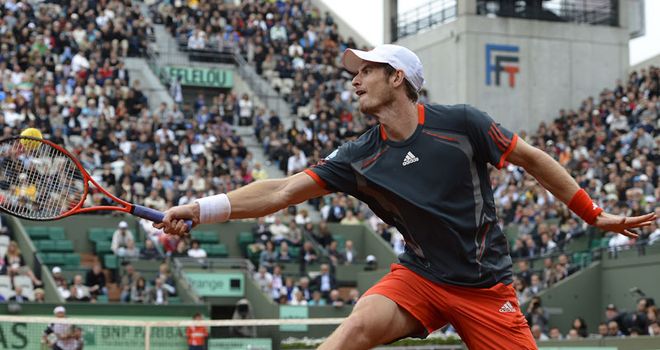 Andy Murray lost to a phenomenal player in Paris.
David Ferrer is not only a gutsy competitor - he's grown into an aggressive player who has now beaten Murray in each of their four meetings on clay.
I actually thought Murray played well in the first set - he began on the front foot and tried to attack the match. But on the five occasions that he broke Ferrer's serve, he lost his own in the very next game and struggled to build momentum.
In fact I still feel that Murray hasn't learnt how to build momentum throughout a tournament. By the time Novak Djokovic, Rafael Nadal and Roger Federer reach the crux of a competition they still have plenty of emotional energy left in the tank.
But it never seems to be plain sailing for Murray and he needs to learn that two weeks - plus the build-up to the tournament - is a long time.
Too often on court he's like a cat with a mouse - he likes to play with his opponents instead of going straight in for the kill. He could be more ruthless against the very best.
I found it really interesting that in his post-match conference he said that he needs to work on his fitness. That seems to be his stock answer each time he loses but it's hard to believe because he's worked as hard as anyone - if not harder than anyone on Tour - on his fitness over the last four or five years.
It's all the more perplexing to hear him say he needs to spend more time on his fitness when he says he's had so much trouble with his back. There are too many mixed messages and that must have an impact.
Incredible
It was always going to be tough for Murray's match to live up to the excitement we saw on Tuesday.
Jo-Wilfried Tsonga found a whole new level, putting in one of the best ever performances by a Frenchman at Roland Garros against Djokovic but despite earning four match points he couldn't finish off the job because the World No 1 was simply incredible under pressure.
Before the match Tsonga's victory chances looked slight; after all, clay is his least favourite surface player and Djokovic was keen to reassert himself after trailing Andreas Seppi by two sets in the previous round.
With the wet court playing that much slower, that's how it played out in the first set, with Tsonga winning just nine points.
But once he found some inspiration and the adrenalin kicked in, the Frenchman showed the sort of form he produced at the O2 last year and at Wimbledon against Federer.
Tsonga didn't do a whole lot wrong but Djokovic closed his eyes, rolled the dice and came up with six numbers. You can't say Djokovic was lucky, though, because he's done it time and time and time again. He just has a very special belief running through his veins.
Positives
Tsonga said afterwards that it was the most difficult defeat of his career and I really feel for him.
People might say 'look at the way he fell away in the fifth' but to my mind that was understandable; he threw everything at Djokovic in the fourth yet it wasn't enough.
I'm sure he will look back on that performance and think 'I'm playing great, there was nothing more I could do' and take the positives and look forwards to the next few months rather than wallow in self-pity.
He has to. That's what Federer did after he could not convert his match points against Djokovic at the US Open. He realised that it was what he did next that was the most important thing.
Remarkable
Next up for Djokovic is a semi-final against the man who ended his perfect 41-0 start to last season in the last four at Roland Garros - Federer. It would be fair to say that these two have great history.
Federer's recovery from two sets down against an inspired Juan Martin del Potro was remarkable.
Federer said he wanted to let his opponent know how much he would have to suffer to win the match and sometimes you have to play those little mental games with yourself to come back from such a deficit. His response was magnificent - he hit 13 winners and zero unforced errors in the fourth set.
I feel it would be wrong to say that Del Potro lost because of his knee problem. He's had it strapped up for a few weeks and as far as I'm concerned if you're out there and competing - and he was for two sets - you can't blame your defeat on an injury and, to be fair, he didn't.
Just as Tsonga had a dip at the start of the fifth, so Del Potro had one; that's the difference between these guys and the top three, who are superhuman. You simply cannot afford to rest for five minutes.
Federer must now take the same form into the semi-final because regardless of what happened at the French Open 12 months ago, Djokovic remains the favourite because he tends to get the better of Federer on the slower courts; he definitely holds the edge when Federer has to keep hitting great shots to win points.
Fantastic
I'm really looking forward to today's women's semi-finals between Sam Stosur and Sara Errani, and Maria Sharapova and Petra Kvitova.
I didn't hear anyone mention Kvitova's name as a potential winner at the start of the tournament but she's grown into the tournament and must fancy her chances of reaching the final.
The other half of the draw has really opened up for Stosur and I think she and Kvitova are the two best players left; if they were to contest the final on Saturday that would be a fantastic match.
I've had a good vibe about Stosur throughout and she couldn't have wished for a better draw than to face Errani in the last four of a Grand Slam.
The fact that she won the US Open last year will help her deal with all the issues that come with being an overwhelming favourite to go through; she certainly won't feel the pressure as perhaps she might have done.