Ready for take-off
There should be thrills and skill aplenty in the second week of the French Open, says Barry Cowan.
Last Updated: 03/06/12 10:10am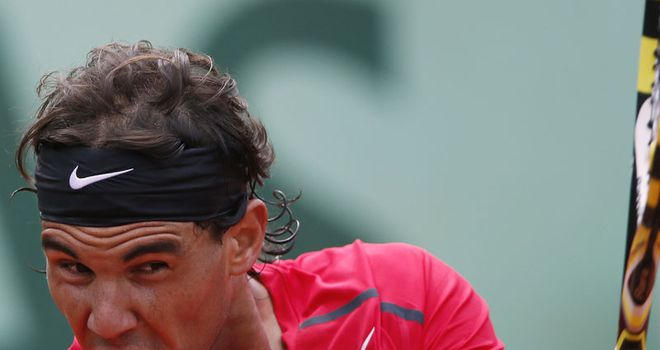 One's a slow-burner; the other's as wide open as they come.
The men's and women's competitions could not be more different one week into the French Open.
That match of the tournament so far for me was undoubtedly Virginie Razzano's 4-6, 7-6, (7-5) 6-3 victory over Serena Williams; it had everything - drama and emotion, even if the tennis wasn't the best quality.
Serena was my tip for the tournament so it was a real shock to see her go out in the first round, particularly to a player who has been through so much in the last year with the passing of her husband.
Personally, I think Serena got a little bit complacent - she probably thought she'd beat the world No 111 fairly easily, particularly after she went up a set and was winning in the second set tie-break but things started to go against her and thereafter she seemed to have a meltdown.
She went 5-0 down in the third and then the real drama began. It was as though she felt she should have been in the dressing room and got a little tight; that's when you're in big trouble, particularly if that inspires your opponent. As Serena found, it becomes increasingly difficult to turn things around.
Top seed Victoria Azarenka was close to going out in the opening round but recovered from a set and two breaks down to Alberta Brianti but there was no way back for third seed Agnieszka Radwanska, who was seen off in style by Svetlana Kuznetsova - a player few have mentioned but who won here in 2009.
And then there's Maria Sharapova, who has been incredible losing five games in three matches. It's hard to bet against her, but doubts still remain about her second serve when the pressure is really on.
I quite like the way Sam Stosur is playing. She's had such a wretched time of it since the US Open but there were clear signs coming into Roland Garros that she was starting to play good tennis and she knows she can win a Grand Slam.
Magnificent
The men's tournament has predictably thrown up fewer surprises which - let's face it - is not unusual these days.
As great as the top guys are, it means there are less enthralling matches in the first three or four days and the top nine seeds are still going.
Roger Federer has lost a couple of sets but has never looked like losing, while Novak Djokovic has yet to lose a set and Rafael Nadal has been simply magnificent, losing just 17 games in his nine sets of tennis.
His level is astonishing - not just the shot-making but his mentality. He has to be one of the players of the opening week, along with David Ferrer, who has been taking everyone to the cleaners.
Personally, I never expected Andy Murray to lose to Jarkko Nieminen even when he was a set and 2-0 down because I've seen him in a similar position so many times before: so often when he looks down and out, that will to win kicks in and saves him.
The more his team urged him to stop, the greater his desire to carry on became.
Nieminen could have done more to beat him but he was in a tough position. I remember playing against someone who had cramp and, trust me, it's awful because you start playing against them and start pushing the ball.
But what Nieminen would have seen in Murray would have been nothing new; Murray has done that before - perhaps not to that extent - but it has happened on numerous occasions. Nieminen should have focused on his end but he got distracted and got tight; Murray saw that, hung in there and capitalised.
The surprise package of the tournament without a doubt has been lucky loser David Goffin, who beat Radek Stepanek and Arnaud Clement in five before beating Lukasz Kubot.
His feat is what makes a Grand Slam - someone coming through and taking the tournament by storm.
Goffin played against Great Britain in the Davis Cup in March and his ranking is getting better and better - he'll be in the top 70 after the French, which could be good enough to get him into the Olympics - so things couldn't be going better for him, particularly as he'll now face his idol Federer in the fourth round.
It's amazing how many of the young players coming through the ranks idolise Federer - so many in fact that I'm sure he's well used to it by now and there should be only one winner on Sunday.