Resisting Rafa
Barry Cowan assesses Rafael Nadal's French Open rivals and their chances of Roland Garros glory.
Last Updated: 25/05/12 11:48am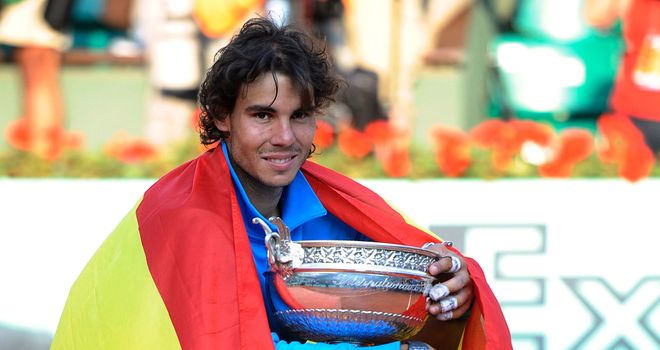 He's reclaimed the World No 2 spot from Roger Federer. Now Rafael Nadal is aiming to get his hands on the Coupe des Mousquetaires trophy for the seventh time.
The defending champion is the bookies' favourite to rule the roost at Roland Garros again this summer after tournament victories on clay in Monte Carlo, Barcelona and Rome.
Ahead of the first round, which begins on Sunday, Barry Cowan explains where Rafa has the edge and what his main rivals can do to stop him...
RAFAEL NADAL
Nadal's form during the clay-court season has been immense right from the word go. I think he is playing as well as he's ever played going into a French Open. There is something different about him this year in comparison to last year, when he won at Monte Carlo and Barcelona without playing his best tennis. This year he's been in great shape. Even when he didn't produce his best tennis in Rome to beat David Ferrer, the fourth best player on clay in the world, he still won in straight sets and I get the feeling that there is more to come. Monday's victory over Djokovic was massive for him because it showed that the things he's been working on are bearing fruit. For once he had the mental edge over the World No 1, who appeared to doubt himself - the exact opposite of the position when the players met last year. Now Nadal looks far more confident and far more assured about what he needs to do. I said at the start of the Rome Masters that if Djokovic and Nadal met in the final then the winner of that match would go on and win the French, and I stand by that, because I've always felt that if players play each other going into a Grand Slam and one of them dominates, then that gives them a huge mental advantage. Moreover, Nadaal has dominated at Roland Garros, winning the title six times whereas Djokovic has yet to become French Open champion. For me, it is advantage Rafa.
NOVAK DJOKOVIC
Djokovic's focus will primarily be on winning his first title at Roland Garros rather than becoming the first man to hold all four major titles at the same time; one naturally brings the other. In any other era, Djokovic would have already won the French because he is a phenomenal clay-court player. He's had a very good clay-court season so far in difficult circumstances but I don't think he's at the same level that he was 12 months ago. Don't get me wrong, he's still an incredible player who is hitting the ball as well as if not better than last year, but instead of approaching a tournament with the attitude 'I know I'm going to win', there's a flicker of doubt in his attitude. We saw as much in the Rome final, especially in the second set when Djokovic was playing excellent tennis and had chances to win some big points but he just couldn't find the winning shot. I read a little bit of frustration in his body language; it's not a massive difference but in terms of deciding who might win the French Open, it is a chink in the armour he didn't have a year ago. Ever since the US Open I've had the feeling that he is looking behind him, rather than focusing fully on the challenges that lie ahead.
ANDY MURRAY
Murray played fantastically well in Australia, where he gave little indication that he had any sort of back problem, and all the reports are that his training sessions in Miami have gone well so I was surprised to hear him say that he's been suffering with injury since December. Every tennis player gets niggles - it's part of the game - it's how you cope with them that counts. I'm not concerned that he will go into the French match-light, but it does worry me that he's only ever beaten one top 10 player on clay in his career. Mind you, last year I thought he'd got to grips with the place when he reached the semi-finals. The one thing you can say when you look at Andy's record is that he's always improved and last year I thought he was going to have a very good clay-court season. This year I thought he would get to a Masters final but in the three events on the clay it just hasn't happened. Personally, I can't see him going to France and winning. But can he get back to form in France? Yes - and if he goes to Queen's and wins then he'll have the momentum back again. Andy's real asset is reading the game and his movement but I think opponents find it a little bit easier to knock him off balance on clay, where you have to slide and recover, in comparison to a hard-court where you have a real firm footing. The players he lost to in Monte Carlo (Tomas Berdych) and Barcelona (Milos Raonic) hit him off the court. Last week was even more of a worry because I never saw him losing to Richard Gasquet but he looked off the pace. I think we'll learn a lot about Andy from the first two rounds of the French; in a sense you can disregard the build-up he's had. If he comes out and plays brilliant tennis then I'd expect him to make the semis.
ROGER FEDERER
I think it's a big disadvantage for him that Nadal is now back at World No 2 because I don't see him beating Djokovic and Nadal back-to-back. Some people have said that the change in the rankings doesn't make much difference but personally, I do and I can't see him winning the French now. But can he? Yes - he's playing great tennis and is full of confidence after a fine clay-court season. I thought he played terrifically well in Rome even if he did look a little jaded in the semi-finals but I just feel that Nadal and Djokovic make him hit too many balls on clay-courts or the slow hard courts. Across five sets, that's where Federer will come up a little bit short. On the whole Nadal and Djokovic move a little bit better; Federer is a great mover but Djokovic has taken things to a new level on hard and clay, while Nadal has always been an unbelievable mover on clay. For Federer to beat Nadal or Djokovic, he has to hit the lines consistently; it's incredibly difficult to do that over five sets. That's what has counted against him in the past, for example when he lost to Nadal at the Australian Open. That said, I think Federer's going to have a great summer - Wimbledon is the one where he will feel very confident.
THE COMPETITION...
If you look at the top 10, it's clear that we're in an era of aggressive play and Juan Martin Del Potro and Berdych continue to impress on that score. Berdych had an incredible clay-court season - he's played consistent tennis and proven himself to be very strong mentally. My worry is that he hasn't been able to finish the job and win the big matches. Will that come or is he one of those players who won't quite get there? Del Potro continues to go well and is getting back to where he was although he does have a tendency to respond badly to line-calls - even when it turns out his view of events is wrong; it happened at Indian Wells, against Federer, and at Madrid, against Berdych. It just makes me wonder if he wants it too much; you need to have desire and ambition to succeed, but you also need to get the balance right. I suspect that there is a little bit of desperation there.
I'll also be keeping a close eye on Ferrer, who no doubt will put in another great showing, even if he doesn't quite have what it takes to win the title. The other guy is Milos Raonic, who with the right draw can go far; he's confident and I don't think there are many players who will want to meet him early on. He's the one player I'm particularly looking forward to seeing, especially if the weather is hot because the courts will play quick; when you serve as well as he does, it can be a terrifying prospect.