Eyes on the rise
Barry Cowan is keeping a particularly close eye on Milos Raonic, Ryan Harrison and Bernard Tomic.
Last Updated: 23/05/12 2:32pm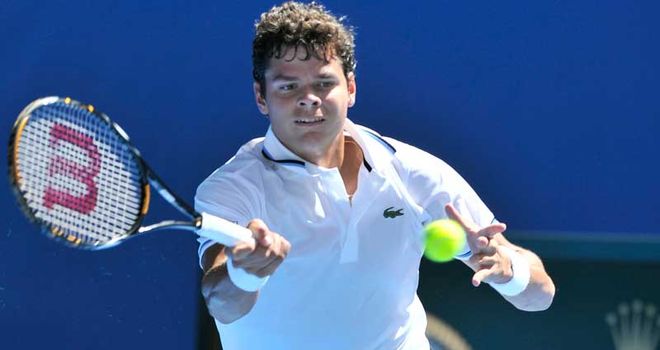 Thankfully it's time for all the talk about Madrid's blue clay to take a back seat to the action.
The tournament directors clearly feel the need to be innovative and while it's not an ideal situation for the players they now have to get on with the job in hand.
At the end of the day conditions will be the same for both players on court, although by all accounts the surface is likely to favour a certain kind of player because it should play a bit quicker and make movement more difficult.
Throw in the fact that the tournament is at altitude and we could see some surprises this week. Tennis players become creatures of habit - they don't tend to like change.
Spot-on
Milos Raonic could play the returning Roger Federer in the second round - if he can beat David Nalbandian first up - and I for one can't wait to see that match-up.
The Canadian has really stood out for me this season. As I said on our Barcelona coverage last weekend, I've always felt this guy has got everything - not just an excellent game but a spot-on attitude too.
We saw as much against Andy Murray in the quarter-finals in Barcelona and also against David Ferrer until a slight lack of experience cost him. I can only see Raonic going from strength-to-strength.
I received an email from Alex Burton in response to last week's column that asked me for my thoughts on Raonic, Ryan Harrison, Bernard Tomic and Grigor Dimitrov. Of that crop of talent, I like Raonic's chances the most. He is definitely separated from the pack at the moment.
Tomic and Harrison are playing catch-up right now and it will be interesting to see if they can make the step up to Raonic's level.
But disappointingly, Dimitrov has been left behind somewhat. He was nicknamed 'the baby Fed' on account of his talent but he hasn't backed that ability up consistently enough.
In contrast I was really impressed with the way that Raonic reached the finals of last year's Regions Morgan Keegan Championships the week after he won his first ATP tour title, at the SAP Open.
Special
There's no doubt in my mind that Harrison could also be a top 10 player in the future.
I remember watching him at Wimbledon last year and thinking that his prospects were better than Tomic's. I stand by that - even though Tomic clearly has something special about him.
But I really like Harrison's go-out-and-get-them attitude and he's certainly developing his game, without question.
The American has a potential second-round match against Jo-Wilfried Tsonga and it wouldn't surprise me one bit if he came out on top.
Harrison's best chance of making a decent move, though, will come in the summer in the American hardcourt season - that's generally when the Americans step it up.
With the Olympics happening this year, those American tournaments will be weaker at the start and there's no reason why he couldn't win one - in Washington or LA, for example - and go into the Masters series and the US Open full of confidence.
Finally, just a word on Andy Murray. My understanding is that his back problem isn't serious and that he will return to action in time for Rome. Let's hope that's the case.
Question Barry...
Click here to email your question, send your question to skysportsclub@bskyb.com, with 'Barry Cowan' in the subject field or use the feedback form below...