Doubt of the blue
Barry Cowan explains why some top players are unhappy about playing on blue clay in Madrid.
Last Updated: 02/05/12 1:26pm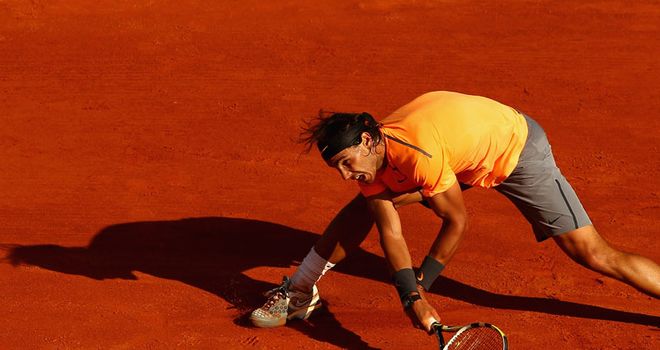 Rafael Nadal has become the master of many things.
One of the less frequently discussed is his ability to get people talking about his injuries, problems and difficulties ahead of a tournament.
This in turn allows him to play down his chances and helps to ease the pressure of expectation.
As methods go it's as shrewd as it is successful because - although he clearly does have issues with his knees - he looks in great physical condition on the court, moving freely and flowingly.
Buoyant
From what I saw of him in Monte Carlo, where he won for the eighth successive year, the World No 2 is bang on track to defend his French Open title.
Nadal often talks about improving match-by-match and that was certainly the case as he swept into the final, increasing his level round-by-round.
To overcome Novak Djokovic and end his seven-final losing streak to the Serb was the finishing touch.
Obviously the result must be put in context. Djokovic was emotionally drained following the loss of his grandfather, and he wasn't able to play at the level necessary to overcome the Spaniard.
But before the final began it was fascinating to see Nadal adopt a 'nothing to lose' attitude.
Rightly or wrongly - and I happen to think wrongly - it seemed as though he had convinced himself that the final wasn't actually that important. Whether he actually felt that or it was simply a persona he was projecting, it's tough to say.
What I do know is that Djokovic and Nadal tend to be very quick to make the other one the favourite to ease the pressure on them.
Having lost seven in a row to Djokovic and experienced those lows, Nadal left us in no doubt that he didn't expect much from his first clay-court tournament but as it turned out things couldn't have gone much better. He now heads to Barcelona - where he has won six times - buoyant and prepared to put on a show for his home fans.
Controversy
Djokovic had already decided to miss Barcelona and he can now use the time to recover emotionally; he'll look forward to a couple of weeks off and I'm sure he'll come back in time to play on the blue clay courts in Madrid.
The change of colour has inevitably caused some controversy and I can understand why some of the players aren't happy.
At times I think the players have too much power, but in a situation like this I think you have to listen to their views and endorse them.
The Madrid Masters is already something of an anomaly in the build-up to the French Open given that it is played at high altitude.
To change the colour of the surface is a step too far and denies the players the chance of competitive action in conditions similar to those they will experience in the French Open, regardless of the fact that Rome is in between.
I think people and players alike would be a little perplexed if Queen's Club agreed to endorse a blue grass court two weeks before Wimbledon!
To me Madrid's decision smacks of short-termism; it's clearly designed to generate media interest and fails to take the traditions of the sport into consideration.
The organisers argue that the colour change will make it easier for spectators to see the ball but, like Djokovic, I'm concerned that there will be too great a difference between conditions in Madrid and Rome.
I hope Djokovic finds his time off before Madrid beneficial. On reflection, he did well to reach last week's final because I thought Tomas Berdych should have stepped up and won their semi-final.
A set to the good, the match was there for the Czech's taking - particularly as Djokovic was vulnerable - but he couldn't finish the job off which was disappointing.
Berdych can take consolation in the fact that reaching the last four represents another step forward; his level appears to be getting better and better and although he saw off Andy Murray, there still seems to be something lacking in his mentality against the very best just when you believe this is his time to win a big title.
Which leads me to your questions...
Question Barry...
Click here to email your question, send your question to skysportsclub@bskyb.com, with 'Barry Cowan' in the subject field or use the feedback form below...
MISSION CONTROL
Having just watched Berdych beat Murray in Monte Carlo, the difference in temperament between the two players seemed so pronounced. How much do you think this is affecting Andy's chances of reaching the number one spot, rather than any lack of tennis talent? John Knox
BARRY REPLIES: John, your question is spot on. Andy is without doubt an incredible player and he's getting better all of the time, improving his shots and his temperament, but I still feel there are too many days when he struggles to accept that things aren't quite right. Yes, there were issues with the court in Monte Carlo but I think he got it into his head that it was a bigger issue than it was. I was courtside and, trust me, there were moments when he was moaning about the bounce when it simply wasn't a problem. In fact, a couple of bad bounces in the first set had helped him win the tie-break! Then there are the occasions when his opponent hits a great shot that touches the line; rather than accept that it was a fine winner, Murray will be down on himself because he didn't get it. He feels that he should make every ball but sometimes he'd be better off accepting that some things are beyond his control. It's a case of fight the things you can control, accept the things you can't.
DEGREES OF GREATNESS
Hi Barry, Any time the question of who the greatest tennis player of all time is brought up, most people automatically think of Federer but if you look at the early Grand Slams he won, the only real competition he faced was Roddick compared to what Nadal has faced ever since he won his first French in 2005. And also Nadal has a better head-to-head record so who in your opinion is the greatest between the two of them? Harry Alvarez
BARRY REPLIES: It's a great talking point, Harry. Any player who dominates for a long period deserves the right to be classed as one of the greatest, regardless of the level of the opposition but it's fair to say that the depth of men's tennis is stronger now than it's ever been. You could argue that the fact that Federer is still playing now makes him a greater player than he was even three or four years ago. Fans of each player will have their own take. Federer fans will no doubt ask how Nadal can be regarded as the best ever when he's won the majority of his Grand Slam and Masters titles on clay? How can someone who is capable of going seven or eight months without winning a title be regarded as the best ever? Yes, Nadal is ahead of Federer in the head-to-head stats but the majority of times they have met have been on clay. If more of those games had been played on grass or a medium-paced hard court, how would the stats read then? I prefer to assess the merits of each player in terms of titles, majors and longevity. In my view, both Federer and Nadal deserve to go down in history as two of the greats of the game.