From one extreme...
Barry Cowan calls on the LTA to develop grassroots tennis and previews the Monte Carlo Masters.
Last Updated: 18/04/12 5:12pm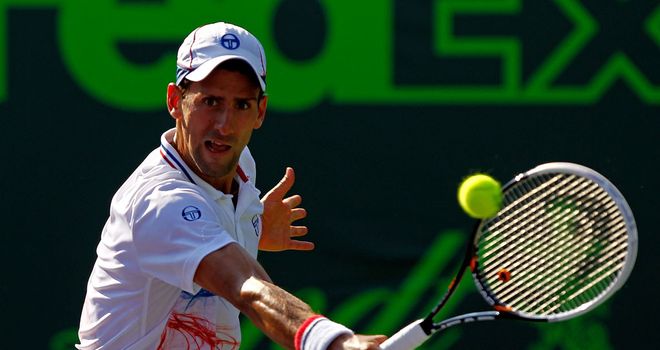 Sport England's decision to reduce the Lawn Tennis Association's funding by £530,000 following a decline in adult participation should point the sport in a very clear direction.
I've always felt that a tennis Federation - whether it is in Britain, Spain or Australia - should focus on developing the sport rather than be responsible for producing players, particularly now that tennis has become such a worldwide game.
The sport is a very different beast today in comparison to 30-40 years ago when it was dominated by a handful of few nations; these days players are springing up from all corners of the globe and the level of competition has escalated as a result.
In the not-too-distant past who, for example, would have thought that a player from Cyprus would be able to reach a Grand Slam final or that Eastern Europe would develop such great talent?
Heartbeat
But which areas of the sport should Federations focus on? For me the answer is obvious - the clubs, because they are the heartbeat of our game, and the facilities within parks where so many children first come into contact with tennis.
Greater emphasis must be placed on playing tennis in a family atmosphere, where friendly banter and social interaction is the order of the day. Too often I feel that tennis has lost sight of that, particularly in the junior ranks where often the atmosphere is too professional.
When I started playing tennis, I wanted to maximise my ability and I loved competing and winning, but it was also fun to take part in tournaments and training weeks.
These days the kids are mini-professionals at the age of 10 and while you will hear of the occasional success story like Maria Sharapova, 99 per cent of the children end up falling by the wayside and lost to the game - often never to return - because the demands on them are too much.
Cheap
I've no reason to question Sport England's figures that show that the number of adults playing tennis at least once a week has dropped by almost 30 per cent in two years; I'd rather look at ways that we can arrest the slide.
First and foremost we need to get the message out that tennis is cheap to play. While it's an incredibly expensive sport to be good at, it shouldn't be an expensive sport to play.
Everyone should have the opportunity to go to their local sport shop and buy a junior racquet for £10-15 and a men's racquet for £20-25 and then go to their local park and play for next to nothing; the next stage is to create a brilliant, affordable club structure, similar to that in Spain and France, where families are welcome and the game can grow.
I really feel that is where all of the emphasis should have gone for many years and should be going in the future.
If, as a result of that process, we get two or three players in the top 100 then so be it but I don't think we should be so preoccupied with the rankings.
Ominous
Most of the world's best are currently in Monte Carlo for the latest edition of the Masters series.
Among them is Novak Djokovic, who has decided to play this year after missing the last tournament, which suggests two things to me: one, just how desperate he is to maintain his world No 1 ranking, and two that he feels fresher at this time of the year than he did in 2011.
That can only be ominous for the men's tour and I wonder how Rafael Nadal, who has won here for the last seven years, feels about starting as second favourite?
Andy Murray has reached the semi-finals here twice in three years and I think everything is set up for him to have a great clay-court season; he improved so much last year and played a couple of great matches, including that high-level clash against Djokovic in Rome.
Yes, there were certain matches that could have gone better but overall he can be very happy with his progress on clay. Now's not the time to rest on his laurels and I'm sure he won't; he'll keep pushing and challenging himself, and Ivan Lendl wouldn't allow anything else.
Over-play
I am surprised however, that Roger Federer isn't playing Monte Carlo.
Having announced his intention to get back to World No 1, I can only imagine that he feels now is the time to take a break ahead of what will be an incredibly tough week.
The Swiss must feel that he has got enough really good tennis under his belt and that he doesn't want to over-play on the clay. Maybe he also feels he doesn't want to have too long a clay-court season - it may be that he feels the longer he plays on the clay, the further he gets away from the tennis that he needs to play at Wimbledon, the Olympics and the US Open.
Only time will tell if it's a smart move.
Question Barry...
The tennis comes thick and fast on Sky Sports in the coming weeks and our team will be right across all the action. If you've got a question about a particular tournament or want to find out more about a player, why not drop skysports.com columnist Barry Cowan a line?
How to send your question in
Click here to email your question, send your question to skysportsclub@bskyb.com, with 'Barry Cowan' in the subject field or use the feedback form below...
SERVING UP THE SAME?
Hi Barry, I have a question about Rafa Nadal's game - why do you think he is not adapting his game a little more to play Novak and Federer? He can no longer rely on hard hitting or that immense top spin forehand. His groundstrokes lack length; time after time he loses points due to hitting short balls well within the service box. I am just surprised that after 2011, he is still playing pretty much the same tennis in 2012. To be fair his serve has improved immensely, with his second serve being a lot more aggressive, and his first serve having a higher percentage and having more variation. Why do you think he is not making some of these small changes, like serve and volleying a bit more, using the drop shot etc, that would only enhance his game, but at last give him a fighting chance against the top 3? Thank you - and I love your commentary! Kish Pinto
BARRY REPLIES: Rafa has adapted his game, Kish, and continues to do so. He's started to use a more weighted racquet to get a bit more pace on his serve and his ground-strokes, plus he's always talked about playing a more aggressive game and playing further up the court. I think he has done a remarkable job in evolving his game as much as he has over the last five or so years - but that doesn't mean he has a divine right to stay at the top and at this moment Djokovic is a level ahead of him.
POWER RATING
Hello Barry, I would just like to know who you think has the most powerful forehand in men's tennis at the moment. I would like to know in terms of sheer pace/speed and the trajectory of the ball be it spin/flat. If possible tell me who you think has the biggest double hander as well. Thanks, Ali, London
BARRY REPLIES: Wow, that's a tough question, Ali. In terms of accuracy and the ability to take the ball early on the backhand I'd have Djokovic's without a shadow of a doubt. But as for the most powerful forehand? Well, Fernando Gonzalez, who has just retired, would certainly have been up there but if you are talking about raw power and a one-off forehand then it's difficult to look past Gael Monfils. The trouble is he doesn't hit it anywhere as often as he should - he needs to be more aggressive on the court. That said, if you are talking about the complete package then I would have Roger Federer's forehand over anyone!