Starting point
Murray's run in Miami, Monaco's endeavour and the pressure on Nadal... Barry Cowan talks tennis.
Last Updated: 03/04/12 5:12pm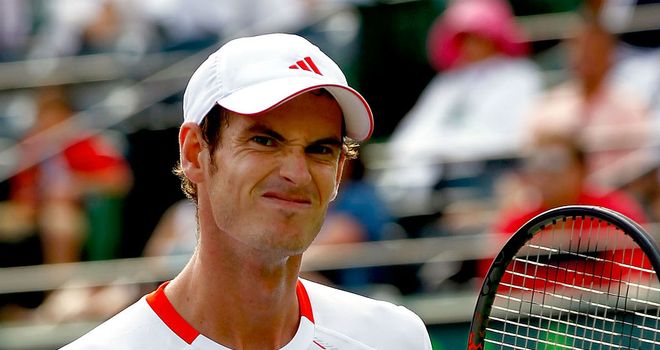 In pressure situations, Novak Djokovic is one level above everyone else at the moment.
The Serb was made to work hard by Andy Murray in the second set of the Miami Masters final but he pulled through to win the event for a third time, something only Andre Agassi and Pete Sampras have done before him.
Djokovic endured a disappointing loss to John Isner in the semi-finals at Indian Wells recently, but it proved to be only a blip and not something more serious.
He played great tennis in the final three rounds in Miami, against David Ferrer, Juan Monaco and Murray, and looks to be in a rich vein of form ahead of the clay-court season.
Andy, meanwhile, was up against it as soon as he lost his serve in the fourth game of the match; something that can be hard to recover from when you're playing against someone who has won four of the last five Grand Slams.
He also could have returned serve a bit better when Djokovic was wavering in the second set, while he will have been disappointed to only create one break point in a two-set match on a slowish hard court.
Murray's charge was stalled by the fact he was handed two walkovers in the tournament, against Milos Raonic in the third round and against Rafael Nadal in the semis.
We always see the great players play their best towards the end of the tournament because they have built that momentum.
Andy wasn't able to do that and I think that contributed to his poor start against Djokovic. His body would have been rested but he could really have done with some match practice.
It was a positive week for Murray, nonetheless, and he has had a pretty good run since the Australian Open, something he has not necessarily done in previous years.
He reached the final in Dubai and the final in Miami, and I expect him to follow that up a with a very good clay-court season.
Extract
Juan Monaco was a somewhat surprise semi-finalist in Miami but I am absolutely delighted for him. The Argentine is a 100 per cent man with a great attitude.
He showed great fighting spirit to take Djokovic to 7-6 in the second set of their last-four clash, having been outclassed 6-0 and won just eight points in the opener. I have tremendous respect for guys like him who are not the most talented around but extract the very best out of their abilities.
Monaco has very little chance of winning a Masters title because he doesn't have the extra weight of shot to beat the top four, but he is a threat for most players in the game and if they are slightly below their maximum he can beat them.
It is probably difficult for him to sustain his good form, just because of the sheer effort he puts into all of his matches, but if he can have a good showing at one or more of the forthcoming clay events he could get near the top 10.
React
There are slight concerns over Nadal's fitness after he pulled out in Miami with a knee injury. He was obviously in a spot of pain but in the back of his mind he was probably thinking: 'I don't want to make my knee any worse as if I do I may need to take 10 days off instead of preparing for Monte Carlo'.
He wants to enter the clay-court season 100 per cent because it is a big campaign for him. Even though he has all those French Open titles under his belt, Nadal was beaten by Djokovic in Madrid and Rome last year, leaving the Serb as the leading player on clay.
How will Rafa react to that? Will it help him? Will it make him anxious, something I think he felt when he lost to Djokovic on this surface last year? And will players think differently of him now they know he can be beaten on clay?
There are so many interesting factors to look forward to over the next few weeks, beginning in Monte Carlo on April 16.