Giant strides
Barry Cowan looks at John Isner's surge up the rankings and another title win for Roger Federer.
Last Updated: 23/03/12 10:22am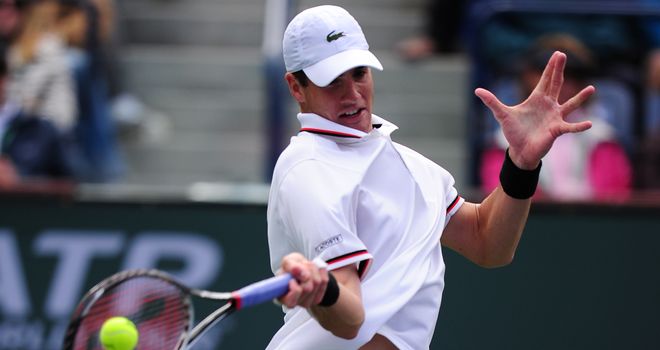 John Isner is probably best known for being the big man who had that mammoth match at Wimbledon with Nicolas Mahut.
At Indian Wells, though, the American showed he is an excellent tennis player and beat Novak Djokovic en-route to the final, before losing to an in-form Roger Federer.
Isner has really evolved his game and in the semi-final against Djokovic he proved that he not only has a great serve - something you would expect considering he's 6ft 9in - but also that he moves well and that his forehand is a world-class shot.
But what impressed me more than anything was the composure he showed; the 26-year-old rattled Djokovic, especially in the final set tiebreak, and came up with the goods when it really mattered.
Isner has been playing with a new-found confidence ever since he beat Federer in the Davis Cup just after the Australian Open. He prevailed in a real pressure situation and realised that he is not that far off the top players in the world; that experience definitely helped him to topple Djokovic last week.
I've had no doubts that he would become a top-ten player and due to his exploits in Indian Wells he now is.
He's not good enough to win a Grand Slam just yet - his movement has improved but not to the level of the top four players in the world - but I don't think he is a one-hit wonder, and he will be a danger to the elite on any surface because of the potency of his serve.
The test for Isner now will be to go again in Miami but I suspect he may struggle.
Players often find it tough to back up great performances the following week, due to mental and physical tiredness, the expectation from themselves and the public that they will play well, and the fact that other players view them as a marked man.
However, if he does go deep into the tournament and makes another semi-final, then he goes up another level in terms of showing that big-time temperament.
Consistent
Federer won in Indian Wells - his third tournament victory on the spin - and he is on the crest of a wave at the moment.
Everything started to click again for Federer when he made the French Open final last year; for 10 months he has been very consistent and only great performances have beaten him.
He beat Milos Raonic and Thomaz Bellucci last week having lost the first set and survived a tiebreak against Isner in the final; matches he would have lost in the early part of 2011.
Federer is match-tight and is winning the big points. His confidence has returned and the way he beat Nadal in the semi-finals in Indian Wells was the best I've ever seen him play against the Spaniard in conditions that are favourable to both players.
He got very flustered and impatient against Nadal at the Australian Open, but this time he came out with a clear game-plan and the technical and tactical adjustments he has made has helped him mentally.
Federer had issues in the past with his return of serve against Nadal and he couldn't convert enough break points, but now he is hitting over the backhand all the time. He used to chip the shot, which works against other players but not against the Spaniard and his dominating forehand.
The Swiss has definitely improved his net play courtesy of his work with Paul Annacone and that confidence with his volleys has helped his forehand, something that won him all those major titles but also lost him some big matches.
His belief is not as strong as it was a few years ago; when he was winning three Grand Slams in a calendar year he knew his best tennis would win any match in any conditions, but that that is not the case now due to the improvements made by Nadal and Djokovic.
However, the 2012 Federer is a better player now than when he was world number one, and he will win more majors.
Concern
Djokovic, meanwhile, is still playing great tennis and if a Grand Slam started tomorrow he would still be my favourite, but you can't get away from the fact that he has only won one title since the US Open, while Federer has won six.
Novak will say: 'I won the important one' and that's exactly right, but he may be slightly concerned by his loss to Isner, even though he played well during it, because it's the first tight match he has lost in ages.
The Serb beat Nadal in the US Open when it was nip and tuck, he did the same against Federer in the semi-final when his opponent had match points, and has won other matches he could have lost.
I think Djokovic will respond very positively but if he goes another month not winning a title he's confidence, while I wouldn't say it would be dented, would not be as high as it was a year ago and other players would see him as beatable.
Andy Murray lost his opening match at Indian Wells to Spaniard Guillermo Garcia Lopez, but the only negative I saw was that he played poorly!
It was one of those days when he wasn't able get his best tennis out. His attitude was good, his body language was fine, and he tried desperately hard.
What's more damaging with a result like that is if you start panicking about what went wrong, but I have no doubt that Murray will just accept he had a poor day and will move on and look forward to Miami.
I don't see any parallels between this year and last, when he went out early in both Indian Wells and Miami. Mentally he is in a good place and I would suspect he will prosper at next week's tournament - along with his top-four rivals.