Change for better
Barry Cowan says Roger Federer's decision to play in Rotterdam indicates a desire for Olympic glory.
Last Updated: 17/02/12 4:48pm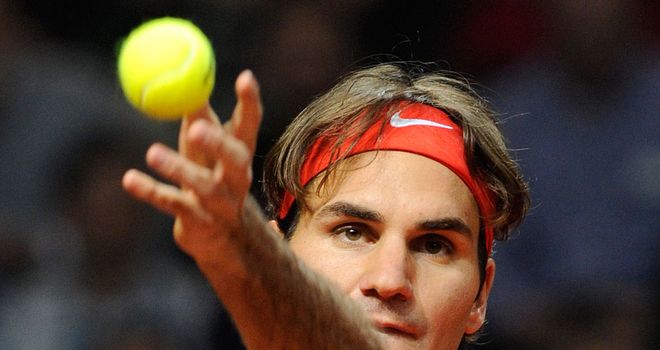 It's a real treat that Roger Federer has decided to play in Rotterdam.
We expect to see plenty of the Swiss in the coming weeks as tennis returns to Sky Sports with a flurry of tournaments - includings from Dubai, Indian Wells and Miami.
But Federer hasn't played in Rotterdam since he won the title in 2005, so it's a real bonus to see him in action at this stage of the season; it shows his desire to get back to the top.
Federer doesn't normally overplay early on in the year but 2012 is different; this is an Olympic year.
He's already returned to Davis Cup action - where he was beaten by John Isner, who was in brilliant form - and now he's altered his schedule to play here.
It may well be a conscious attempt on his part to get a few more tournaments under his belt before the schedule becomes incredibly congested.
This year the French Open, Wimbledon, the Olympics and the US Open all fall within the space of a fantastic three months and every player will need to be in peak condition to cope.
Improve
Federer's appearance is great news for Rotterdam's organisers but he's not the only big draw by any means.
Tomas Berdych and Juan Martin del Potro - both quarter-finalists in Australia - are two players I'll be keeping a particularly close eye on.
Berdych is playing really good consistent tennis right now; the World No 7 is one of the few players around who is capable of keeping pace with the rising level of men's tennis.
He realises that he needs to improve aspects of his game - like coming forward - and we've seen elements of that in some of his big wins, such as when he beat Federer at Wimbledon.
As ever, Del Potro isn't far away from another big win. At the moment he's close without getting the job done. I remember it was a similar story at the start of 2009, the year he won the US Open.
It's so important for the likes of Berdych and Del Potro to keep knocking on the door because you never know when your week will come; when it does, that's when you have to cash in.
Neither player has the potential at the moment to overtake the top four - that quartet is clearly ahead on a consistent basis - but each (and I include Jo-Wilfried Tsonga in this group) is capable of toppling one of the big names on their day.
Unfortunately I can't say the same thing about Richard Gasquet, whose best years seem to be behind him.
It's amazing to think that he was a top eight player five years ago. He's done well to get back into the top 16 but he'll need to push hard to get back into that top 10.
Underdogs
One of the most surprising results of the last week was Great Britain's Davis Cup victory over Slovakia.
Based on rankings I thought Leon Smith's side would lose 4-1 but despite being massive underdogs, Dan Evans inspired what was a massive victory for the team.
Evans is undoubtedly a player with talent but his results have always been up and down.
I think most people would have expected Martin Klizan to close out the fifth and decisive rubber after coming back from two sets to love down, but it was fantastic to see Evans dig deep and come up with the goods.
I hope that that experience will give him the confidence he needs to push on with his game and perform over a sustained period.
The whole team came out of the weekend with flying colours and that can only be good for GB tennis because it creates a positive playing environment that will hopefully inspire our promising juniors.
There's a real buzz about our women's Fed Cup team too.
There's no doubt that Elena Baltacha, Anne Keothavong, Heather Watson and Laura Robson make a good team; they are all pushing each other, which makes for healthy competition. We saw that this weekend in Doha where Anne beat Laura and Heather to reach the main draw of the Qatar Open.
They'll now play Sweden in April for a place in the second tier of the Fed Cup. I'm realistic enough to know that it isn't enough to make big headlines, but the progress made by both our men and women is a stepping stone to better things and that has to be great news.