Grand designs
You can't dismiss Novak Djokovic's chances of winning all four of this year's Slams, says Barry Cowan.
Last Updated: 31/01/12 10:33am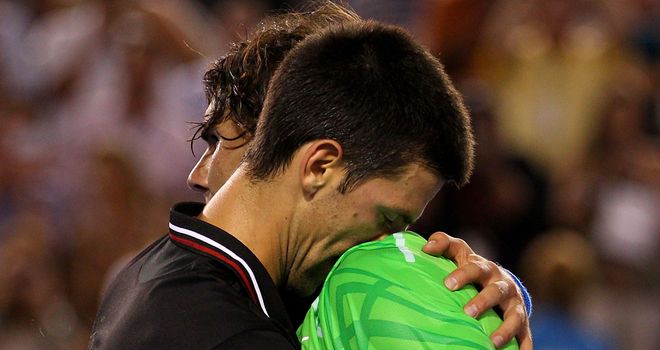 I watched Sunday's Australian Open final in a growing state of disbelief.
Point after point, game after game, hour after hour Novak Djokovic and Rafael Nadal played with a mesmerising intensity that took them to the brink of exhaustion; it was special tennis and my admiration for both players' efforts is total.
The standard of the men's game continues to improve and it's clear we're in for a cracking year; the top four players know they cannot afford to sit back at any stage through fear of being left behind.
Character
There's nothing better to my mind than watching a Grand Slam final played out over five sets; it is the ultimate test because each player has to control their emotions.
Both Djokovic and Nadal had to cope with disappointing moments during the game but had the strength of mind and character to fight their way back into the game.
Nadal was hit off the court in the third but fought his way back and on reflection will take a lot of positives out of defeat even though his now lost his last seven final matches against Djokovic.
Unlike in the previous six meetings, the Spaniard had a chance to win this match; he came close. In the Wimbledon and US Open finals, he was never in that position. He was always chasing the game.
This time he served better and played a more aggressive game, although I feel there is still room for improvement in that area.
Djokovic demonstrated 100 per cent belief that he's going to keep finding the line, even in the pressure situations. It's an attitude and ability that all of the great champions possess and one that makes him increasingly tough to beat.
In that mood Djokovic has a decent shot of winning all four Slams this year, which would be all the more remarkable given the quality of his three chief rivals.
The Serb is likely to go into the French Open and Wimbledon as the No 1 player in the world and he is clearly comfortable with being the favourite.
I do wonder if Djokovic can keep rolling the dice and win but his form is so astounding that I wouldn't put anything past him.
Maturing
Anyone doubting the size of the challenge that Andy Murray must overcome to win his first major need only watch that final.
Murray was naturally disappointed to lose to Djokovic on Friday but I couldn't find any negatives in the way he played. That goes for his performance throughout the tournament.
He is maturing and the influence of Ivan Lendl is starting to bear fruit; there is a clear respect between the two and Murray seems more open to listening to a few hard truths these days.
If Murray continues to play in the same way as he did in Melbourne, week in, week out there will come a time when he wins a match like Friday's.
He can't afford to ease up in the 1000 and 500 tournaments, though. He must approach them with the same level of mental and physical intensity to keep pace with the top three.
Deserved
The women's game also has a very worthy world No 1 in the shape of Victoria Azarenka.
Her talent has never been in doubt but in some ways she reminded me of the old Djokovic, in as much as she appeared to have trouble controlling her emotions.
That all changed in Melbourne where there was a completely different air about her. There was a sense that she was ready to put in a Grand Slam-winning performance.
At the point of victory over Maria Sharapova I don't think she quite knew what she'd achieved, which always suggests to me that a player is in the zone.
This was her time and she thoroughly deserved her victory.