Formidable challenge
The hard work starts now for Andy Murray, says Barry Cowan, as the top four clash in Melbourne.
Last Updated: 26/01/12 3:44pm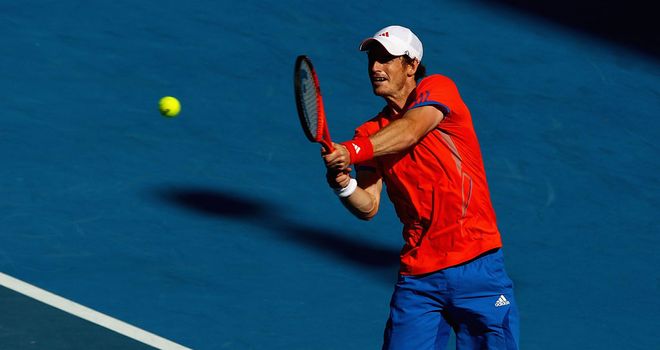 Aside from a few well-publicised flashpoints, the men's singles has been a relatively slow-burner so far in Melbourne.
All that's about to change as the top four square up to scrap over the title in the coming days; it is a mouth-watering prospect.
Roger Federer was immense in his victory over Juan Martin Del Potro - I'm very impressed with his form so far.
The Swiss has picked up from where he left off last year and has yet to drop a set in his bid to become only the second man (after Roy Emerson) to win the Australian Open five times.
The confidence he gained from finishing 2011 strongly has given him the impetus he needs and right now he looks like a man brimming with confidence.
The gap in class between him and Bernard Tomic - whose continuing rise to prominence is one of the stories of the tournament - was all too apparent.
This could well be the year that the Australian makes a sustained assault on the world's top 20 but he still has a long way to go to turn his undoubted talent into top-level titles.
Each aspect of your game needs to be working perfectly if you are to beat Federer and after tough matches against Sam Querrey and Alexandr Dolgopolov, Tomic simply didn't have enough in reserve.
But this is a fantastic learning experience for the 19-year-old. He's now played Federer twice and hopefully that will help him to identify the areas of his game that he needs to improve.
I was really disappointed that he disappeared after reaching the quarter-finals at Wimbledon last year because I feel he needs to prove he can knock on the door consistently against the best guys around.
Indian Wells and Miami are now really crucial tournaments for Tomic because I don't expect too much from him on the clay.
Intriguing
The tournament proper starts for Federer now.
We rarely learn much about him in the early rounds of a Grand Slam; instead we get an insight into where his game is at when he plays a Nadal or Djokovic. Can he find his best tennis when the match is on a knife edge?
His cause may well be helped by the hard-fought nature of Nadal's difficult quarter-final victory over Tomas Berdych - a match that lasted four hours, 16 minutes.
Nadal's progress has not come without its distractions.
His pre-tournament criticism of Federer, for 'failing to back his fellow pros' over the amount of tennis they play (comments he has tried to clarify) makes an intriguing semi-final sub-text, while his comments about umpires being too reliant on Hawk-Eye have likewise put him in the middle of another controversial debate.
I hope neither of those issues detract from his game because there's no question in my mind that Nadal would prefer to play Federer in the last four rather than Djokovic.
I don't doubt his desire or ability but with the mental damage he suffered at Djokovic's hands last year, I'm sure he'd rather come up against the World No1 in a lesser event rather than a Grand Slam final to build up a bit of confidence.
The fact that Nadal and Federer will contest their semi-final a day earlier gives them an additional 24 hours of rest before the final.
Pressure
Not that Andy Murray or Dojokovic had to over-exert themselves to reach the last four.
Of the two, Djokovic endured by far the tougher challenge and David Ferrer did make life hard for him at times but he generally dictated play once he found his range.
All of the pressure was on Murray before his clash with Kei Nishikori; the Japanese is rightly talked about as a talented player. He is a great ball striker but someone who has been incredibly erratic and a little in-and-out emotionally at times.
He showed his ability last year by beating Djokovic in the semi-finals of the Swiss Indoors, although admittedly Djokovic wasn't at his best on that occasion, and again by overcoming Jo-Wilfried Tsonga in Australia.
I've heard a lot of people say that the next step for Tsonga is winning a Grand Slam but I don't see it because there are too many weaknesses in his game for the very best to exploit in the biggest matches.
On one given day he might be able to beat Federer, like he did at Wimbledon, but is he good enough to win two or three matches like that in a row? I'm not so sure.
Passion
Aside from Tomic, one of the other stories to catch my eye over the last week or so has been Lleyton Hewitt's longevity.
It's a real credit to his powers of fitness and enthusiasm that he is still playing at this level and to get through to the last 16 is nothing short of remarkable.
Five years ago Hewitt would have been really disappointed with himself if he'd reached the last 16 and gone no further but at the age of 30 the former World No 1 deserves every plaudit that comes his way for getting so far. To play as a wildcard after having won Grand Slams speaks volumes for his passion and pride.
Those are qualities that Kim Clijsters and Petra Kvitova also possess in abundance.
After saving four match points and shrugging of an ankle problem to beat Na Li, Clijsters has now knocked out Caroline Wozniacki - a result that has cost the Dane her World No 1 ranking.
Martina Navratilova, no less, has made it clear that she believes the top spot belongs to Kvitova and it's hard to disagree.
The Czech has pretty much every shot in the game and a powerful range of strokes; she has learned to talk a good game and is determined not to let speculation about who will claim the No 1 spot distract her. That's as good a sign as any that she will get there, if not this weekend, then at some point in the future.