Happy, renewed year
Barry Cowan says that a rejuvenated Rafael Nadal can mount a strong Australian Open challenge.
Last Updated: 15/01/12 3:18pm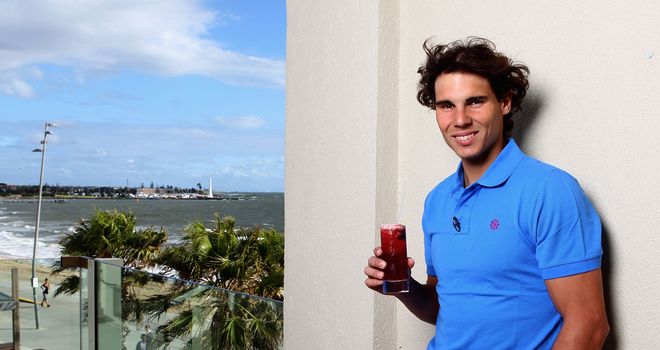 How fitting it would be if the 100th staging of the men's Australian Open singles was the best yet.
In an era of excellence, the stage is set for a mouth-watering display in Melbourne as the big four strive to push the boundaries still further.
Andy Murray appears buoyed by his new partnership with Ivan Lendl, Novak Djokovic is taking his game to new levels, Roger Federer still has grand slams in him and Rafael Nadal showed some really encouraging signs in Doha last week that is rediscovering some of his lost sparkle that was missing at the end of last year.
I watched Nadal closely in the Qatar Open and was excited by what I saw. So much so, that I found it strange that he chose publicly to tell the tennis world that he is taking February off.
Last season was a difficult year for him, no doubt. By his own admission, he was struggling around Davis Cup time and was physically jaded. Worse still, Djokovic had a punishing psychological edge over him on court.
Nadal clearly had shoulder problems before Christmas and at that stage I was worried that he would go to Australia and lose in the third or the fourth round.
I even admitted at the end of last year that I thought Rafa should miss the Aussie Open because of the potential for long term burnout.
But I'm glad to say the signs that he can mount a strong challenge in Melbourne are extremely encouraging. Nadal is using a heavier racquet these days and his serve is showing signs that it's returning to the pace of over a year ago.
Forget talk of rest and relaxation for now - I think we'll see a very positive performance from Nadal in Melbourne, even if it is the Grand Slam where he has enjoyed the least title success.
Impressed
Nadal knows he has to improve, particularly as Djokovic is capable of getting better and better.
I'm very impressed with the Serb's exhibition form and he is more than capable of raising his game another level this year. That's not to say he'll remain undefeated for longer but he can sharpen certain aspects of his play.
Unsurprisingly, Djokovic looked jaded at the end of the year but he has been very smart with his schedule since (he is the only top 10 player to not play on the main tour at the beginning of 2012) and looks ready and raring to go in Australia.
Djokovic succeeded in forcing Nadal into his shell too many times last year for the Spaniard's liking and Nadal has been the first to say that his game is too predictable at times.
He knows he can't afford to wait for Djokovic's intensity to drop; if he's on the ropes, he can't keep taking punches. He's got to come back with something bigger otherwise he'll continue to get knocked out.
The way I see it, Nadal can be more aggressive in general. Rather than moving behind the baseline in response to a great shot from Djokovic, he needs to come back with a harder one - something that Federer and Djokovic himself do particularly well already.
Standard
Federer looks in great shape ahead of the Australian but can he play consistently great tennis on a slower, hard court? That's the ultimate test for him. I'm not worried that Federer had to pull out in Doha with a back injury, it was more of a precaution with tougher examinations ahead this season.
The Swiss will play the majority of matches in the second week at night, away from the worst of Melbourne's extreme heat, but it comes at a cost for him because he doesn't get as much from his primary weapons - his serve and forehand - in the slower conditions.
Yet I think Federer can add to his Grand Slam haul, even if the standard of play is so much higher now than it was a few years ago.
These days he has to play consistently great tennis to have a chance of winning - and sometimes even his best tennis is not good enough.
It's a mark of how far the men's game has come and, hopefully, an indication of the direction it will continue to go in the coming year.