Back on centre stage
Roger Federer's victory in London gives him the perfect platform for 2012, says Barry Cowan.
Last Updated: 28/11/11 6:34pm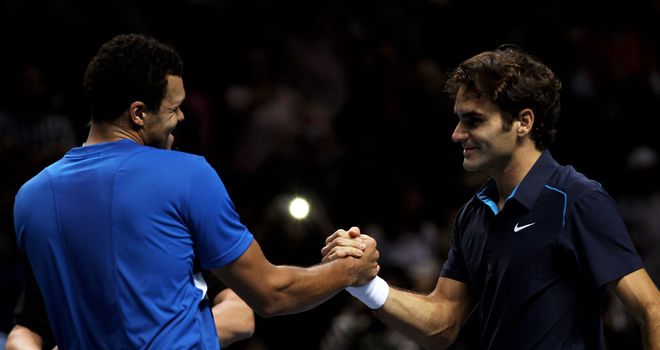 Roger Federer's performance in the third set of Sunday's final at the O2 will define his 2012 season.
Coming into the World Tour Finals the Swiss was the only player in the top eight who had lost more deciding-set matches than he'd won.
So the fact that he won three of his five matches during the tournament - including a great final against Jo-Wilfried Tsonga - puts him firmly in the frame for a Slam next season.
Federer's level of play has been exceptionally high throughout the year but after going a set up he lost the second set on a tie-break in circumstances that eerily summed up much of his last two years.
The World number three didn't play badly - he only missed a couple of first serves - but in Tsonga he found himself up against another guy playing unbelievable tennis.
Had Federer lost to the Frenchman and ended his Slam-less season without defending his World Tours Final title it could have had huge implications for 2012.
No-one - not even a proven champion - can keep taking blows without them affecting him.
At 1-1 Federer must have had doubts about whether he could play his best tennis under pressure but he came out and answered those demons.
So, on reflection, losing that second set but rallying to win the match in three was probably the best thing that could have happened to him.
Nerve
Tsonga has always been capable of challenging the very best and he was in inspired form once again in that second set against Federer.
Some days it can look like it is not really happening for him and then he hits one shot that acts like a trigger and suddenly his level goes up five notches and he practically takes the racquet out of his opponent's hand.
The more he grows in confidence, the better his backhand has become; the exciting thing is that he's just entering his prime. There's no doubt about it.
If Tsonga can stay injury free (which is exactly what I said at the beginning of this year) I believe that he will push the top four even closer.
The way he played in Paris and in London - in particular against Rafael Nadal when the pressure was really on - suggests once again that has the nerve to challenge them.
Standout
Despite Federer's record-breaking sixth World Tour Finals win, Novak Djokovic will still go to the Australian Open as the world number one - and rightly so after a simply incredible year.
The way that Djokovic has managed to peak so many times during the season is amazing; he is unquestionably the standout player of 2011, so it was a shame we didn't see the very best of him in London.
I've felt that his mind-set hasn't been quite as aggressive in the last couple of months as it has been for the majority of the year; there has been a certain 'I want to defend my territory' element to it.
It's understandable in one way because clearly he hasn't been 100 per cent fit but I do feel that he has lost his way a little bit emotionally in recent weeks.
At no point in Federer's career - or Nadal's for that matter - have I ever felt that he has been protecting anything. That wasn't the impression Djokovic gave me last week. Rather like a football team that has gone 1-0 up against the run of play, he has been trying to protect what he has.
At times his body language has been questionable; he seemed to get down on himself a little bit too easily and give the impression to everyone watching that he's not happy.
It's an area Novak should look at in the off-season and put straight for 2012 because if he goes on to court trying to protect his status, he will not end the season as world number one because year-on-year the game is getting better and better.
None of that should detract, though, from an incredible year which for the most part has been nothing short of staggering.
Blitzed
Nadal must now rouse himself for this week's Davis Cup final, against Argentina, which I regard as a must-win scenario for him.
This year is taking its toll on the Spaniard; he has suffered some psychological losses, particularly to Djokovic, and even though he wasn't 100 per cent fit the fact that Federer blitzed him off the court in London will weigh heavily on his mind.
The way his game petered out in the third set against Tsonga is also a worry; it was strange to see him so flat.
He needs to get his mojo back, much as he did two years ago when he lost all three matches at the O2 but went to Barcelona and won the Davis Cup; he didn't look back after that and enjoyed a hugely successful 2011.
Spain are more than capable of winning this final but I can't rule out Argentina either.
As well as David Ferrer played in London, I can't help thinking that it could take its toll and I can see him being caught cold by Juan Martin del Potro on the first day.
David Nalbandian shouldn't trouble Nadal too much, so the doubles will be pivotal to the outcome of the final and I'm not putting my money on Feliciano Lopez and Fernando Verdasco - not the way Verdasco has been for most of this year!