Licence to thrill
Janko Tipsarevic will be a dangerous opponent as stand-in for Andy Murray, says Barry Cowan.
Last Updated: 22/11/11 7:35pm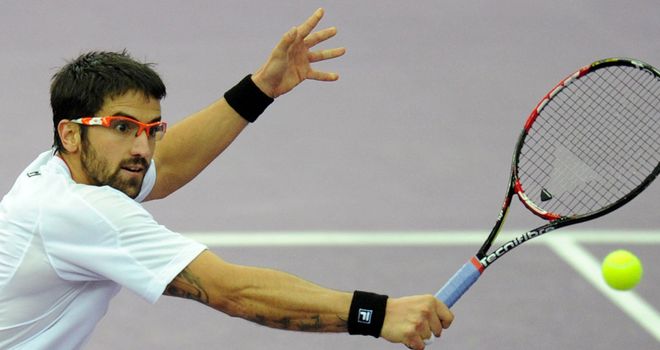 No-one will be more disappointed than Andy Murray that his participation in the ATP World Tour Finals has come to a premature end.
He won't have taken the decision to pull out lightly but the fact he didn't wait until Wednesday to confirm it suggests that the injury is perhaps more serious than it first appeared.
Andy will have listened to the medical advice on offer and has clearly decided that the last thing he wants is to aggravate his groin injury ahead of the new season.
After such an impressive year it comes as a huge disappointment but there is no point playing on and making the situation worse only to spend several months on the sidelines.
Although Murray was clearly struggling at times against David Ferrer in his opening match at the O2, he seemed to be moving a lot more freely in the second set and I had hoped he was over the worst of the problem. Unfortunately that isn't the case.
There simply hasn't been enough time for him to recover since he sustained the injury in practice last week. That meant he was unhappy on the court and when he woke up in some discomfort this morning, it was the final straw.
Players are more likely to be susceptible to injury at the end of a long, hard season - that's something the organisers can't plan against - so I've got my fingers crossed that we suffer no further withdrawals.
Thankfully, men's tennis is not short of world-class players and as much as Murray will be missed we can still look forward to some high-quality matches.
Murray's exit opens the door for Serbia's Janko Tipsarevic - a player who has enjoyed a remarkable season and who, in many ways, deserves his chance to play.
Tipsarevic is a dangerous customer at the best of times, but that will be particularly the case now that he is in a situation where he has nothing to lose.
The 27-year-old needs a miracle to qualify so he has licence to go out there and play freely against Tomas Berdych and Novak Djokovic.
It will be great experience for him and, I'm sure, only make him more determined to go out and qualify for the Finals as of right next season.
All of the pressure is on Berdych now - he's the one who has got a chance to work his way back into the group after performing so valiantly in his defeat to Djokovic.
The Czech is clearly in form, as his strong ground-shots testify only too well, and if he can find a bit more consistency he will surely fancy his chances of qualifying from the group even more so than he does already.
Send Barry a question...
Have you got a question for Barry about the ATP World Tour Finals?If so click here to send it in or alternatively fill out the feedback form below.