The power of London
Barry Cowan looks at a strong ATP World Tour Finals line-up and where the title will be won and lost.
Last Updated: 18/11/11 8:37am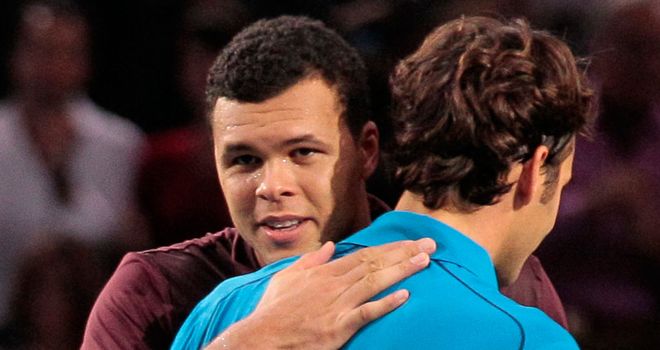 The field is complete, the draw is mouth-watering and the start of this season's eagerly-awaited climax in London is nearly here.
After victories in Basel and Paris, defending champion Roger Federer has his swagger back in time for the ATP World Tour Finals but we'll only know just how good his chances are once everyone has had two or three games to prove their form and fitness.
Federer has not been as dominant in 2011 in years past - five years ago he would have been nailed on to win the Championships - but that's not to say he is a worse player. If anything, he has improved a little but World No 1 Novak Djokovic has raised the bar high enough to create doubt in his mind.
The Swiss still has titles in him - that much is clear - but he has lost some close matches after being found wanting at the key moments.
We all remember the incredible tennis he and Djokovic played in the US Open semi-finals but it was Federer who lost for a second successive year despite earning a couple of match points.
Don't forget he beat Kei Nishikori, in Switzerland, and Jo-Wilfried Tsonga, in France, to lift those titles not Rafael Nadal or Djokovic, which should strike a note of caution with fans.
It will be fascinating to see in the coming days whether he is able to play his best tennis on the biggest points.
Concerns
Federer has been drawn in Group B along with Nadal, who he beat in last year's final.
Since then the Spaniard has admitted that his confidence has been knocked by losing some big matches against the World number one and that - as things stand - he doesn't feel he can beat Djokovic.
Nadal arrives in London after a few weeks off and I'm sure is relieved to start against Mardy Fish than Tsonga - not because Fish is an easy touch, but because the American has had his own injury concerns of late.
For similar reasons, I'm sure Andy Murray would have preferred to play Djokovic first up because, as outstanding a year as the Serb has had, doubts persist about his shoulder problem.
The injury is a massive issue and I think he has been struggling for long periods with it. Think back, for example, to the final in New York when he was struggling in the third set and had to call the trainer.
Djokovic can't afford to become frustrated about his fitness, otherwise he runs the risk of getting caught cold; hopefully the break he's had since pulling out of the Paris Masters will do him some good and he'll at least get the chance to round off an outstanding season in style.
Threat
Murray - who has come on leaps and bounds over the last 12 months - has the chance to put his Paris Masters quarter-final defeat to Tomas Berdych behind him in the best possible way when he takes on David Ferrer on Monday.
These days Murray is far more comfortable playing aggressive tennis - the final set against Nadal in the Japan Open Final, when he lost just four points, was probably the best set of tennis I've seen him play.
The challenge, as Berdych found out in France, is to play like that throughout the tournament. After seeing off Murray, the Czech looked physically and mentally jaded when he came up against Federer.
That's not unusual after a long, bruising match towards the end of any tournament; coming back and reproducing it the day after is a tough ask.
Berdych and Tsonga represent the biggest threat to the top four players in the world - on their day they are a match for anyone.
But to win in London they will have to beat two of the top seeds - possibly three in a row - and I think that might be a step too far for them, both mentally and physically.
For that reason alone I can't see the winner coming out of the bottom four seeds.
Djokovic, as World No 1 and with three Grand Slam titles to his name, must start as favourite if he is near 100 per cent fit but Federer is the form player. He won it last year and will feel he can defend it.