A French connection
A strong Paris Masters will give Roger Federer the ideal World Tour finals platform, says Barry Cowan.
Last Updated: 07/11/11 11:05am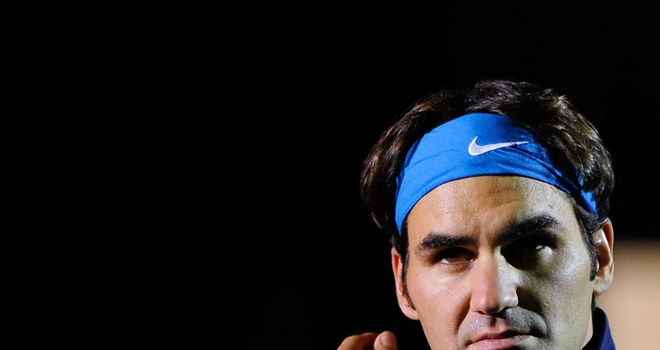 Roger Federer will regard himself as the man to beat this week at the Paris Masters following his fifth victory in Basel in six years.
The Swiss' victory proved he is still incredibly motivated and is putting the work in and it's clear that his game, which has been there or thereabouts all year, is in good shape.
As easily as Federer dismantled Japanese wildcard Kei Nishikori in the final, I believe he would have wanted to play Novak Djokovic instead.
No disrespect to Nishikori, but playing Djokovic would have given Federer the perfect yardstick against which to measure himself.
Victory in Basel gives Federer more than momentum; the simple fact that he played tennis last week should act in his favour as he seeks to win Paris for the first time and defend his World Tour finals title.
As great a period as Andy Murray has had, we shouldn't forget that he went without competitive tennis last week.
While I think the Scot was smart to do so, his withdrawal ahead of Basel will mean Andy is even fresher mentally and physically this week in Paris.
Fascinating
The next couple of weeks are not going to have a major say in how Djokovic, Murray or Rafael Nadal play in the Australian Open; rather I believe that the end of the season is more important for Federer.
This is a man who loves history and he would love to add another Masters title to his impressive haul.
I just wonder how the speed of the courts this year will affect his chances.
Murray has already expressed his disappointment that they will not be as quick as last year when the pace of the surface produced some fantastic tennis and surprising results.
Why the organisers wouldn't want more of the same is beyond me but I imagine someone like David Ferrer is rubbing his hands.
The Spaniard is in the top half of a fascinating draw along with Djokovic, while Federer and Murray appear in the bottom half.
Djokovic is not going to put himself in a position this week to play if he doesn't feel he can win the tournament. I don't feel that he will walk on court if he is 75 per cent fit.
So if the Serb does decide to protect his shoulder and pull out, the whole dynamics of the top half change.
Tomas Berdych, Mardy Fish and Jo-Wilfried Tsonga remain the favourites to claim the three remaining World Tour Finals places.
Tsonga is a player who could draw on home inspiration to make the final in Djokovic's absence, while expect one of his countrymen Gael Monfils or Michel Llodra (who performed so well last year) to go deep.
It all adds up to what should be a fascinating week.