Home improvements
Barry Cowan wonders if Roger Federer can end his title drought at the Swiss Indoors, in Basel.
Last Updated: 07/11/11 11:06am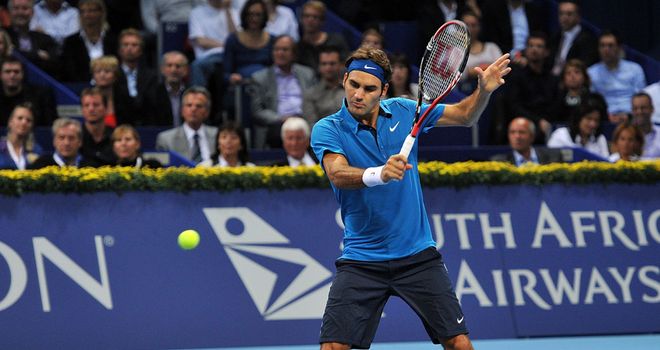 The timing of Andy Murray's injury-enforced withdrawal in Basel indicates that the problem is unlikely to prevent him from playing in the final Masters 1000 event of the season, in Paris next week.
Murray pulled out before his first-round match against Robin Haase with a gluteal muscle strain and I'd suggest it was a very sensible decision.
After all of the great work he has done over the last six months - in particular the last three events in Asia - he would have been a fool to step onto court if he had an inkling that he'd struggle.
Why risk putting in a below-par performance or, worse still, pulling out halfway through a match with so much tennis still to play?
Concerned
I'm far more concerned about Mardy Fish's chances of qualifying for the season-ending finale in London because he actually began his match against James Blake before a hamstring injury forced him to retire one game later.
Given that his season is very much alive (Fish currently occupies the eighth and final qualifying position for London), I doubt he would have stepped on court if he'd sensed what was coming.
A hamstring injury is one of the less common injuries in tennis - it is more usual for players to have problems with wrists, ankles or shoulders - so it seems he may have popped it early on.
Let's hope that he can recover sufficiently over the remainder of the week to play a part in the Paris Masters and that the organisers there do everything they can to give him a Wednesday start because I think he will be a great addition to the World Tour Finals line-up.
Consistent
I could say the same for Janko Tipsarevic, who has surged up to 10th in the qualifying rankings on the back of an amazing three months.
Even if he doesn't force his way into the top eight, there is a good chance that he will be an alternate in London and if so, he'll fully deserve it for the consistent quality of the performances that he has put in day-in, day-out.
Tipsarevic is seeded sixth in Basel, one spot ahead of Andy Roddick for whom it will be an emotional week.
The Swiss tournament is Roddick's first since the death of his long-term agent Kenny Meyerson, one of tennis' truly colourful characters.
I've known Kenny for years as someone with a real passion for our sport; he was larger and life and, rather like Tom Cruise's portrayal of an agent in the film 'Jerry Maguire', you always knew when he was in the room.
Kenny will be sadly missed by all who knew him and my condolences go to his family.
Habit
Should Roddick reach the quarter-finals, he could find home favourite Roger Federer lying in wait.
The Swiss needs to get back to winning ways and where better than a city he has a clear affinity for at a tournament where he has previously enjoyed a lot of success?
Tennis players, like a lot of sportsmen, are creatures of habit who often have their favourite tournaments as well as others they'd prefer to miss. This tournament has always been a little bit special for Federer and offers him the ideal opportunity to end his title drought.
Anyone who has watched Federer over the last decade will know that he has enjoyed incredible success on harder, faster courts that lend themselves to the way he plays.
In the last couple of years Rafael Nadal and Novak Djokovic have dominated the game and Federer's best chance of beating either now lies in hitting through them on an indoor court or on a fast outdoor court rather than on slower outdoor courts where you might have to hit four or five good shots to win the point rather than one or two.
On that basis Basel seems all set up for him Federer, which is just as well because it is far more important for him to win here than it is for the World No 1.
Like Federer, Djokovic has had a reasonable amount of time away from the game and perhaps unsurprisingly the Serb looked somewhat off his game against the highly-talented Xavier Malisse.
He did the most important thing, though, which was to win the match and give himself more opportunities to build up that incredible momentum he has had throughout the season.
Encouraging
I'd like to finish this column by congratulating Britain's women on a great week.
It was fantastic to see Elena Baltacha go all the way to the final of the ITF event in Poitiers and while she may have lost out to Japan's Kimiko Date-Krumm, her rise up the rankings is hugely encouraging.
Meanwhile, Anne Keothavong capped an incredible few weeks by winning in Barnstaple where Laura Robson showed she is growing in maturity and capability by beating Heather Watson in a popcorn encounter.
Let's hope Laura can break into the top-100 in the early part of next year - she certainly has the talent to do so.