London bridge
Hat-trick hero Andy Murray has plenty of momentum ahead of the World Tour Finals, says Barry Cowan.
Last Updated: 18/10/11 5:33pm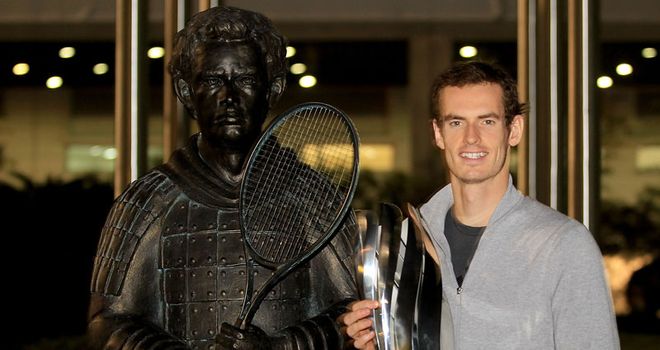 One month away from the World Tour Finals, Andy Murray looks right on top of his game.
He was always expected to win in Shanghai once Florian Mayer had ousted Rafael Nadal, but even so it was pleasing to see him handle it in the right way.
Having built up momentum in Bangkok and Tokyo, he attacked the situation and kept the run going in much the same way as Novak Djokovic has swept all before him throughout the year.
No player should ever be satisfied with one title when they can win three of four in a row; it's the best way to swell confidence and to keep injury and fatigue at bay.
Improving
Murray won't win every event between now and the end of the season but it has been an excellent year regardless and one in which he has grown up a lot.
Yes, there have been some dips along the away but since the start of the clay season his form has been consistently good enough to overhaul Roger Federer in the rankings.
That may not mean much in terms of his Grand Slam ambitions but in the back of his mind it will help him to reaffirm the fact that he is improving.
Murray, of course, deserves most of the credit for that, but the team of coaches have at the very least provided the consistent support he needs.
I've always said that he needs people around him who he believes in 100 per cent. Dani Vallverdu may not have that much experience as a coach but as a mate he has a valuable part to play in a few areas off the court.
These days we see a lot more of Murray's personality when he deals with the media, including his interviews with Sky, and that bodes well because he appears much more relaxed and comfortable.
As someone who is anti-Twitter, it's no surprise to me that the best title streak of his career has coincided with his decision to stop tweeting!
To be a great champion on the court, you have to behave like a great champion off the court and I struggle to see where getting involved in games and spats on Twitter fits in with that.
Exception
I'd never suggest Murray should copy someone like Nadal, but it did strike me how well the Spaniard came across after his defeat to Mayer.
There is a real danger right now that people read too much into Nadal's performances. Last week was an exception - he succumbed to a phenomenal performance from Mayer and he took it on the chin.
Is Nadal playing his best tennis? No. Even he admitted that afterwards. He is on a rocky road but only one person has contributed to that - Djokovic.
All that could change in two weeks; if Nadal beats the world No 1 in Paris and London, then all of a sudden the dynamics change ahead of the Australian Open, just as they will if Federer triumphs in each of those tournaments.
It has taken one of the best runs, if not the best, in men's tennis to knock Nadal down a peg or two and it's important to keep that in perspective.
I, for one, can't wait to see the guys get it on in London. The line-up is all but decided, with Tomas Berdych, Mardy Fish and Jo-Wilfried Tsonga on course to snap up the three remaining spots.
Personally I would have loved to see Gael Monfils make it - a player who brings a different type of energy to the court, much as Tsonga did at Wimbledon.
QUESTION BARRY!
Click here to email your question, send your question to skysportsclub@bskyb.com, with 'Barry Cowan' in the subject field, or fill out the feedback form below...
TAXING ISSUE
Hi Barry, I'm gutted that Rafa won't be at Queen's next year. Is it now time to look again at the tax laws in this country so that the British public can see the best players in action? How long before more follow his example? Tony Keen
BARRY REPLIES: This is undoubtedly a problem that the Inland Revenue has to address, Tony, because it isn't just restricted to tennis. Athletics has a similar problem after Usain Bolt decided not to run at Crystal Palace last year. It can't be right that top sports men and women lose money if they come to the UK to compete. It doesn't matter what you get paid, whether it's £100k or £100 a day - you'd feel pretty demoralised if you found out at the end of the day that it had cost you £110k or £110 respectively to get there. It's a basic matter of principle.
I'm told the laws as they currently stand were originally brought in to prevent pop stars from rocking in for a day, taking the money and leaving. If that's the case then it's surely time to change them. I agree with you that we want to see the best players competing but our current system discourages that and inadvertently has deprived Queen's - a tournament with a great history - of a player who has previously won the event. Fortunately the lure of a tournament like Wimbledon is enough to attract the very best, but that is scant consolation for the likes of the Queen's and Crystal Palaces of this world.