Eastern promise
Barry Cowan blogs on Andy Murray's Asian success, Mardy Fish and the ATP Tour's bulky calendar.
Last Updated: 12/10/11 12:17pm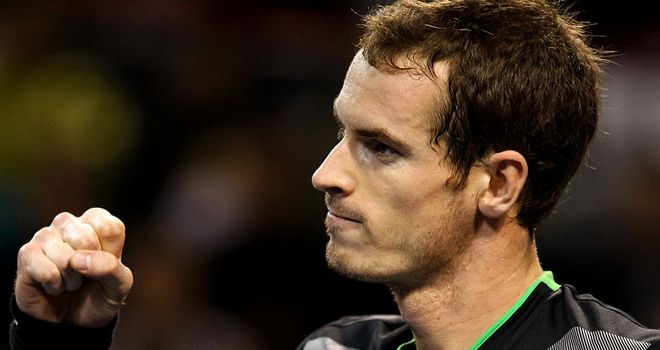 Andy Murray is really enjoying his Asian odyssey.
Two weeks ago he won the Thailand Open and then on Sunday he secured back-to-back titles by beating Rafael Nadal in the final of the Japan Open.
Murray has generated momentum since the clay-court season began in Monte Carlo but he will judge himself - and those are his words - on whether he can make the next step and win a Grand Slam.
I felt this year in the Australian Open final and in the Wimbledon semi-final, he didn't really step up and take the game to his opponents. He got really frustrated and you can't afford to do that in heat over five sets.
Against Nadal in Tokyo, it was different. He'd lost his last five matches against the Spaniard and could have folded again after dropping the first set, but he turned the match around and won it by playing some really aggressive tennis.
The victory will be a massive boost to his psyche. He needs to remember how he did it, and not revert to type and become too passive in his approach.
What Andy's striving for now is a solid base. Novak Djokovic is a prime example of what can happen when you've got one.
When Andy made the Australian Open final in 2010 and 2011, he really exerted himself and then capitulated for the next three months. His game fluctuates massively. Djokovic, meanwhile, is Mr Consistent.
You also need the belief. The Serb has gained it this year by regularly beating top players and if Andy can win the Shanghai Masters this week - and defeat Nadal in the final - his belief will increase immensely.
Prized slots
Djokovic and Roger Federer won't be in China but plenty of other big names will be as they look to cement their places in November's ATP World Tour Finals.
The top four have already qualified, with a further four places still up for grabs. David Ferrer, Mardy Fish, Tomas Berdych and Jo-Wilfried Tsonga currently occupy the prized slots and should hold on to them.
Nicolas Almagro is their nearest challenger in ninth but he doesn't play his best tennis on hard courts. Juan Martin del Potro could have forced his way in but he's not playing this week. I think his mind is focussed on Argentina's Davis Cup Final against Spain.
Should he make it to the 02 Arena, Fish has the ability to repeat the run of Nikolay Davydenko in 2009 and win the event.
It surprises me that it has taken him until his late twenties to become a top-10 player. The American always had the talent and now he's got the discipline and, as a result, the belief.
That was evident earlier this season when he beat Nadal in Cincinnati. He's also getting to grips with the mantle of being USA's number one, something he initially struggled with after surpassing Andy Roddick.
I don't see this season as being a flash in the pan for Fish. Even at the relatively senior age of 29, I think he has plenty of years left at the top level - as long he keeps his fitness and motivation. If he gets complacent, though, the Tour will eat him alive. There are so many good players ready to come in and take your spot.
I just wish people like Fish were pushed into the limelight. When the top four are missing, you don't want people going: "Oh, there's no-one else around." There are great players around with terrific personalities and that needs to be broadcast to the public.
Fear
The fact that Djokovic and Federer are missing through fatigue is a massive blow for Shanghai. It also highlights a fear we have that the star players' careers may be cut short because of the elongated schedule.
You ask players to travel so much and play so often, that it is difficult for them to stay motivated - and fit. Their frustrations came to a head at the US Open but I didn't think that was the right time and place. The middle of a Grand Slam is an environment far too heated to talk about the calendar.
The schedule is not built for the long term and does need to be addressed - but by someone strong and visionary. That's not current players.
As important as Nadal and Djokovic are, they are selfish and only ever see their view; that's what makes them so great. It needs someone slightly more removed from the action, someone who can make tough decisions.
But if anyone thinks a shorter, more manageable season will be easy to introduce, they're sorely mistaken.
Former ATP chairman Etienne de Villiers tried to change things for the right reasons but quickly found out that some tournaments have long-term contracts. Dropping events here, rescheduling one there - it's not that simple.