Losing their lustre
The USA may polish Spain off in the Davis Cup, says Barry Cowan, but their tennis future isn't bright.
Last Updated: 07/07/11 11:12am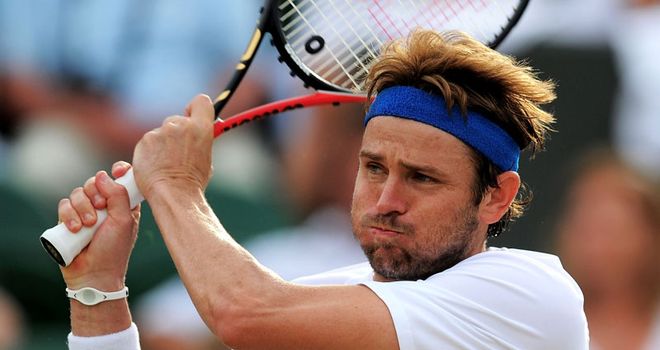 There could scarcely be a better advert for the Davis Cup than Novak Djokovic's Wimbledon triumph.
Soon after lifting the trophy, the current World No 1 revealed how much inspiration he gained from his part in Serbia's first Davis Cup triumph last December.
"Afterwards I was full of life, full of energy, eager to come back to the tennis court and win some other tournaments," he said. "I lost my fear. I believed in my abilities more than ever."
The rest, as they say, is history. Seven months on and Djokovic has won 50 of his last 51 matches and this week he received a hero's welcome from tens of thousands of Serbian tennis fans in central Belgrade on his return home.
Djokovic's success underlines just how great a competition the Davis Cup is and how maddening it is that the quarter-finals take place this weekend.
To schedule this stage of the competition so soon after the French Open and Wimbledon is crazy.
To expect the top players to maintain the highest level of intensity in the Davis Cup after playing two Slams - not to mention the previous tournaments in Indian Wells and Miami, plus the three Masters events on clay - is tough to say the least.
Players aren't robots - they do need a little bit of time off - and that's why the likes of Nadal has decided to miss this week's quarter-final against the US.
Thankfully the authorities have recognised the issue and altered the schedule for 2012 and 2013, when the quarter-finals and semi-finals will be played in April and September respectively.
Favourites
Nadal's withdrawal changes the complex of the tie significantly.
As hosts, the Americans are able to put down the surface they want and they are probably polishing the court right now!
The Spanish have already complained about the surface and there may be more to come as by all accounts the surface at the Frank Erwin Centre, in Texas, is going to be quick.
American go into the tie as big favourites even if they are not the tennis power they once were. Mardy Fish, ranked eighth, is their biggest hitter right now, with Andy Roddick a couple of spots behind. That can't hide the fact that they are struggling to get players to come through into the top 40.
I trace that issue back to a fundamental change in the make-up of America's tennis structure.
In their golden years in the 90's their university and academy system created plenty of opportunities for juniors to come through but now they are looking in a different direction.
Patrick McEnroe, a former Davis Cup captain, is now overseeing things as General Manager of USTA Player Development; as a body, the USTA is looking to control things. Personally, I don't think that is the right way to go.
The former system gave juniors the opportunity to breathe and express themselves; the USTA system is in danger of suffocating those players. The golden era of former years feels a long way away.
Priority
For Great Britain, the aim is to create a golden era.
As things stand now, I would happily trade Davis Cup success for the opportunity to improve the base of British tennis. That has to be the priority.
In a decade's time I'd like our captain to be faced with a selection dilemma because he has got six players in the top 100 competing for Davis Cup selection rather than, as is the case now, one shoe-in.
It is going to take a heap of effort and dedication to get to that point. Our current juniors must be made aware that it is their responsibility to dedicate every single day of each year to making sure they become better players.
It is time to usher out the era where we are solely-reliant on Andy Murray.
If Great Britain were to get into the World Group, even Murray is not a banker to win two singles matches on clay against the better nations. It is asking way too much to expect him to win three best-of-five set matches in a weekend.
Murray will play for Great Britain against Luxembourg in the Davis Cup in Glasgow this week before heading to Miami to begin his preparations for the hard-court season. He has to play this weekend if he wants to be picked for the Olympics.
Interests
Going forward, though, I'm not sure if playing Davis Cup tennis is in Murray's best interests.
Of course he should want to play for his country but, from a personal perspective, his aim remains to win a Grand Slam.
Encouragingly, Murray's has definitely taken five or six steps forward over the last month or so. His level has been excellent but it worried me when he comes out at the weekend and said he played too aggressively before losing to Nadal in the Wimbledon quarter-finals; that is absolute rubbish.
On the whole his interviews are far more mature of late but occasionally he comes out with a comment like that which makes me question his thinking.
When he has a tough period I wish he would back himself and realise how good he is and how much better he could become playing attacking instinctive tennis in every match.
His frustration builds and builds and builds before boiling over when he starts doubting himself; Murray could do much worse than reflect on how Djokovic maintained his composure in Sunday's final.
He could easily have got frustrated when it appeared his first Wimbledon title was slipping away from him but he stayed composed in the pressure cooker of Centre Court and found a way to come through.
Just as he and his team-mates did in Belgrade last December.