Storm force
Between the tornadoes and amid howling winds, Andy Murray adapted best to book his place in a the US Open final, writes Tim Clement from Flushing Meadows
By Tim Clement - Twitter: @SkyTimClement. Last Updated: 09/09/12 7:57am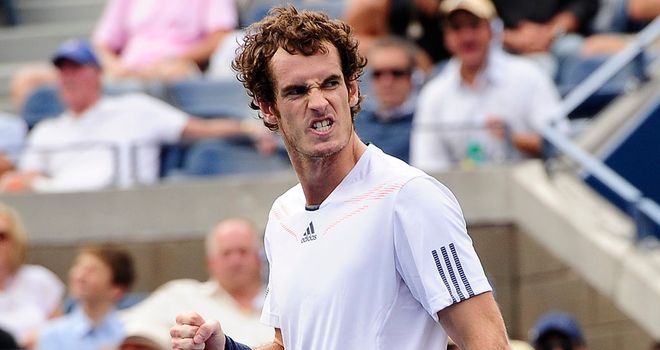 Andy Murray: Prevails through the gales
As if Andy Murray failed to provide us with enough drama, Super Saturday delivered a day of failing favourites, tornadoes and eventually evacuation.
The US Open once again fell victim to America's erratic weather patterns, with the dangerous conditions forcing the postponement of the women's singles finals and the second men's semi-final, meaning for the fifth successive year we will have a Monday final.
While all else buckled to the horrendous environment, Murray prevailed to book his spot in the final, coming from a set down to beat Tomas Berdych in four.
The duo produced an impressive standard of tennis given winds of 20mph hassled both throughout, but while Murray gradually adapted Berdych grew frustrated, with his attacking game increasing hampered, resulting in a whopping total of 62 unforced errors.
"America's appetite for a dramatic weekend has been left unfulfilled once again, and when the show can't go on it's time for a change"
Tim Clement Quotes of the week
David Ferrer and Novak Djokovic were then handed the ominous challenge of dealing with the blustery conditions, which the Spaniard relished as he marched into a 5-2 lead.
However, the Serb was saved as, just a matter of minutes after complaining to the umpire about what he was having to battle against, play was cancelled for the day, due to the fear of a tornado heading in the direction of Queens.
After initial jeers from the spectators, we were informed that the stadium was to be evacuated with severe weather hitting the area in 45 minutes, prompting a mass exodus.
With most suspecting little was likely to come of the forecasts, having only experienced heavy rain in the morning following a similar warning, cynicism turned to fear with the sight of tornado threatening to touch down on our route back into Manhattan.
After heading through the Midtown Tunnel we were greeted with just the sight of high-rises being pelted with rain and the frustrations of another Monday final, throwing up all sorts of logistical problems caused by clashing with the New York fashion week.
Criticism
Sky Bet Odds
Can Andy Murray win his first Grand Slam at Flushing Meadows? He is 6/5 to do so here.
The USTA will face renewed criticism for two things, one of which is excusable, the other indefensible.
The lack of a roof on the Arthur Ashe Stadium has been hotly debated for years but, if we are to believe American Tennis' governing body, there is simply not the technology available to put a retractable cover on such a vast structure due to its weak foundations.
However, the fact that the US Open is the only major that has semi-finals and finals on back-to-back days has left it susceptible to scheduling issues yet again.
America's appetite for a dramatic weekend has been left unfulfilled once again, and when the show can't go on it's time for a change.
That change is on its way, with a day's break coming into effect from 2014, giving us either Friday semi-finals and a Sunday finish or Saturday semis and a Monday final - the former sounding the obvious choice with the first round finished by Tuesday via a Sunday start.
The chaos has slightly overshadowed Murray's progress into the final, while it is difficult to anticipate too much with his opponent still to be decided.
Djokovic remains the favourite despite trailing in the first set 5-2, with Ferrer currently 3/1 at Sky Bet, although that is significantly shorter than his starting price of 8/1.
The fortunes of both players can be looked at from two different angles.
Djokovic, the more offensive player, clearly felt hard done by as he struggled to find the weapons to break down 'The Wall' in such difficult conditions, while Ferrer will now be feeling he might be robbed of his greatest chance to make a Grand Slam final.
For Murray, belief will be there that he can beat either, having conquered the Spaniard at Wimbledon and the Serb in the Olympics.
It was being billed as the biggest summer of Murray's career and, having won 18 or his 19 matches at SW19 and Flushing Meadows so, is proving to be his best.