Ferrer on fire
Ferrer survived Tipsarevic onslaught to set up Djokovic semi
Last Updated: 07/09/12 11:00am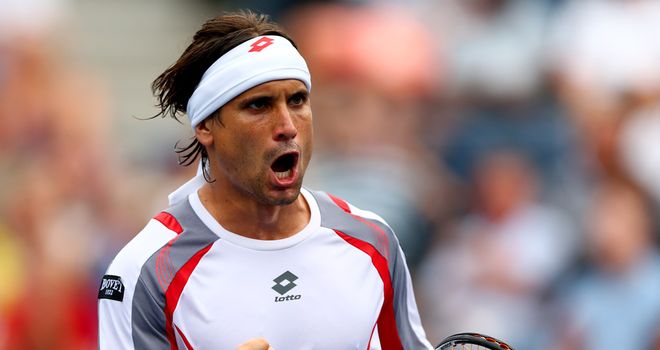 Ferrer: Battled to epic win
David Ferrer produced a 'phenomenal' performance to see off Janko Tipsarevic and reach the semi-finals of the US Open, Greg Rusedski told Sky Sports.
"It's amazing how these guys went toe-to-toe with each other for five sets."
Greg Rusedski Quotes of the week
The Spaniard won an epic four-and-a-half hour battle 6-3 6-7 (5/7) 2-6 6-3 7-6 (7/4) to set up a final four showdown with world number two Novak Djokovic.
"That was a phenomenal performance," said Rusedski. "Ferrer is just so mentally tough and he just finds a way to get it done all the time.
"He's Mr Consistent this season. This is his best year ever at the majors with two semi-finals and two quarter-finals at the Grand Slams. And he's doing it all at 30 years of age! What an effort."
Rusedski, the former British number one and one-time US Open finalist, revelled in the all-out scrap inside the Arthur Ashe Stadium.
"It's amazing how these guys went toe-to-toe with each other for five sets," he said. "I was so impressed with how much Tipsarevic was willing to take the ball down the line and he produced some sensational shots.
"Tipsarevic had a real purple patch midway through the match and was seeing the ball like a beach volleyball, but when he fell in the fifth that's when the match turned in the favour of Ferrer.
"It was a hard fall and that must have been really sore on the hip of Tipsarevic. He'll have a bad bruise in the morning. Ferrer got the break back and by the time Tipsarevic called the trainer he'd gone from 4-1 up when he fell to 4-4."
Role model
Boris Becker believes Ferrer is the ideal role model for aspiring young players.
"It's good for younger players to follow Ferrer," he said. "He's not blessed with the biggest serve and he's not the tallest of men, but he's shown that with great determination and a big heart you can become one of the best tennis players in the world. Chapeau to him."
However, Annabel Croft believes reigning champion Djokovic will prefer to be facing Ferrer in the next round than close friend and countryman Tipsarevic.
"Djokovic adores his great mate, but I got the impression he didn't want to play his friend in the semi-finals," she said. "I remember last year Tipsarevic played some great sets against him but then had to pull out and retire.
"He was giving him a good run for his money then. I think Tipsarevic would have been a tougher proposition for Novak for so many reasons.
"Tipsarevic produced some inspiring points, some of the most impressive stuff we've seen at this year's US Open."