Annabel's answers!
You asked the questions - on Murray, Sharapova and more...
Last Updated: August 25, 2012 2:50pm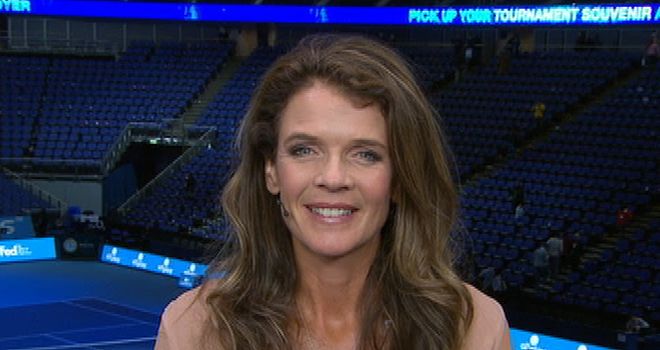 Annabel: would love to see Raonic tackle Murray in round four at Flushing Meadows
Andy Murray's search for a first major moves to New York - and Sky Sports will have every angle covered.
Our unrivalled coverage of the final Grand Slam of the year begins at 4pm on Monday on Sky Sports 2 HD but before then you can enjoy the very best build-up right here on skysports.com.
To get things underway, we offered you the chance to take part in a Q&A with Sky Sports pundit Annabel Croft. Here's her take on Murray, Sharapova and much, much more...
GLORIOUS SUMMER
How much will that Olympic win stand Andy Murray in good stead for the US Open? Peter, Abingdon
ANNABEL: I think it's a huge boost, Peter, I really do. To beat the No 1 and No 2 back-to-back in the same tournament gives you an enormous boost - it can't not. One of the criticisms that has always been levelled against Andy is that he can't back up a big win with another but his disproved that at Wimbledon. I just thought that the way he conducted himself - both at Wimbledon where he reached the final (which in itself gave him enormous confidence) and again in front of a partisan home crowd at the Olympics - was superb. I honestly believe that this summer he has played some of the best tennis I've ever seen him play. The manner in which he did it and the way that he was striking the ball makes me think that he's coming into this US Open in about as good form as he could wish.
MAJOR ATTRACTIONS
Hi Annabel, just wondered which of the four grand slams you enjoy most - both from an entertainment point of view and from your position in the media? Personally I prefer the French as I think these days clay tennis is the most entertaining. Best wishes, Stephen Benson, Blackpool. P.S. Tennis on Sky is fantastic and looking forward to the US Open coverage.
ANNABEL: They are all so completely different, Stephen - I love them all for very different reasons because they all have their own identity! The French is so chic, and the Australian so friendly. Being British, Wimbledon is very special because of all the history and tradition that comes with it. I've interviewed many different players from around the world and so many of them say they'd like to win Wimbledon more than any other Slam. When I played on the Tour, I always loved the US Open and the Australian Open. The night matches in New York are so exciting and there's a very special atmosphere; it's loud, brusque and the smoke billows across from the burger stands! It's so much fun. I get so excited about the US Open and this one's no different.
EPIC ENCOUNTERS
What's the most entertaining game you've seen at the US Open and why? Mine's got to be that semi-final between Djokovic and Federer last year. Anna, London
ANNABEL: That was an amazing match, Anna. It was one of the best tennis matches I've ever seen - but on top of that I can honestly say that I've never seen two players hammer a tennis ball at each other as hard as Djokovic and Nadal did in the final that followed. It was a match that took both players to their physical extremes. Both of them were gasping for air after rallies that left you breathless; it was extraordinary to see the sheer physical and mental effort that both put in.
I've also got to mention the 2001 quarter-final between Pete Sampras and Andre Agassi, which Sampras won 6-7 7-6 7-6 7-6. It was just compelling viewing; back then it was the rivalry that everyone wanted to see. Watching that has to be one of my standout US Open memories. It's such a privilege to be involved in this sport at this time. It's been an amazing decade or so.
RAISING A ROOF
Hi Annabel - instead of changing the Men's Final to Monday nights in the future, shouldn't the USTA be focussing on building a roof on Arthur Ashe Stadium to prevent the amount of rain delays we get at the US Open? Mark Paignton
ANNABEL: Yes, I think it definitely needs a roof, Mark, because it needs to keep up with Wimbledon in the same way that the French is thinking about keeping up - but that's easier said than done! It would seem almost impossible to construct one now without building a whole new stadium because the scale of the task is that immense. The only way to get a sense of just how large the Arthur Ashe Stadium is, is to go and stand inside of it. When I played on tour the centre court was the Louis Armstrong Stadium. When the built the Arthur Ashe they reduced the level of all of the others, so I guess nothing is impossible but it won't be easy!
BREAKTHROUGH POINT
Who do you think could have a breakthrough tournament at the US Open? Mat Shaw
ANNABEL: Milos Raonic is one of the most exciting emerging players around right now and someone that we're all looking at. I've been following him for the last couple of years after interviewing him when he was about 19. Alongside John Isner, he's got the biggest serve on the men's Tour. He's also extremely intelligent - he's what I call an intellectual tennis player. He's in Murray's section of the draw this time and it will be really interesting if they do meet in the fourth round. That will be a huge match. His results have been very steady since his breakthrough Slam in 2011 when he reached the fourth round of the Australian; now he's regularly beating players in the top 10 and I feel that he's ready to take the next step up.STILL DREAD FED
With Roger Federer having another great season how many more slams do you think he can win before the end of his career? Mark
ANNABEL: Federer's depth of character has never ceased to astound me, Mark. A couple of years ago people were writing him off, saying his forehand was getting a bit shaky and he was being left behind. Then he added Paul Annacone to his team and he tried to become a more aggressive tennis player. I think that he's playing more aggressive tennis now than he was when he won the majority of his slams. The manner in which he won Wimbledon this year just proves that you can't write this guy off until he decides to hang those racquets up because he is an extraordinary individual with a calmness of mind that seems to be able to take him to different levels. The fact that he so desperately wanted to be World No 1 again despite having won so much in the game speaks volumes. The way he responds off defeat is amazing - a true lesson for all sports people. I love watching him play. It's such a privilege that he's around as the leader of our sport because he's the most amazing ambassador.
CAN SAM STAR?
Hi Annabel. As a big fan of Sam Stosur, it was fantastic to see her win last year. Do you think she can defend her title? Jim
ANNABEL: That's a tough one, Jim, because aside from reaching the semi-finals of the French she really hasn't done a lot this year. She had a bit of a disaster at the start of the year when she lost in the first round at her home Slam in Australia. But you never know - sometimes when a player comes back to a tournament or stadium where they've excelled before, it can really inspire them. If Sam can get through a couple of early rounds and build some momentum then she could start to really find her form. But at the moment it feels very much as though Serena is the outright favourite for the women's title, with Maria Sharapova, Angelique Kerber, Li Na, Petra Kvitova and Victoria Azarenka hot on her heels. I'd put Sam somewhere in the mix but that's a really competitive group.
SHARP SHARAPOVA
It's six years since Sharapova won in the US but she seems to be back on form given her performance in the Olympics. What do you think? Mandy
ANNABEL: Hi Mandy. I think Maria will go far providing she starts well as she can be vulnerable early on. Remember last year when Heather Watson gave her a run for her money? However, I do have a lot of admiration for her. She's had an incredible year. No-one thought she'd ever win the French Open title - the one Slam that had eluded her - but she did and while she lost to Sabine Lisicki in the fourth round at Wimbledon, she picked up in the Olympics until the final came around. That defeat to Serena was borderline embarrassing, to be frank, and her serve really let her down. But she is just such an amazing competitor that you can never rule her out. When she's on court she gets her head down and fights for every single point regardless of what the scoreline is. She takes some beating. She also loves being in New York and putting on the glamour dresses for the night sessions! I hope she goes far because I really admire her as a character.
A BRIT UNPREDICTABLE
How much do you think Heather Watson and Anne Keothavong have improved in the last year? Steve, Southampton
ANNABEL: I think Heather has really enjoyed 2012, Steve. She's been such a breath air to watch. She's really bubbly and she brings a real enthusiasm to the court. The early part of the year was a bit mixed for her but qualifying for the French gave her a huge boost and she managed to beat Elena Vesnina in the first round. She took that form into Wimbledon and made it to the third round before losing to Radwanska. I watched her at the Olympics where she got quite frustrated before losing to Maria Kirilenko, but I honestly think that she has improved a lot and I think that shows in her ranking. She is now the British No 1 and I think she is loving life and really enjoying her tennis. Any tennis player will tell you they have ups and downs and go through periods where they don't really enjoy it but right now Heather's giving the impression that she loves being out there.
Anne too has had a very tough year - some of her results have been unpredictable - and I'd say this season hasn't been as good for her as the one before. Unfortunately she's got a very difficult draw against Kerber and it will be a real upset if she wins. Kerber is a real grinder, a workhorse who has produced some outstanding results. Her ascent into the top 10 has been quite incredible. Since losing to Laura Robson in the first round at Wimbledon last year she's gone from strength to strength.
She reached the semi-finals in New York last year and the last four at Wimbledon this year so all credit to her.
Catch the US Open live on Sky Sports - coverage begins at 4pm on Sky Sports 2 HD on Monday.