History hopefuls
Champion Djokovic will be looking to dash dreams as Tsonga, Murray and Federer all attempt to break new ground at SW19
By Tim Clement - Twitter: @SkyTimClement. Last Updated: 06/07/12 8:12am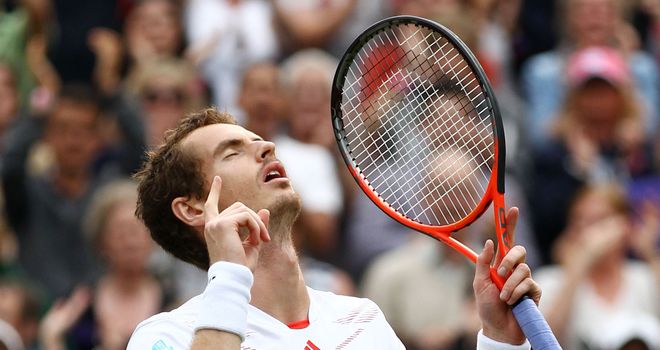 Andy Murray: Looking to end wait for first grand slam
History will be weighing heavily on the shoulders of three of the Wimbledon male semi-finalists on Friday, with the exception being the favourite, Novak Djokovic.
While expectations are most prominent for Andy Murray in front of the craving and critical home support, both Jo-Wilfried Tsonga and Roger Federer have high hopes of rewriting the record books.
Like Murray, Tsonga is looking to end a national drought of grand slam titles, with their last male winner of a major being Yannick Noah in 1983, while the previous French champion at SW19 was Yvon Petra way back in 1946.
While the patriotic demands on Tsonga may be less evident on Centre Court for Friday's clash, they are arguably more understandable with France the best represented nation in the men's main draw, boasting 13 entrants.
If talent is a rare treat for British fans amid ailing interest in the game, France have a feast of players in the top 100 of the world rankings.
They do, however, remain starved of a modern winner of the game's top titles and hopes rest on Tsonga, who, at 27, is has his best chance of securing a slam since reaching the 2009 Australian Open final.
The records Murray is looking to erase are as well known as a certain couple who dropped by to catch his quarter-final victory over David Ferrer, but we'll give those a quick run through for those who have just picked up wifi in their caves.
The 25-year-old is attempting to become the first male British winner at the All England Lawn Tennis Club since Fred Perry in 1936, the first finalist since Bunny Austin in 1938 and only the second player outside the current top three to win a major title since 2005.
While that all makes bleak reading, hope was evident in Wednesday's win as the Scot displayed grit, determination, focus and quality to down the relentless Ferrer's challenge.
The cold cynicism of the British public may have thawed slightly, but it will take a match point in the final for the Pimms-drinking patrons to exclaim: "crikey, we might just have one of those champions on our hands here".
Sky Bet Odds
Can Andy Murray triumph at Wimbledon this year? He is 9/2 to do so here.
Seventh title
While Federer has replenished his nation's pride and then some with 16 grand slam titles, he now has his sights on another landmark - a seventh Wimbledon title.
With a 31st birthday next month, ending the dominance of Novak Djokovic and Rafael Nadal to equal Pete Sampras' record will surely see him go down as the greatest player of all time.
The Swiss star seems to break records without even realising it every time he turns up to a slam these days, with a 32nd semi-final appearance at a major surpassing Jimmy Connor's total the latest.
The world number three can also become the world number one if he triumphs at SW19, which would also see him erase Sampras' record of being world number one for the most amount of weeks.
Looking to crush all of those hopes is Djokovic, who seems to have just about everyone's number right now.
It took the 'King of Clay' to finally find put an end to his relentless dominance, with a seventh French Open crown for Nadal denying the Serb a career grand slam - the Holy Grail of tennis.
But with Nadal felled by giant-killer Lukas Rosol, form suggests the world number one will cruise to a sixth major title.
Djokovic has won six of his last seven meetings with Federer while he crushed Murray and Tsonga imperiously in their previous grand slam final meetings.
Should Federer oust Djokovic then recent times have taught us that it will be he who rewrites history yet again come Sunday's final, but Britain's best and his home support have no interest in the supposed script.