Don't fear your era
'Murray must display his best tennis in the latter stages of Slams'
Last Updated: 27/06/12 1:13pm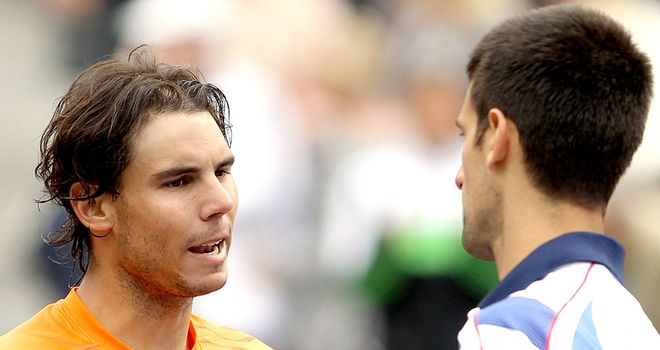 Dominant: Nadal and Djokovic (pictured) have, along with Federer, been the stars of recent Slams
Goran Ivanisevic told Wimbledon Report that Andy Murray cannot use the quality of his opposition as an excuse for not winning Majors.
"Andy is not unlucky, he just needs to produce his best tennis in the semi-finals and final."
Goran Ivanisevic Quotes of the week
Novak Djokovic, Rafael Nadal and Roger Federer have between them won 28 of the previous 29 Grand Slams, with Juan Martin Potro the only man to break that stranglehold when he claimed the 2009 US Open.
Murray has landed runners-up berths in two Australian Opens and one US Open and Ivanisevic, who won Wimbledon in 2001, thinks the Scot can go one step further at SW19 this year.
"You are always born in some era," said the Croatian, who defeated Pat Rafter to claim the All England Club crown 11 years ago. "I was born into an era with Pete Sampras, Andre Agassi, Stefan Edberg, Michael Chang and so many other guys.
"You can't look at it that way. If you want to win a Grand Slam you have to beat all of these guys. He is not unlucky, he just needs to produce his best tennis in the semi-finals and final.
Enjoy
"I know how Andy feels with the question being asked all the time if he is ready to win [a Grand Slam] and the pressure he is under.
"But he should never give up. He should believe and enjoy the big matches - if he can. He has beaten these big guys before and can do it again.
"Andy can go all the way to the end, he has a good game and he has been there before. It doesn't matter that he played well yesterday [against Nikolay Davydenko], it's about playing well next Friday and Sunday, if he gets there.
"Hopefully he does but he has these three guys waiting for him. He has a chance with the crowd behind him, he has all the weapons and I wish him all the best."
Murray will face either Ivanisevic's countryman Ivo Karlovic or Israel's Dudi Sela in round two, while a potential path to the title could include matches against Marcos Baghdatis, Milos Raonic, Jo-Wilfried Tsonga, Nadal and then either Djokovic or Federer in the final.