Australian Open: Jamie Murray admits missed alarm cost him in the Melbourne heat
Last Updated: 18/01/14 5:21pm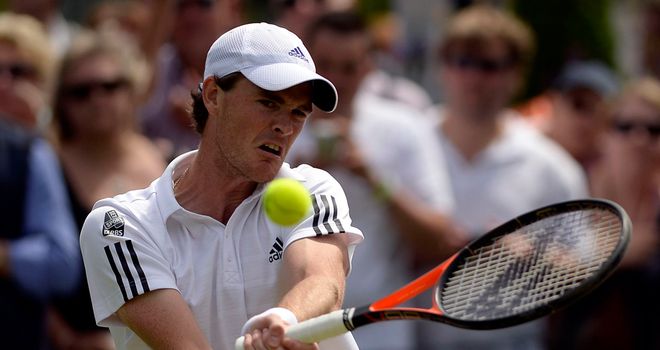 Jamie Murray: Oversleep led to overheat in Melbourne
Jamie Murray believes a missed alarm call led to him suffering heatstroke at the Australian Open.
The Scot required several hours of treatment following his first-round doubles match with Australian partner John Peers on Thursday.
Murray said he did not prepare properly for the match, which was played in temperatures in excess of 40C, because he overslept.
"My alarm didn't go off so I slept in about an hour and a half later than what I should have," he said. "I was only woken up because the driver called the room to see where I was.
"That was 8.30am and we were supposed to practise at 9am, then the match was 11am. I was kind of rushing around, I didn't get time to have breakfast and all that stuff, so it wasn't an ideal start.
"I'm sure I would have been okay if I hadn't had the start to the day that I had. I know the risks you take by going out in that heat and not being fully prepared. I didn't choose to do it that way, it's just what happened.
"I started feeling bad after the match and when I got back into the changing rooms I felt light-headed.
"I just wanted to lie down and then I started to cramp in my legs, which was a bit worrying for me because I'd never had it that bad before.
"The doctors and the physios were putting ice over me, so then I was shivering for a long time. I was on the floor in the locker room. I didn't want to move.
"Finally the physio said I needed to get up and walk around, and after I got up I felt a lot better straight away.
"I still felt rough for a while, I couldn't really sit down. I was walking
around the grounds for a couple of hours because every time I sat down I started getting really light-headed. But in the evening I felt a lot better and once I slept I was fine.
"It was a bit scary but I'm here today and you would never know it had
happened."
Murray insisted he had recovered fully for his second-round match on Saturday, when he and Peers succumbed to Eric Butorac and Raven Klaasen 6-4 6-4.
"We were only a couple of matches short at the end so we'll keep working hard, working together and trying to make the team stronger," said Murray.